[beinhaltet affiliate links]
VON DER BLOGPARADE ZUR THEMENWOCHE
Heute möchte ich euch im Rahmen unserer Themenwoche meine drei liebsten Beautytools vorstellen.16 Bloggerinnen sind wir mittlerweile in unserer Truppe. Nun haben uns entschieden, aus unseren gemeinschaftlichen Blogparaden eine Themenwoche zu machen. Immer in der ersten Woche des Monats behandeln wir ein neues spannendes Thema und diesmal sind es unsere liebsten Beautytools.
Die Lieblinge unter den Beautytools der anderen 15 Teilnehmerinnen findet ihr unten verlinkt. Hier zeige ich euch nun drei meiner Lieblinge, die ich nicht missen möchte.
VEET SENSITIVE PRECISION BEAUTY STYLER
Lange habe ich mich über meine Augenbrauen geärgert, die in absurde Längen und Richtungen sprießen und dabei aber nicht wirklich dicht sind. So wurde ich zum Werbeopfer des VEET SENSITIVE PRECISION BEAUTY STYLER*. Zum Superpreis von 15,00€ habe ich mir diesen über Amazon bestellt.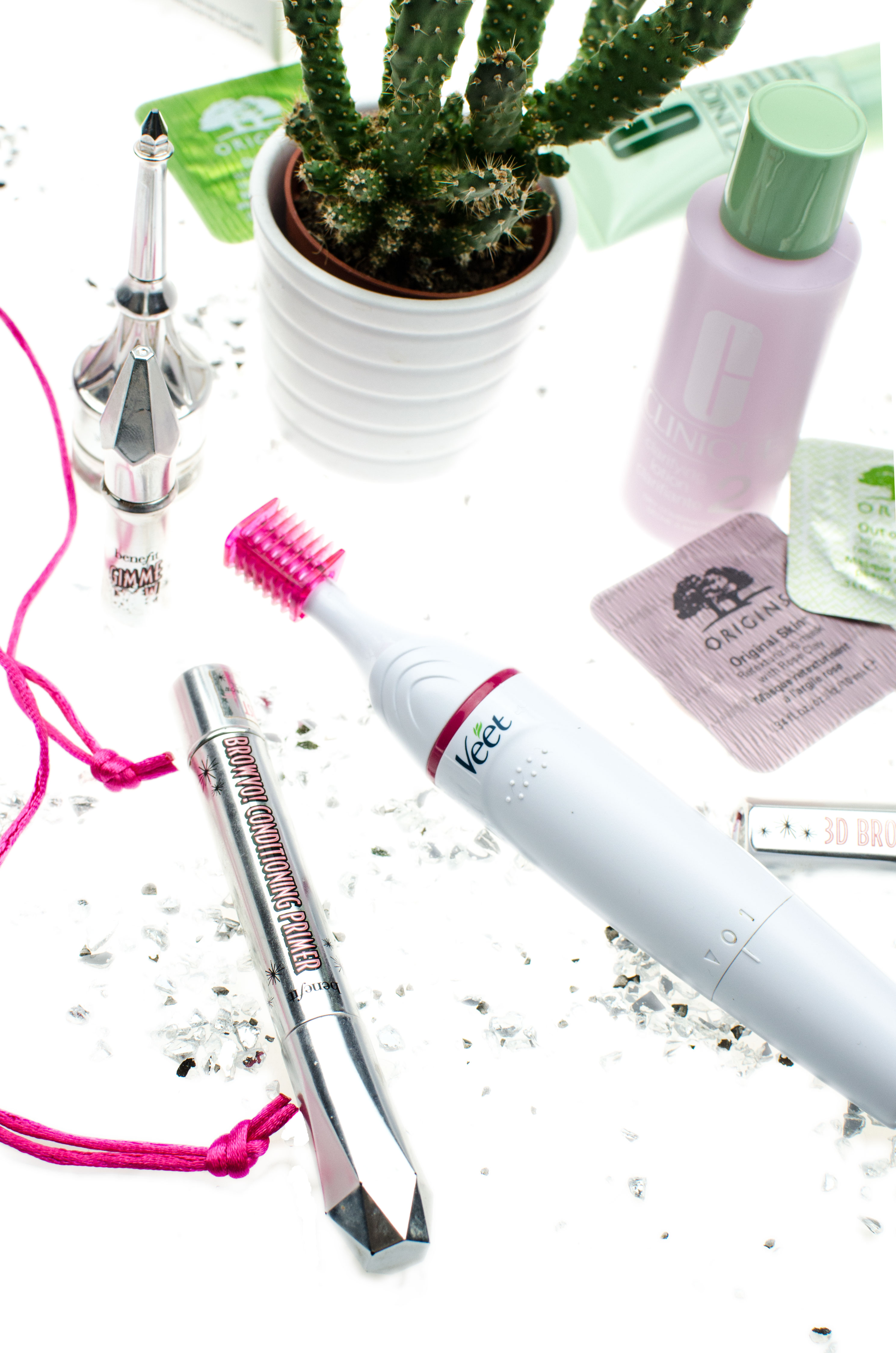 MINIRASIERER | EIN LIEBLING MEINER BEAUTYTOOLS
Mehrere Aufsätze machen den Minirasierer zum Multitalent. Man kann die Brauen kürzen und an störenden Stellen komplett wegrasieren. Der breitere Aufsatz eignet sich für die Bikinizone. Am liebsten verwende ich den kleinen Veet Rasierer zum Brauenstylen.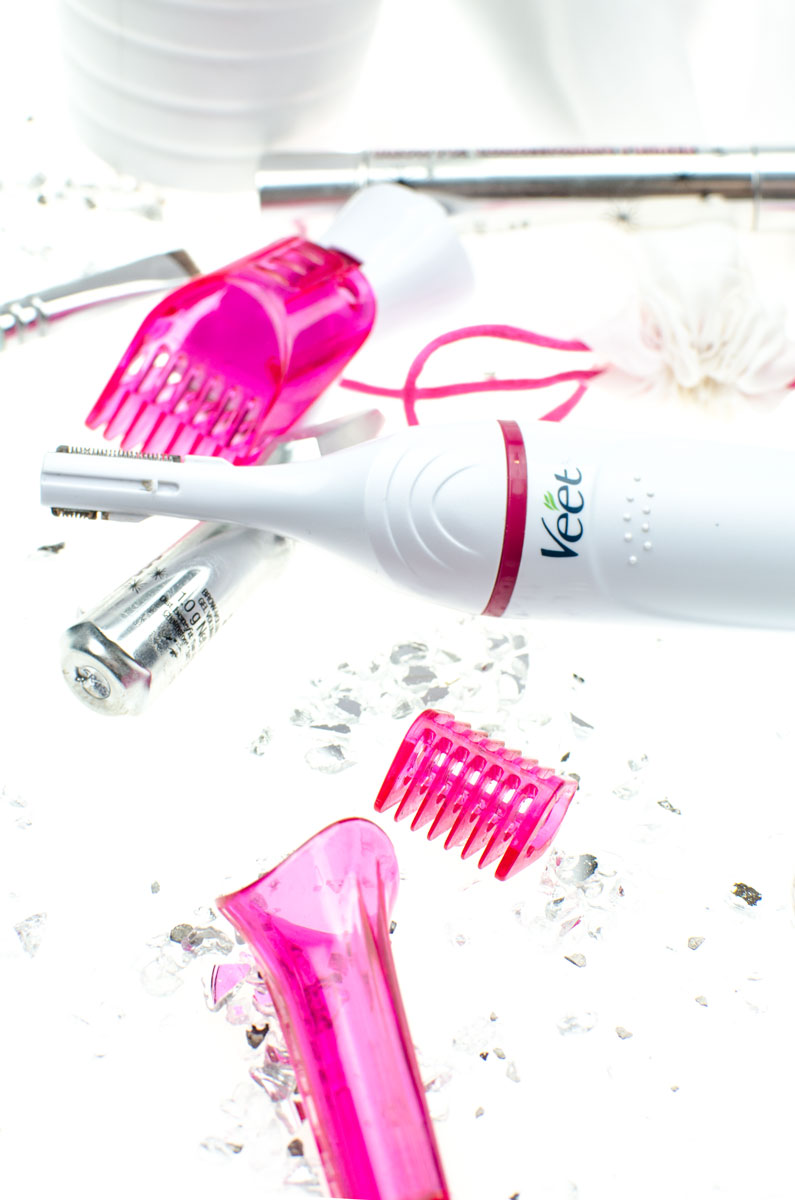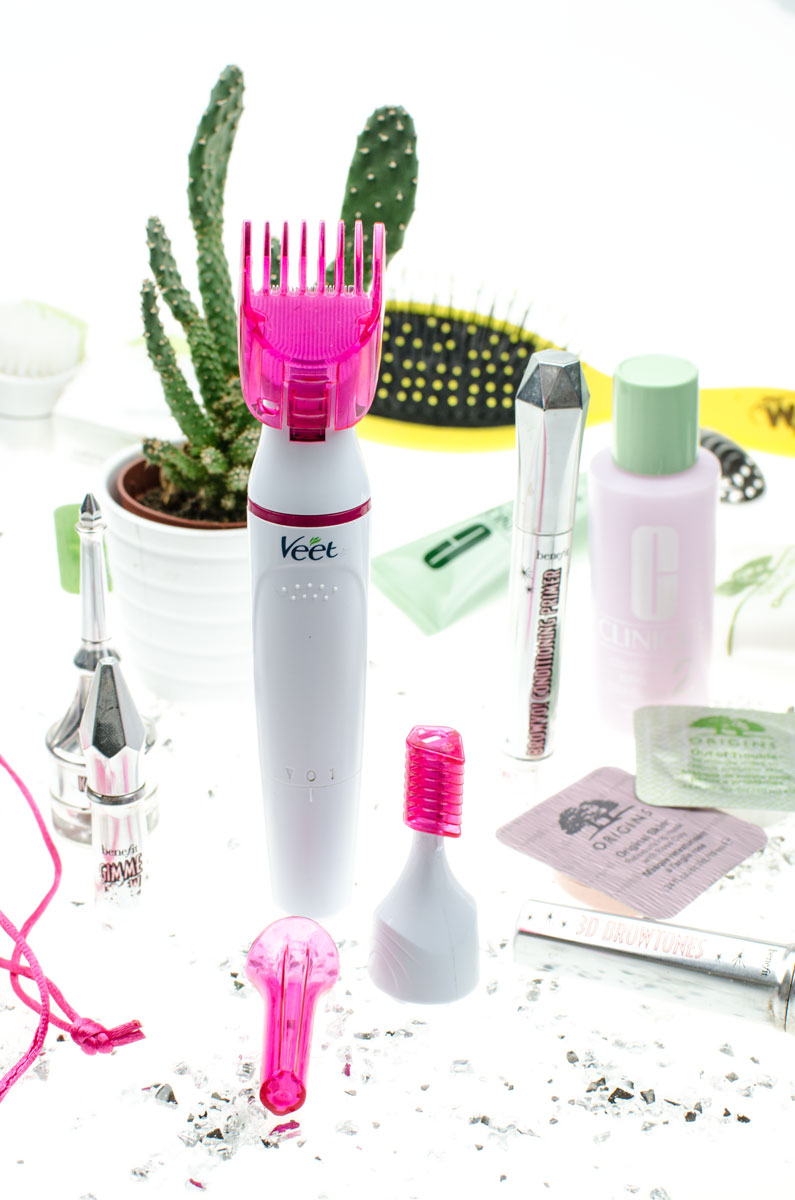 Mir gefällt die unkomplizierte Anwendung und die vielseitigen Einsatzmöglichkeiten, die das kleine Gerät bietet. Daher gehört der Veet Beautystyler zu meinen liebsten Beautytools. Mitgeliefert wird ein praktisches Säckchen, in dem man die Aufsätze und das Reinigungsbürstchen verstauen kann. Bei mir hängt es griffbereit an einem Haken neben dem Waschbecken.
CLINIQUE SONIC BRUSH GESICHTSREINIGUNGBÜRSTE
Gab es ein Leben vor der Sonic Brush? Ich gebe zu, früher dachte ich: Braucht man echt auch noch ein elektrisches Gerät, um das Gesicht zu waschen?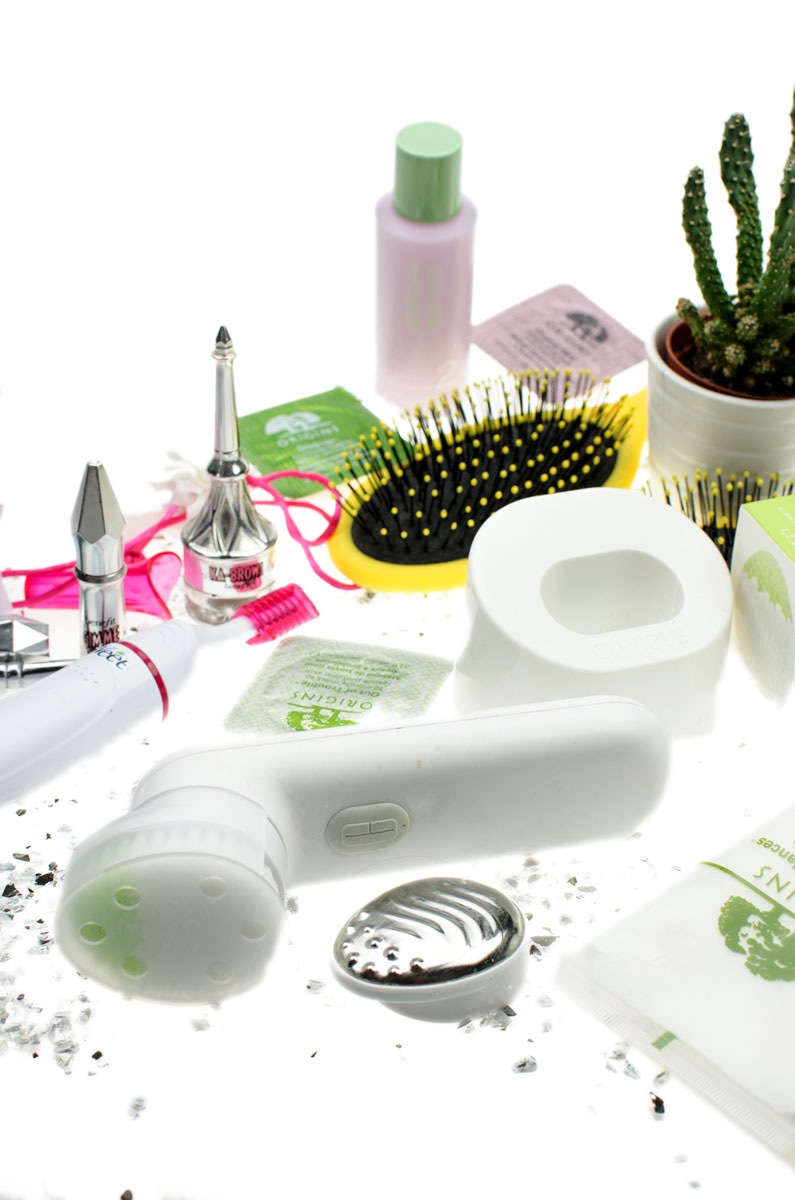 Warum auch mein ClLINIQUE SONIC SYSTEM (über clinique.de)* ein Liebling unter meinen Beautytools ist, verrate ich euch auch im Beitrag: PORENPUTZEN MIT SCHALL | CLINIQUE SONIC SYSTEM.
REINIGUNGSLIEBLING UNTER DEN BEAUTYTOOLS
Die Reinigung mit Schall macht einfach eine extrem schöne Haut. Sie wird feinporig, rein und leuchtend. Toll ist auch die automatische Abschaltung nach 30 Sekunden. Dies ist die Reinigungsspanne für sehr sensible Haut und Einsteiger. Normalerweise reinigt man über die Dauer von zwei Etappen, also eine Minute.
Verschiedene Büsten, ob für unreine Haut, sensible oder auch für Männer, macht sie zum echten Allrounder. Auch mein Sohn besitzt seine eigene Sonic und verwendet hierfür den schwarzen Kohle-Reinigungskopf.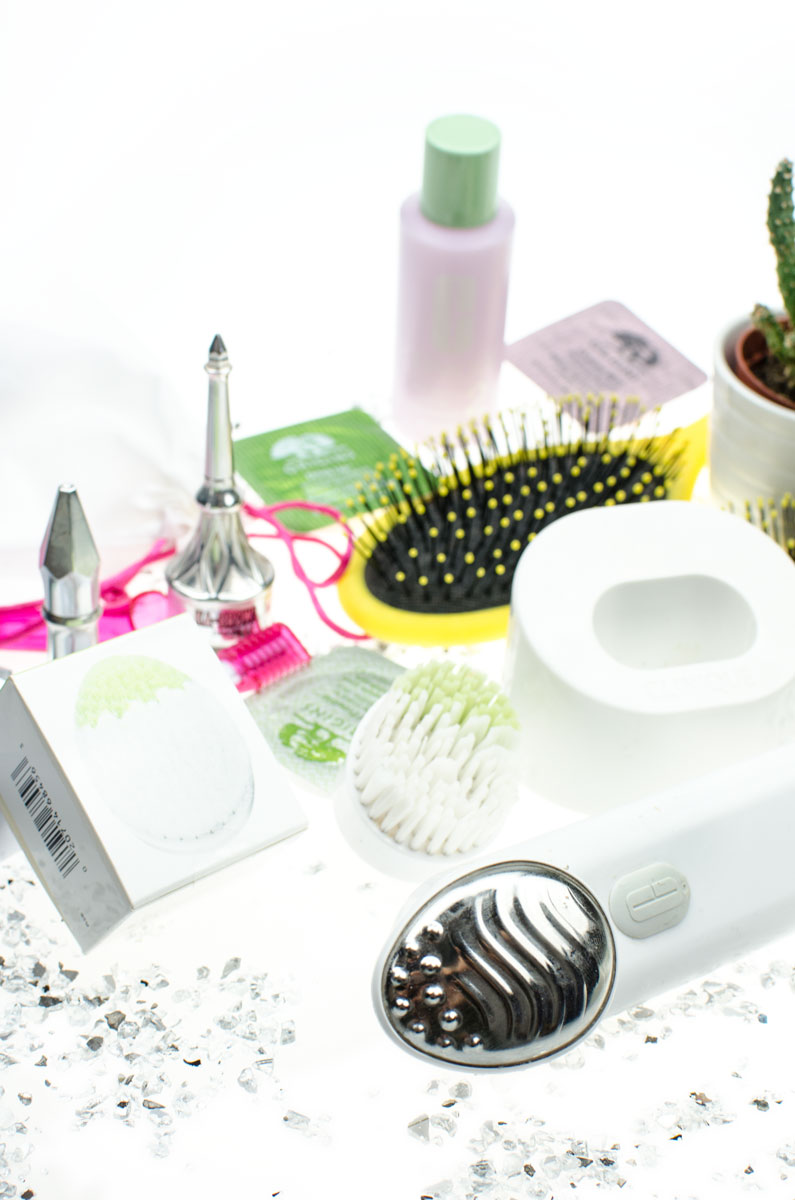 Sehr toll ist auch der extra erhältliche Massagekopf zum Einmassieren jeglicher Pflege. Ob Serum, Creme oder Overnight Mask, der Metallaufsatz schleust die Wirkstoffe besonders gut in die Haut. Derzeit gibt es im Holiday Shop von Clinique eine süße pinkfarbene Limited Edition*. Mit dabei ein Reinigungsschaum und eine Travelcase. Kommen wir nun zum dritten Liebling meiner Beautytools.
WET BRUSH | DAS HAARBÜRSTENWUNDER
Neben der Sonic ist die Wet Brush sicher mein am meisten verwendetes Beautytool. Sie ist mein Haarbürstenliebling und mittlerweile besitze ich sogar mehrere verschiedene Wet Brushes.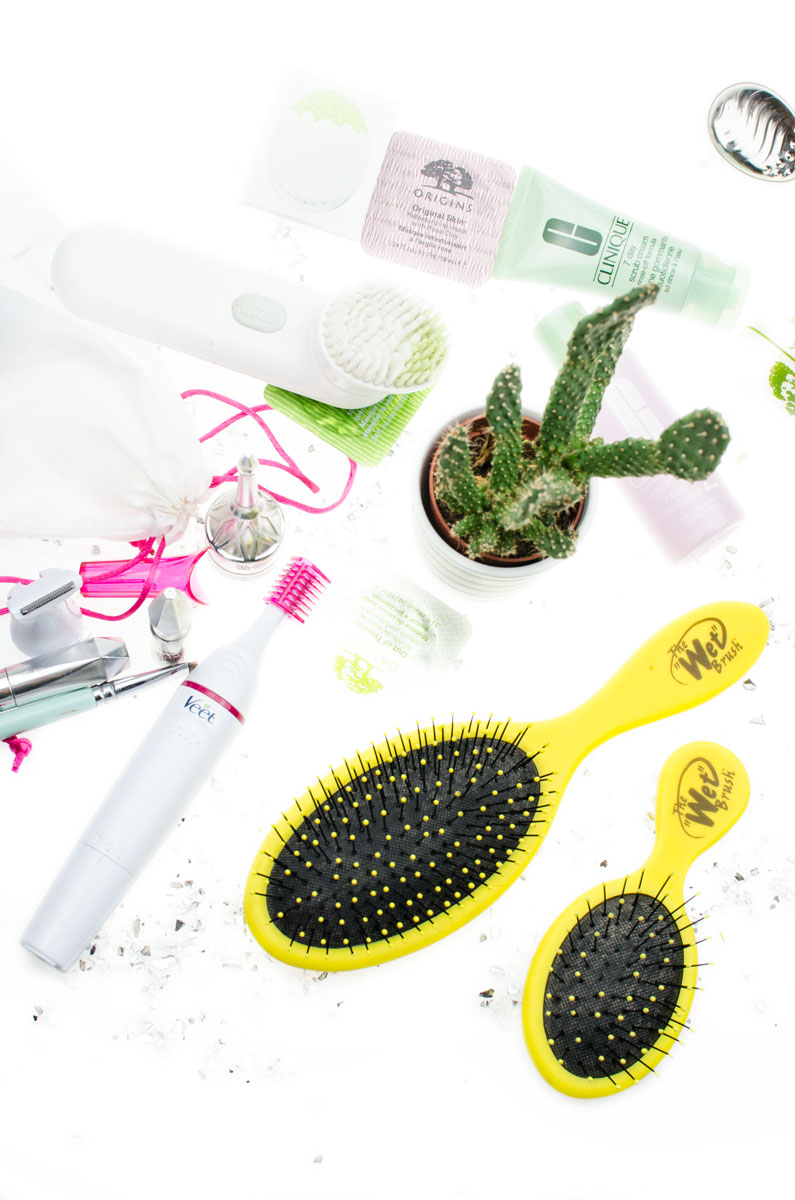 Hier seht ihr meine gelbe Mini Wet Brush. Meine erste Bürste dieser Art war auch eine kleine LIL' WET BRUSH (über Lookfantastic*) in Grün und aus Holz. Hier findet ihr mein 2 1/2 Jahre altes Unboxing der LOOKFANTASTIC BOX aus dem März 2015.
NEUER LIEBLING UNTER DEN BEAUTYTOOLS
Schnell hat die Wet Brush mit ihren genialen Detangle Eigenschaften meinem Tangle Teezer den Rang abgelaufen. Mittlerweile habe ich so einige der kleinen Bürsten nachgekauft und verschenkt. Nun gibt es ein ganzes Sortiment von Wet Brush, inklusive einem Reinigungsbürstchen, z.B. bei Parfumdreams*.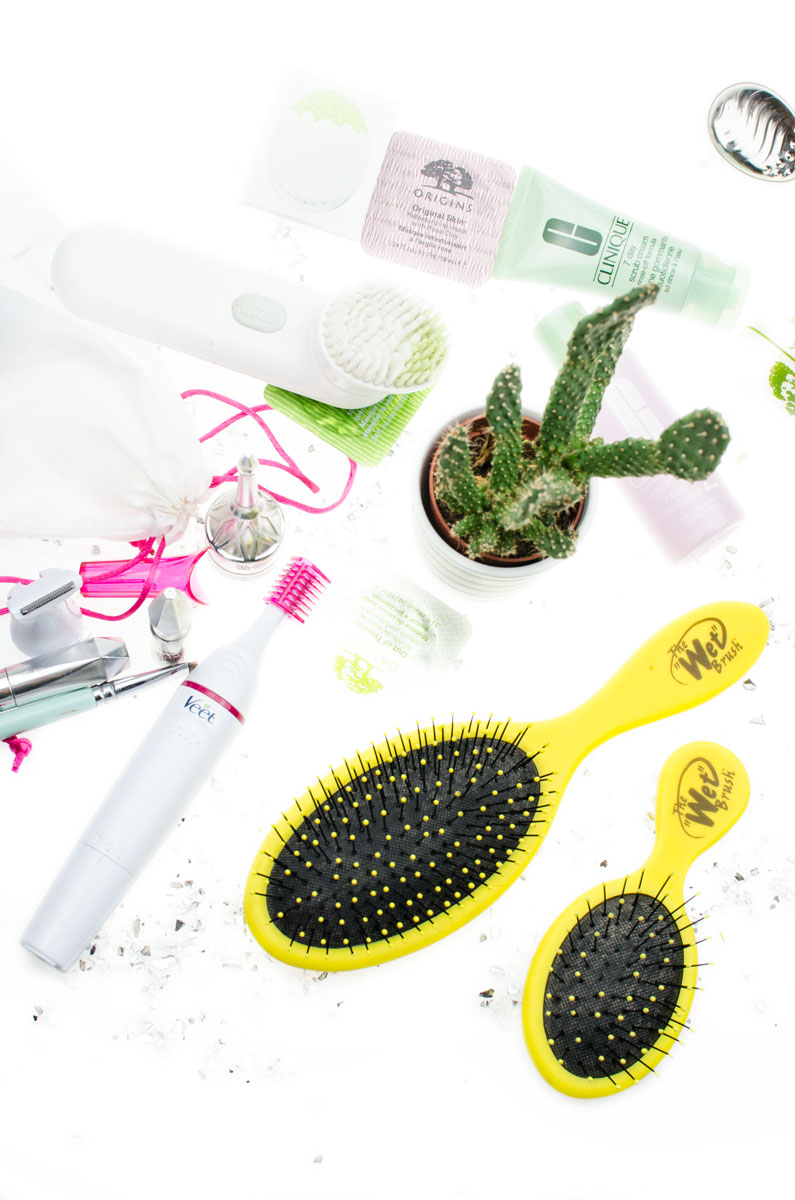 Meine kleine ist derweil schon etwas abgeliebt und hat ein paar Borsten verloren. Demnächst wird es Zeit für einen neuen Liebling, aber ich habe noch eine kleine in Lila aus einer weiteren Lookfantastic Box in petto.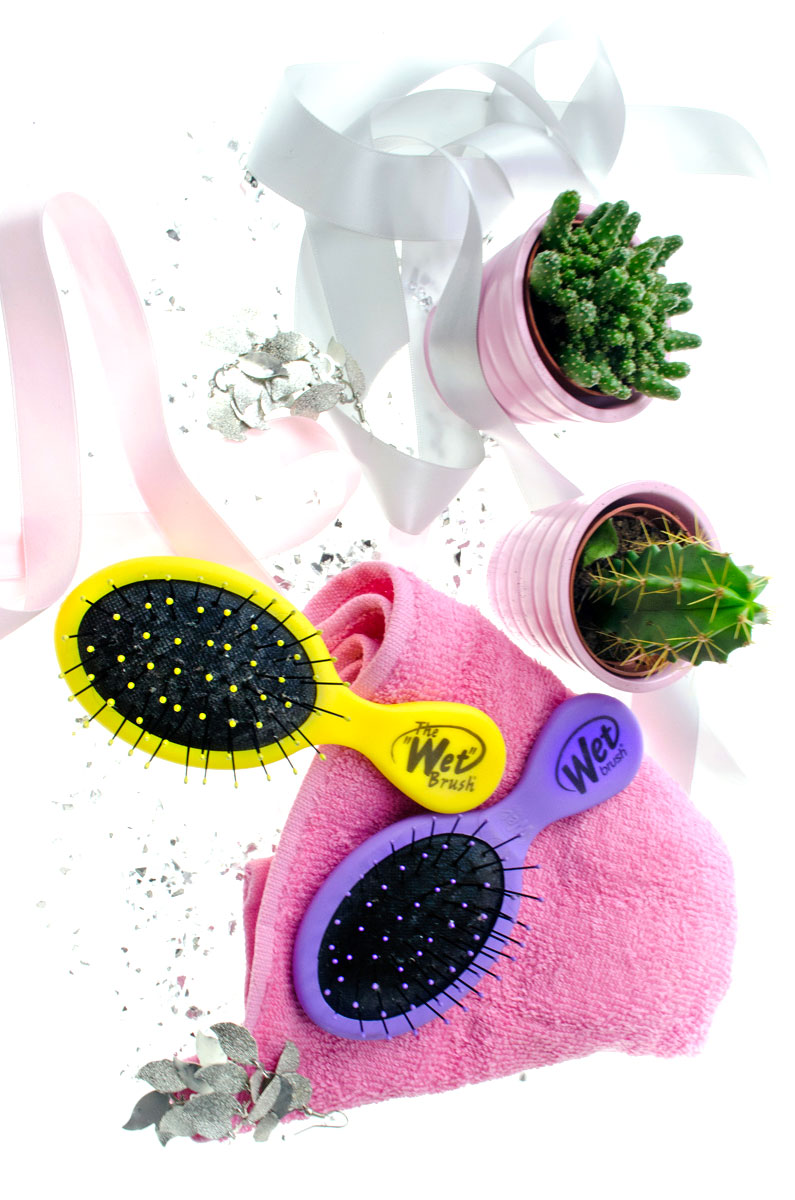 Die gelbe ist aus leichterem und feuchtigskeitsunempfindlichen Kunstoff. Nachdem mich die kleine Wet Brush von ihren Eigenschaften so überzeugt hat, musste noch eine große ins Sortiment aufgenommen werden. Die große Schwester ist vor allem für das trockene Bürsten und Ausbürsten super. Die Lil' Wet Brush bleibt aber weiterhin mein absoluter Entwirr-Liebling..
Ich kann die Wet Brushes wirklich nur uneingeschränkt empfehlen! Sie sind die besten Bürsten, die ich kenne. Fast alle meine anderen Exemplare sind seitdem in Rente, da ich immer zu meinen bunten Lieblingen greife. Ein knallorangene große Ausgabe besitze ich auch noch.
Auch bei einer anderen Blogparade hatte ich bereits über meine Wet Brush berichtet. Schaut mal in:  "GLOSSYBOX BLOGPARADE MAI 2016 | MEINE BEAUTY-KLASSIKER".
NÜTZLICHE LIEBSTE BEAUTYTOOLS
Dies waren drei meiner allerwichtigsten Beautytools. Natürlich gibt es noch so einige mehr, die ich ständig verwende.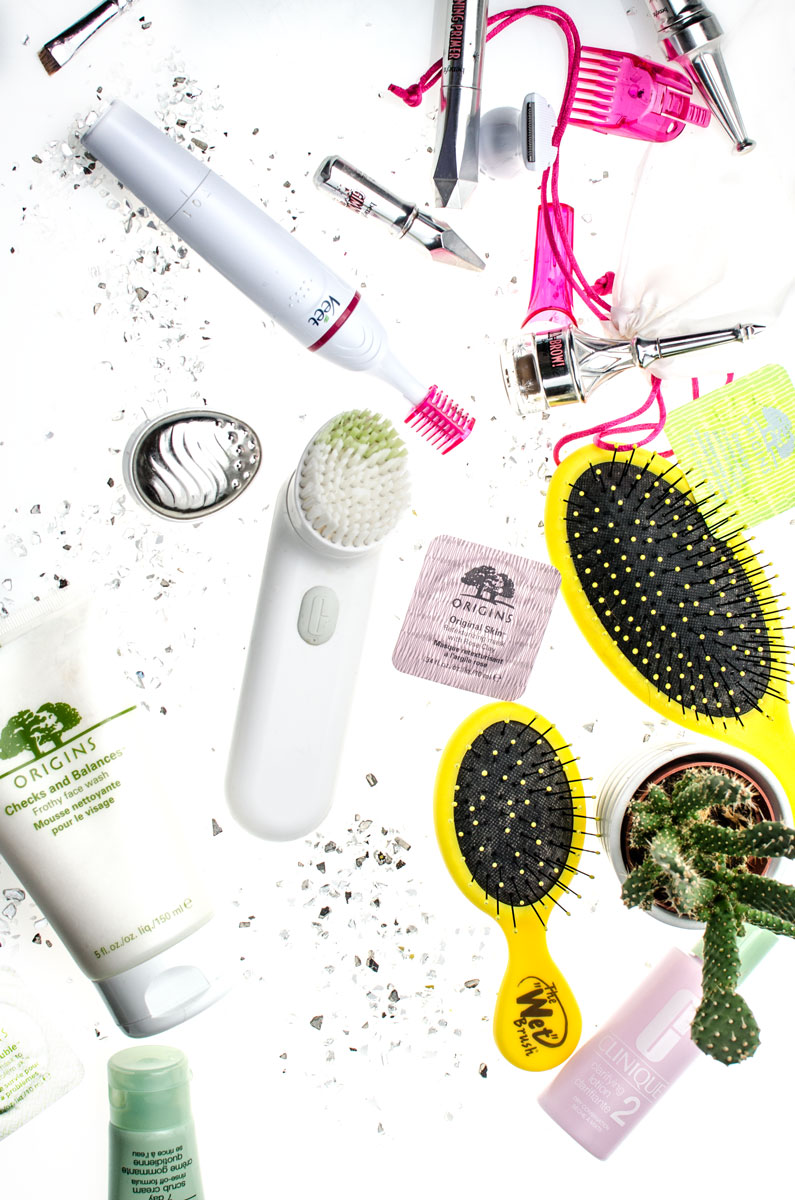 LIEBLINGS-BEAUTYTOOLS 15 WEITERER BLOGGERINNEN
Hier nun findet ihr die Lieblinge der anderen Teilnehmerinnen. Schaut überall mal rein, denn es gibt wieder so viele spannende Sachen zu entdecken.
Habt ihr schon unsere anderen Beiträge "MEINE 3 LIPPENSTIFTE FÜR DEN HERBST | BLOGPARADE" und "MEINE 3 PFLEGELIEBLINGE FÜR DEN WINTER | BLOGPARADE" gesehen? Auch findet ihr dort die Verlinkungen zu den Posts der anderen Bloggerinnen.
Hier kommen die Beautytools meiner Mitstreiterinnen:
06.11.2017 Beautype – Just Eve – Castle in the Clouds
07.11.2017 Pink Contour – MacKarrie –  In Love With Life –   Beauty Mango
08.11.2017 Highendlove – Lavender Province – Stylepeacock
09.11.2017 WasserMilchHonig – hokis1981 – What do you fancy?
10.11.2017 Complexions Beauty Blog – Bibi F.ashionable – Kirschblütenschnee
Freut euch schon auf den Dezember, denn da überraschen wir euch gemeinsam mit einer weihnachtlichen Mega-Aktion!
Ich wünsche euch viel Spaß beim Stöbern in den anderen Beiträgen. Was sind eure liebsten und wichtigsten Beautytools? Habt ihr einen echten Favoriten oder gar Geheimtipp?
Ich freue mich auf eure Kommentare und Meinungen!
Euer stylepeacock
Chris
PS: Habt ihr schon bei meinem aktuellen MEGA-GEWINNSPIEL mitgemacht? Ihr habt 10x die Chance, eine brandneue Estée Lauder Double Wear Nude Foundation in eurem persönlichen Lieblingston zu gewinnen!
– *beinhaltet affiliatelinks –