[teilweise pr samples – daher werbung | beinhaltet affiliate links]
LIEBLINGE UNTER DEN GESICHTSMASKEN
Verwendet ihr auch Gesichtsmasken? Fragt ihr euch, welche wirklich gut sind? Unsere Blogger Themenwoche im Mai  hat mit #meine3liebstengesichtsmasken den Fokus auf unsere Favoriten unter den Gesichtsmasken gelegt. Lernt heute meine Lieblinge kennen. Schaut auch unbedingt bei den anderen Teilnehmerinnen, welche Inspirationen sie in Sachen Gesichtsmasken für euch haben. Sie sind alle unten im Beitrag verlinkt! Zudem habe ich für euch auch noch ein tolles Gewinnspiel im Gepäck. Mehr dazu erfahrt ihr am Ende des Beitrags.
3 GESICHTSMASKEN-HELFER FÜR PFLEGE & REINHEIT
Unglaublich schwer war es, drei Lieblinge unter meinen Gesichtsmasken zu wählen. Maskenfavoriten habe ich wirklich viele. Einige davon habe ich jedoch bereits mehrfach auf dem Blog vorgestellt und sie daher diesmal außen vor gelassen. Weitere Lieblinge sind z.B. die Origins CLEAR IMPROVEMENT Kohlemaske oder mein absolutes Must Have, die DRINK UP OVERNIGHT. → HIER findet ihr bei Origins* diese Lieblinge und mehr tolle Gesichtsmasken. Die meisten erhaltet ihr dort auch auch in praktischen kleinen Testgrößen zum Ausprobieren und für die Reise.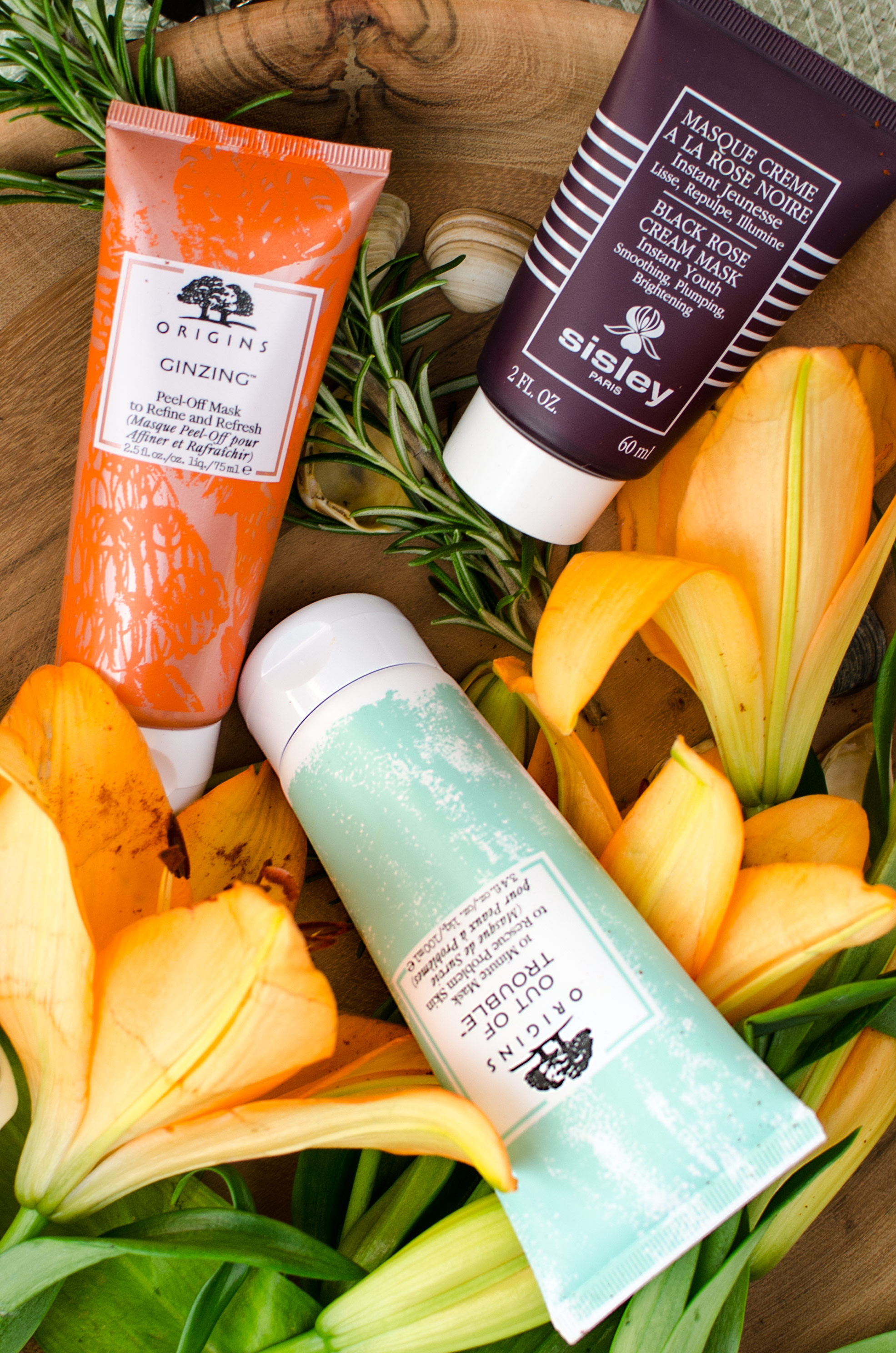 Ausgewählt habe ich nun für euch zwei Origins Lieblinge, die OUT OF TROUBLE Reinigungsmaske* und die Teint verfeinernde, erfrischende und spacige GINZING PEEL-OFF MASK*. Die dritte im Bunde ist ein echtes Edel-Highlight in Sachen intensiver Pflege und könnte für manchen eine neue Entdeckung sein!
ORIGINS OUT OF TROUBLE MASKE | FÜR BAD SKIN DAYS
Problematische Haut, die zu Ölglanz und Unreinheiten neigt? Oder auch nur gelegentliche "Bad Skin Days"? Für Tage mit Unreinheiten und Irritationen ist die OUT OF TROUBLE MASK einfach unentbehrlich für mich!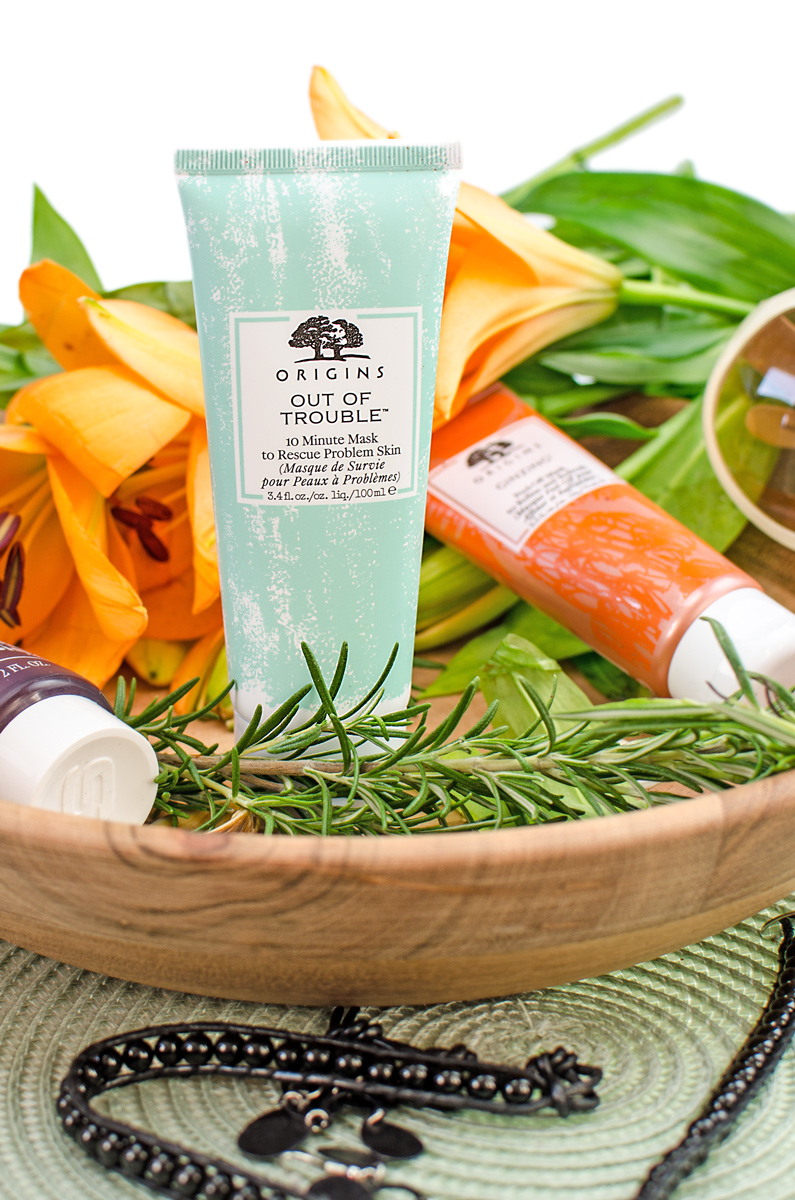 Die Origins Out of Trouble Mask hat eine eine für Reinigungsmasken typische Tonerden-Konsistenz. Ihr Geruch ist – ganz Origins – kräuterig mintig. Sie sorgt für ein frisches, kühles Hautgefühl, befreit die Haut in nur zehn Minuten von tiefsitzendem Talg und klärt. Dabei ist sie aber gar nicht aggressiv, sondern erfrischt und durchfeuchtet. Ich liebe diese Maske sehr!
COPPER FACE | DIE ORIGINS GINZING PEEL-OFF MASKE
Diese kupferfarbenen Liebling, die GINZING PEEL-OFF MASK*,  habe ich euch bereits ausführlich in einem Review vorgestellt, spaßiges Anwendungsbild inklusive. Super geeignet ist diese Abziehmaske für lustige Mädels-Beautyabende, denn sie bietet ein beeindruckendes Aussehen. Die Anwendung bringt echt Fun!
Doch die GinZing Peel-Off Mask kann noch mehr als nur gut und witzig aussehen. Nach der Anwendung der Abzieh-Maske erstrahlt die Haut. Sie wirkt feiner und fühlt sich erfrischt an. Zudem ist sie dann richtig gut auf weitere Pflegemaßnahmen vorbereitet. Man kann sie zwischendurch auch gut mal nur auf der Nase oder auf dem Kinn anwenden, um verstopfte Poren zu klären.
MEIN TIPP: Immer ausreichend dick auftragen sehr gut gut durchtrocknen lassen. Wenn sich Die GinZing Peel-Off Maske nur schwer abziehen lässt, liegt es meist daran, dass man sie zu sparsam aufgetragen hat. In gleichmäßiger Dicke aufgetragen und gut durchgetrocknet lässt sie sich leicht abziehen. Dieser Tipp gilt für alle Peel-Off Gesichtsmasken dieser Art.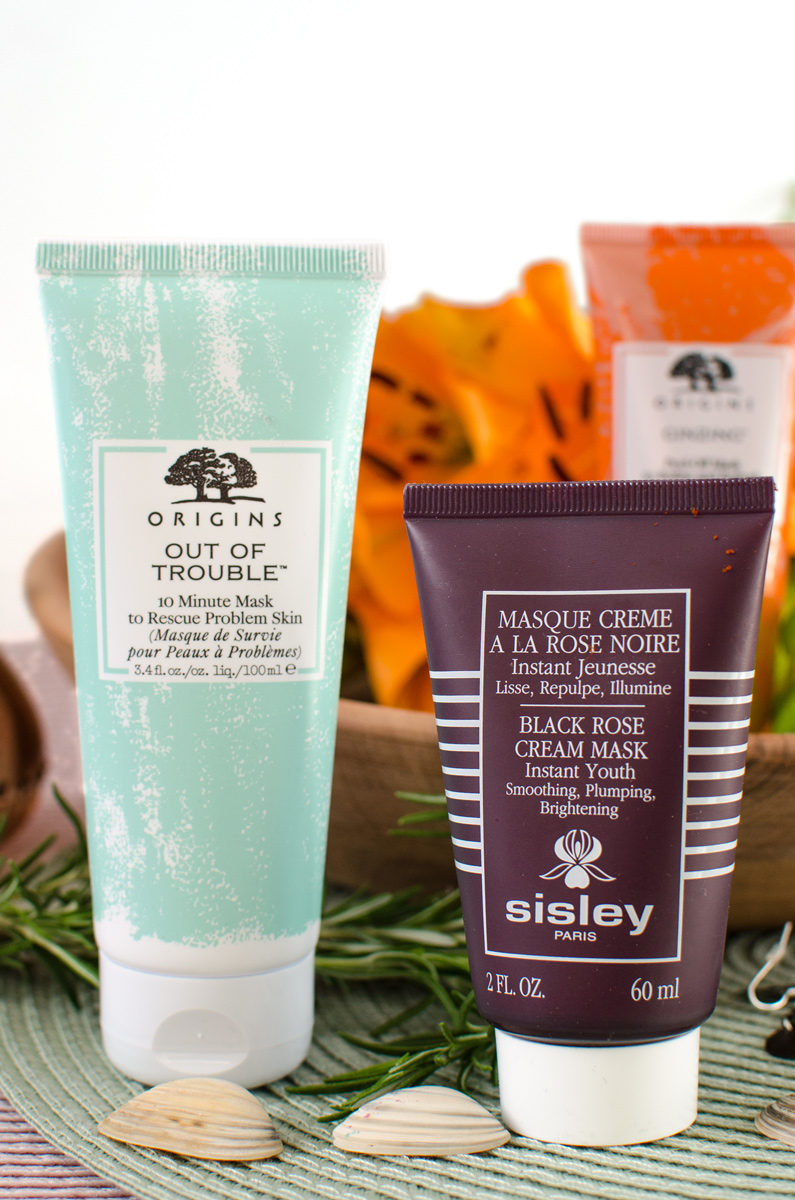 HAUTWUNDER: SISLEY MASQUE CRÈME DE LA ROSE NOIRE
So geheimnisvoll und luxuriös wie der Name klingt, ist die exklusive Maske des Highend Labels Sisley. So hochpreisige Produkte kaufe ich nur, wenn sie mich wirklich überzeugen. Nach der Anwendung einer Probe wurde mir von meiner Mom unterstellt, ich habe mich liften oder per Unterspritzung generalüberholen lassen. Ich muss sehr erholt gewirkt haben. Dies war Grund genug, mir eine Tube zu leisten.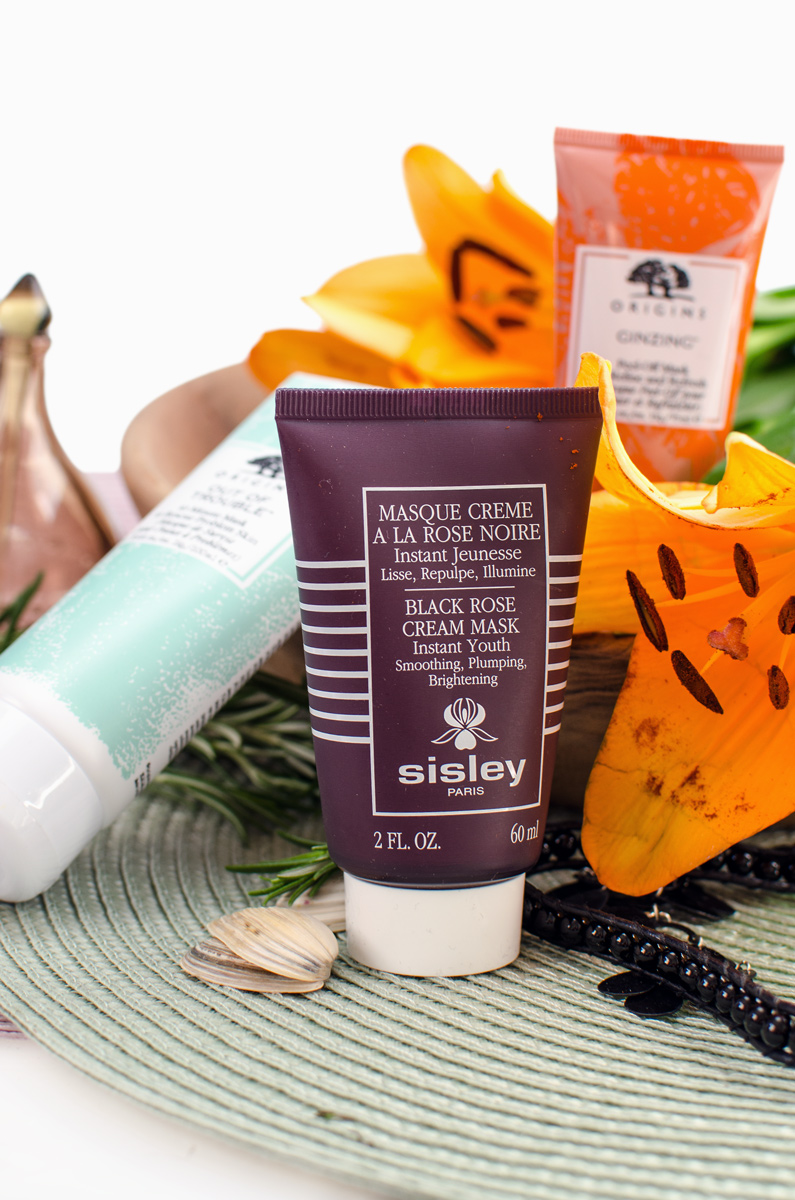 Ich muss ehrlich sagen: Wenn eure Haut schon Ermüdungserscheinungen und Fältchen zeigt, ist dies ein kleines Wundermittel, zumindest bei mir. Und auch meine Mom ist mittlerweile ein echter Fan. Ihr habt eine besondere Einladung, Veranstaltung oder einen Anlass, zu dem ihr besonders strahlen wollt? Dann versucht euch mal an diesem Luxusprodukt unter den Gesichtsmasken. Mit gut 100€ ( z.B. über Douglas*) kein Schnäppchen, aber meiner Ansicht nach ihr Geld wert.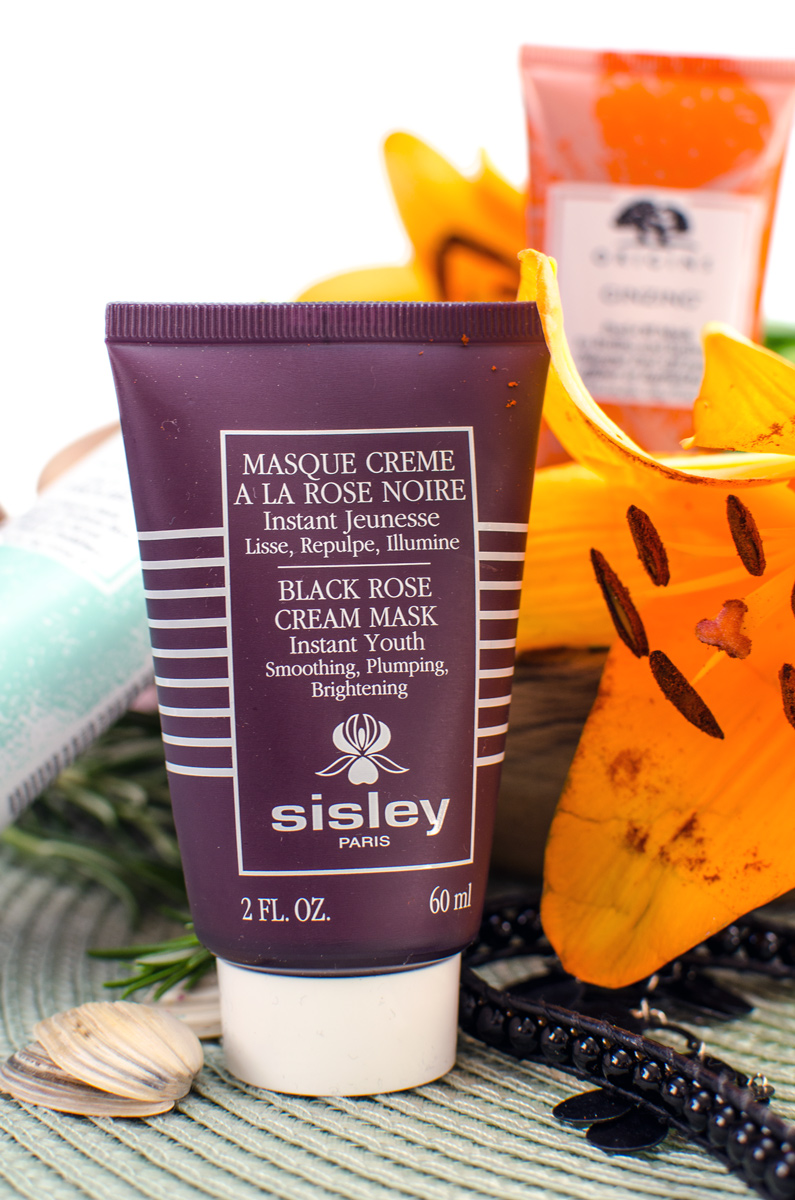 Die zartcremig luxuriöse Konsistenz hüllt einen in Rosenduft. Nach etwa 15 Minuten nochmals schön einmassieren und die Reste mit einem Pad oder Kosmetiktuch abnehmen. Danach einfach abwarten, ob ihr gefragt werdet, wer euer Schönheits-Doc ist 😉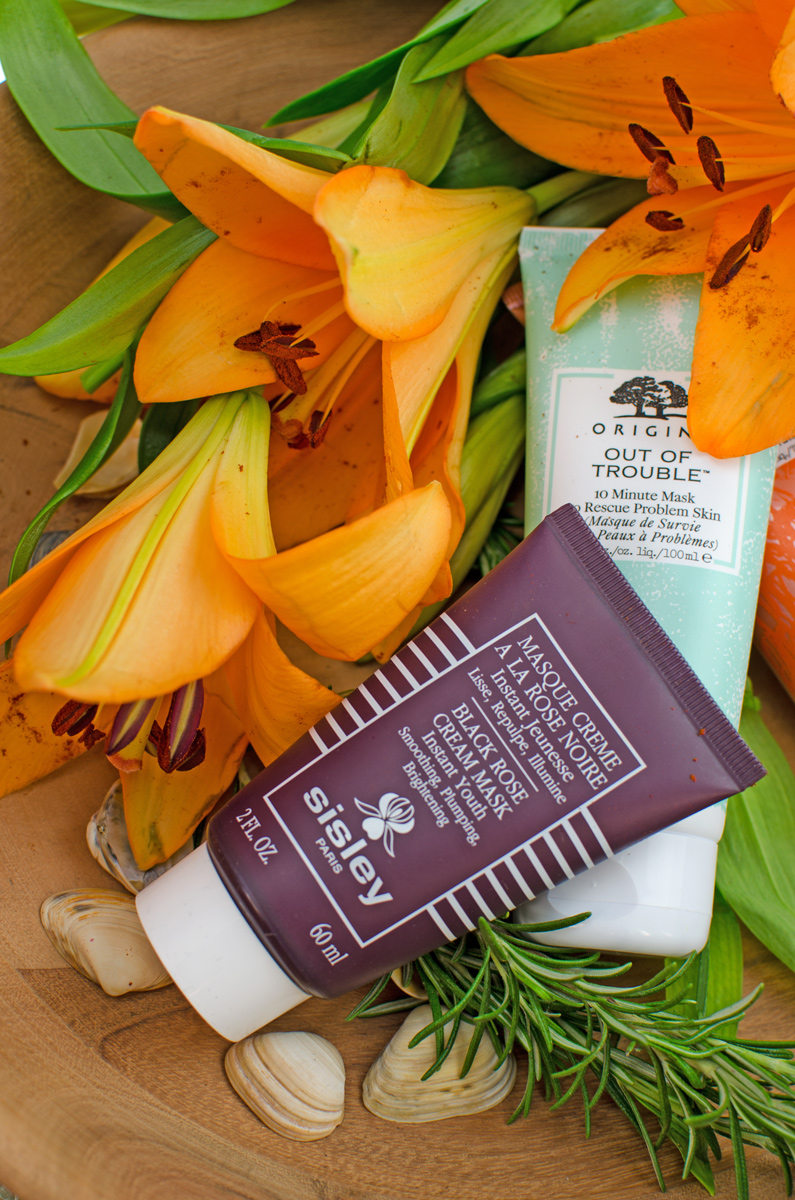 EXTRAPFLEGE & ECHTE RETTER IN DER NOT
Ihr seht also: Masken können sehr viel verschiedenes bewirken. Stets geben sie der Haut einen intensiven Extrakick, ob zum besonders intensiven Klären, Verfeinern des Hautbildes, als Feuchtigkeitsbooster oder kleines Anti-Aging-Wunder. Die konzentrieren Wirkstoffe von Masken ermöglichen ein tolles Ergebnis in kurzer Zeit.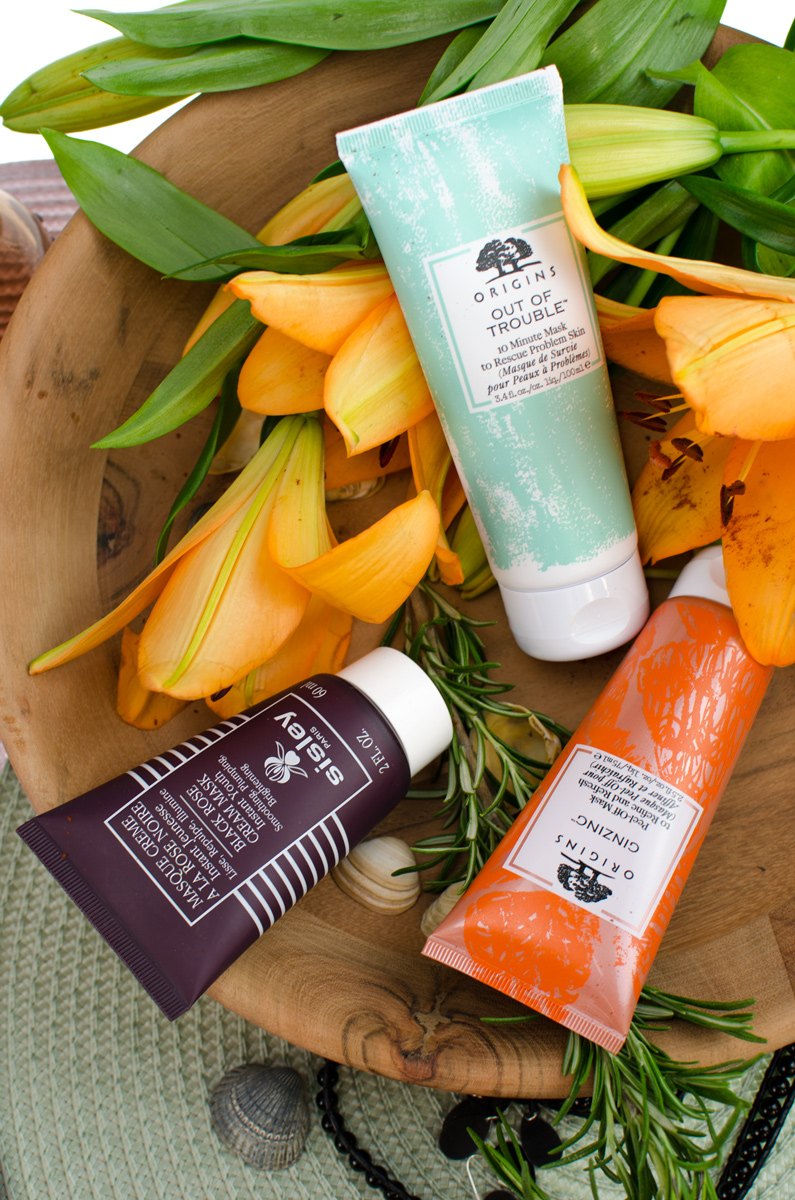 Regelmäßig angewendet, kann man einiges für sein Hautbild tun. Außerdem ist eine Maske ein wunderbarer Entschleuniger und ein Antistress-Mittel:  Sich einfach mal 10 Minuten Zeit für sich nehmen und vielleicht die Augen schließen, während die Wirkstoffe unsere Haut versorgen.
GEWINNSPIEL: GEWINNE 3x IN ORIGINS POWER DUO
Ihr möchtet gerne die tollen Power-Masken von Origins probieren? Macht mit und sichert euch die Chance auf ein tolles Duo!
Gewinnt eines der 3 Powersets in Fullsize, bestehend aus der  kupferfarbenen "GinZing Peel-Off Mask" und der tiefenreinigenden "Out of Trouble" Maske. Gleich zwei Gesichtsmasken gibt es für jeden Gewinner für den perfekten Teint!
GEWINNE DEIN GESICHTSMASKEN-SET
Verrate mir im Kommentar zu diesem Blogpost, ob du Gesichtsmasken verwendest und welches deine Lieblinge sind! Oder habt ihr bei einer meiner Mitstreiterinnen ein Produkt entdeckt, das euch besonders neugierig macht?
Kennst du bereits Masken von Origins? Beantworte bitte diese Frage.
Bitte gib im Kommentar an, wie du mir folgst und seid bitte ein echter Follower. Ich behalte mir vor, Leute, die nach Ende des Gewinnspiels sofort entliken, von künftigen Gewinnspielen auszuschließen. Die Gewinne haben Menschen verdient, die ein echtes Interesse an den Inhalten haben und keine Gewinnspiel-Hopper.
Die Gesichtsmasken Duos werden durch Origins verschickt und deswegen gebe ich die Adresse der Gewinner an das Unternehmen zu diesem Zweck weiter. Ihr bestätigt beim Absenden des Kommentars mit eurem Häkchen, dass ihr meine Datenschutzerklärung zur Kenntnis genommen habt. Mit der Weitergabe von Adresse und E-Mail zum Zweck des Gewinnversands seid ihr einverstanden.
Die Versandadresse muss in Deutschland liegen.
Teilnahmeschluss ist der 26. Mai 2018 um 23.59h
MEHR GESICHTSMASKEN & INSPIRATIONEN
Einmal mehr geht mein besonderer Dank an Marina vom Blog WasserMilchHonig (da gibt's auch was tolles zu gewinnen 😀 ), die mit unermüdlichem Einsatz unsere Themenwoche organisiert!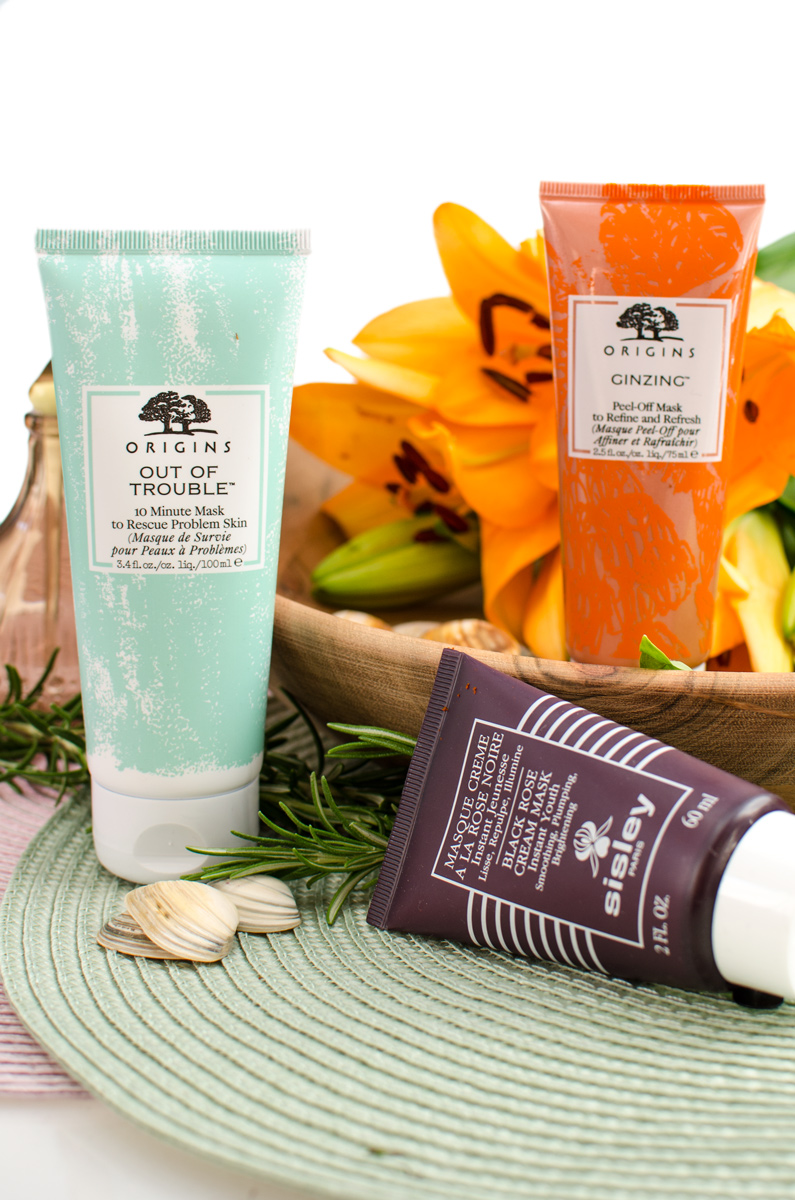 Holt euch bei ihr und den anderen Teilnehmerinnen im Monat Mai mehr Inspirationen für fabelhafte Gesichtsmasken! So viele spannende Produkte gibt es zu entdecken!
07.05.2018 – Karina https://mackarrie.com
08.05.2018 – Heli https://lavenderprovince.wordpress.com/
09.05.2018 – Bibi F.ashionable https://www.bibifashionable.at / Sara http://missesviolet.com/
10.05.2018 – Ich selbst https://stylepeacock.com / Marina https://wassermilchhonig.blogspot.co.at
11.05.2018 – Nicole http://leela-castleintheclouds.blogspot.co.at
12.05.2018 – Jacqueline www.hokis1981.com
13.05.2018 – Bea https://beatriceinlove.com
Ich wünsche euch allen viel Glück bei der Verlosung und bin gespannt auf eure Kommentare!
Euer stylepeacock
Chris
PS: Origins ist für mich DER MASKENSPEZIALIST schlechthin. Erfahrt mehr darüber, welche Brands welche Stärken aufweisen! Lest dazu meinen aktuellen Beitrag: MARKEN & IHRE STÄRKEN | BRAND-FAVORITES.
– *beinhaltet affiliate links | teilweise pr samples & daher werbung –
User Ratings (

3

Votes)

9.1