KENNZEICHNUNG(SWAHN) ODER TRANSPARENZ?
Welche Kennzeichnung muss mein Beitrag haben? Ist es bereits Werbung, wenn ich das Produkt gestellt bekomme? Oder handelt sich erst um Werbung, wenn man mich für den Blog Post bezahlt? Ist es vielleicht sogar Werbung, obwohl ich die Sachen selbst gekauft habe, aber die Marke lobe?
Ich weise hier gleich am Anfang darauf hin, dass dieser Beitrag auf meinem persönlichen Kenntnisstand beruht und keine rechtsverbindlichen Aussagen enthält. Ich bin kein Jurist und gebe die Dinge so wieder, wie ich sie recherchiert und verstanden habe.
EIN MONSTER NAMENS ABMAHNUNG
Derzeit geistert ein besonderes Monster durch die Blogger- & Influencer Welt. Es handelt sich um den Schrecken der Abmahnung. Keine oder vielleicht nur falsche Kennzeichnung? Der Abmahnanwalt ist dir auf den Fersen. Diese besondere Spezies der Juristen hat in Bloggern und Influencern eine neue Einnahmequelle gefunden. Doch so jung wie die Bloggerwelt auf die Menschheitsgeschichte betrachtet ist, so groß ist die Rechtsunsicherheit, was Kennzeichnung betrifft. Selbst Blogger, die Kennzeichnung gar nicht umgehen wollen, wissen oft einfach nicht, was gefordert ist. Zudem ändern sich hier auch die Regeln ständig, neue Urteile werden gefällt und andere Verordnungen geschaffen.
VERWIRRUNG ODER DURCHBLICK VIA KENNZEICHNUNG?
Vielfach macht die neue Kennzeichnung die Dinge aber nicht wirklich klarer. Hierzu hatte ich mich auch bereits im Beitrag "WERBUNG? ANZEIGE? SPONSORED? IRREFÜHRENDE TRANSPARENZ?" geäußert. Meiner Meinung nach sind viele der nun geforderten Arten der Kennzeichnung eher unsinnig, aber leider offenbar nötig.
Auch Artikel für die man nur das Produkt, aber kein Honorar erhalten hat, müssen nun mit dem Wort "WERBUNG" oder "ANZEIGE" gekennzeichnet sein. Ich halte diese Ausdrücke als Kennzeichnung gar nicht für förderlich, eher für missverständlich. Ein einfaches "PR SAMPLE" sagt doch viel klarer, um was es sich handelt. Mittlerweile bin aber auch ich dazu übergegangen, Beiträge mit PR Samples als "Werbung" oder "Anzeige" zu kennzeichnen.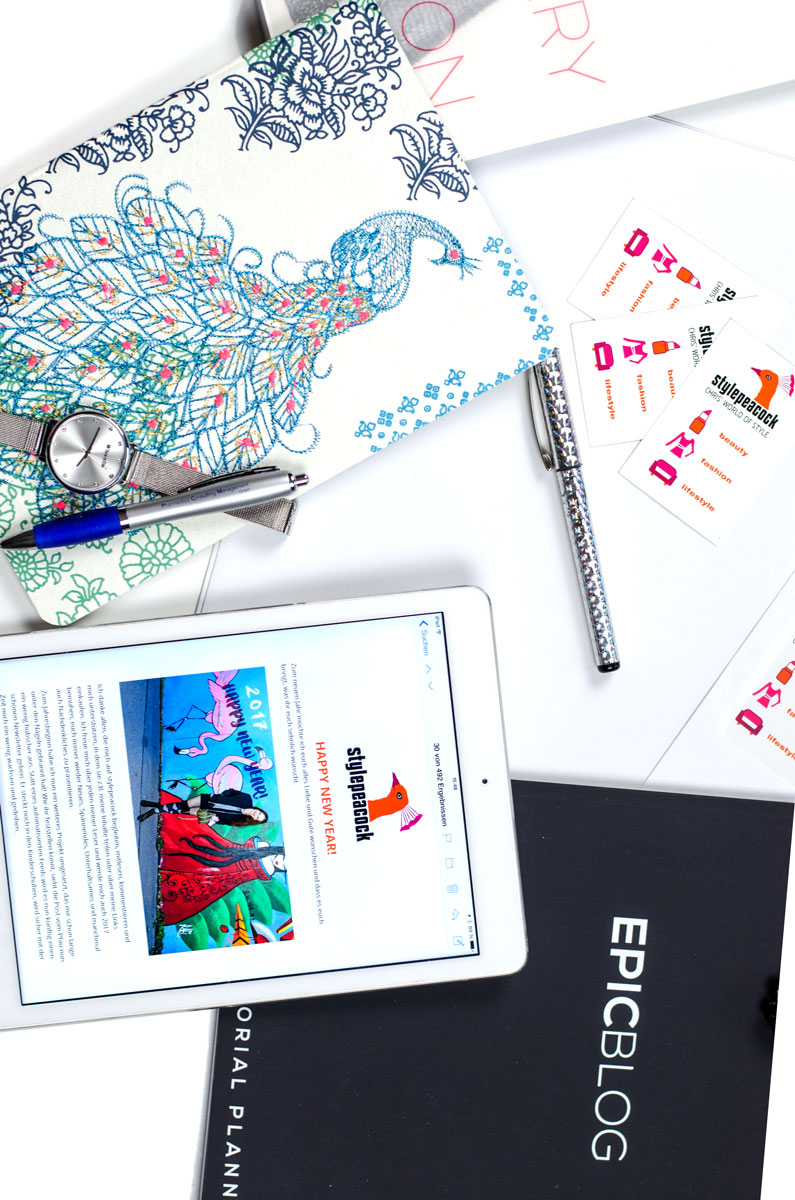 SCHON ABGEMAHNT WORDEN?
Abmahnungen können richtig teuer werden und sie treffen durchaus auch den kleinen Blogger, der sich keiner Schuld bewusst ist. Auf der anderen Seite gibt es viele große Blogger und Influencer, die immer noch wenig oder gar nicht kennzeichnen und damit offenbar durchkommen. Eine Abmahnung stürzt einen Kleinverdiener schnell in echte Verzweiflung.
Dennoch sehe ich auch eine Tendenz großer Blogger und Influencer plötzlich deutlich zu kennzeichnen – vor allem auf Instagram. Hier mag vielleicht der eine oder andere schon böse und teure Post erhalten haben.
KENNZEICHNUNG FÜR ALLES?
Viele Blogger, die gerne transparent arbeiten möchten, sind mittlerweile so verunsichert, dass sie damit beginnen, einfach fast alles zu kennzeichnen. Zu viel Kennzeichnung kann aber genauso falsch wie zu wenig sein.
Nach meinem Rechtsempfinden liegt keine Werbung vor und ist somit keine Kennzeichnung nötig, wenn man nicht in Vereinbarung mit einem Unternehmen handelt. Es sind keine Produkte gestellt bekommen und es fließt auch kein Geld für den Beitrag? Hier eine Marke zu nennen, bringt keinen persönlichen Profit, sondern hat nach meiner Meinung einen informellen, also redaktionellen Charakter.
Wer nun meint, es sei einfach sicher alles zu kennzeichnen, kann möglicherweise genau hierfür abgemahnt werden. Denn wo alles als Werbung deklariert wird, verliert die Kennzeichnung ihren informativen Charakter. Ein Nasenring und blaue Haare mag für manchen Bürger erschreckend sein. Wenn aber jeder einen Nasenring und blaue Haare trägt, verliert diese "Kennzeichnung" ihren Schrecken, und somit die eigentliche Aussage.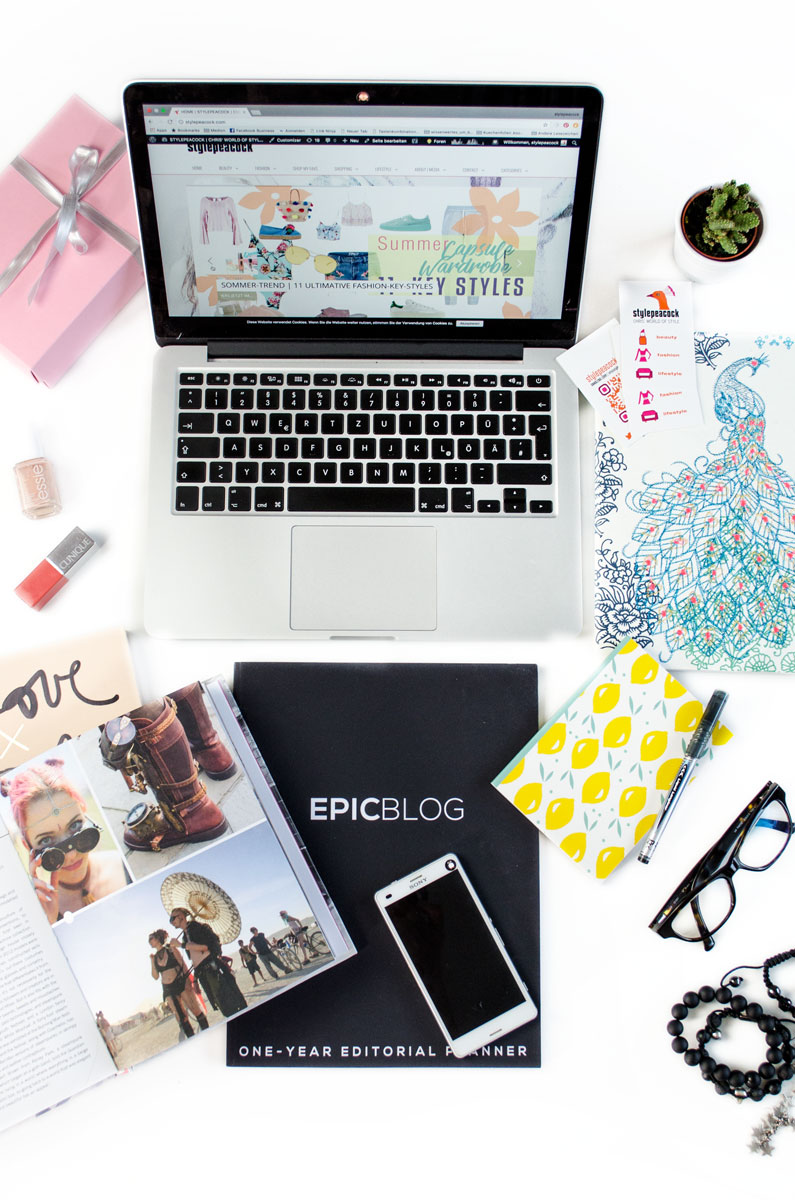 ZU VIEL KENNZEICHNUNG? GIBT'S DAS?
Wie also soll der Leser noch feststellen, was wirklich in Kooperation entstanden ist, wenn alles als Werbung deklariert wird? Ja, man kann auch zu viel kennzeichnen und dadurch Gefahr laufen, abgemahnt zu werden. Man hat die Pflicht, eindeutig und transparent zwischen redaktionellen und werblichen Inhalten zu unterscheiden.
KENNZEICHNUNG! WIE MACHE ICH ES RICHTIG?
Hier fasse ich euch nun nach meinem augenblicklichen Kenntnisstand – und wie ich die Rechtslage derzeit verstehe – zusammen.
KENNZEICHNUNG BEI BLOGPOSTS
Wie also kennzeichne ich meine Blogposts nun so, dass ich nicht abgemahnt werde und meinen Lesern eine transparente Darstellung gebe? Wichtig ist es stets, den Leser bereits am Anfang zu informieren, wenn eine Kooperation, als nach Gesetzeslage "Werbung", vorliegt.
BLOGBEITRAG MIT PR SAMPLE
Blogbeiträge für die ich PR Samples zur Verfügung gestellt bekommen habe, versehe ich nun mit einer solchen Kennzeichnung:
WERBUNG | PR SAMPLE (oder umgekehrt)
PRSAMPLE | ANZEIGE
BEINHALTET WERBUNG | PRSAMPLE
PR Sample ist hier nicht Pflicht, aber ich möchte meinem Leser Klarheit darüber geben, welche Form der Kooperation hier besteht. "Werbung" oder "Anzeige" reicht aus. Wichtig ist, dass für den Leser am Anfang des Textes ersichtlich ist, dass hier eine Kooperation mit einem Unternehmen besteht. Sei es, dass Produkte zur Verfügung gestellt wurden, bzw. Werbung beinhaltet ist. Wie früher oft praktiziert, ist es nun nicht mehr genug unter dem Blogpost ein kleines "PR SAMPLE" oder "in (liebevoller) Zusammenarbeit mit…" anzubringen.
HONORIERTE BEITRÄGE
Erhalte ich ein Honorar für meinen Beitrag, weise ich dies gerne als "Sponsored Post" aus. Doch unser Staat hält den deutschen Bürger offenbar nicht für fähig, den Sinn dieser Worte zu erfassen. Englischsprachige Bezeichnungen wie diese – oder auch "Advertorial", kurz "Ad" werden nicht als eindeutig genug angesehen. Daher ist es gefordert, solche Artikel mit dem Wort "WERBUNG" oder ANZEIGE" am Anfang des Texts zu versehen.
Hierfür sind solche Wendungen besonders ratsam, die beschreiben, dass hier eine Bezahlung für den Post vorliegt:
SPONSORED POST | WERBUNG
ANZEIGE | SPONSORED POST
Werbung (oder Anzeige) | In (wunderbarer/freundlicher/herzlicher) Zusammenarbeit (oder Kooperation) mit XY
Einfach nur WERBUNG oder ANZEIGE
FACEBOOK-POSTS RICHTIG DEKLARIEREN
Kennzeichnung von Facebook-Posts? In Kooperation entstandene Blog Beiträge, die man auf Facebook teil, sind auch dort direkt als solche kenntlich zu machen. Der Besucher soll vor dem Klick auf den Beitrag informiert sein, dass dieser auf einer Zusammenarbeit beruht.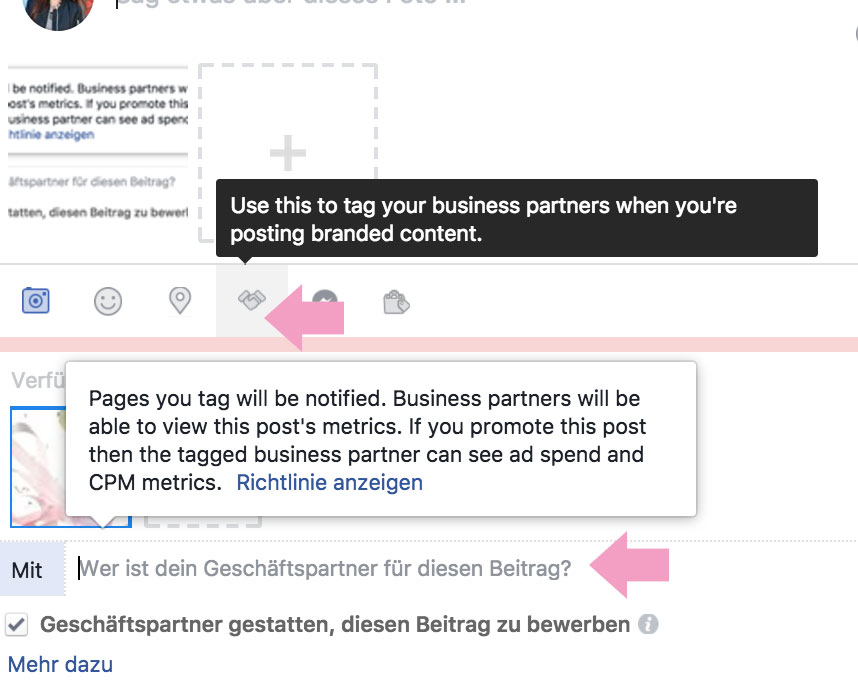 Postet man den Beitrag direkt auf der eigenen Unternehmensseite bei Facebook kann man nun direkt über einen Button auswählen, mit welchem Unternehmen man hier kooperiert.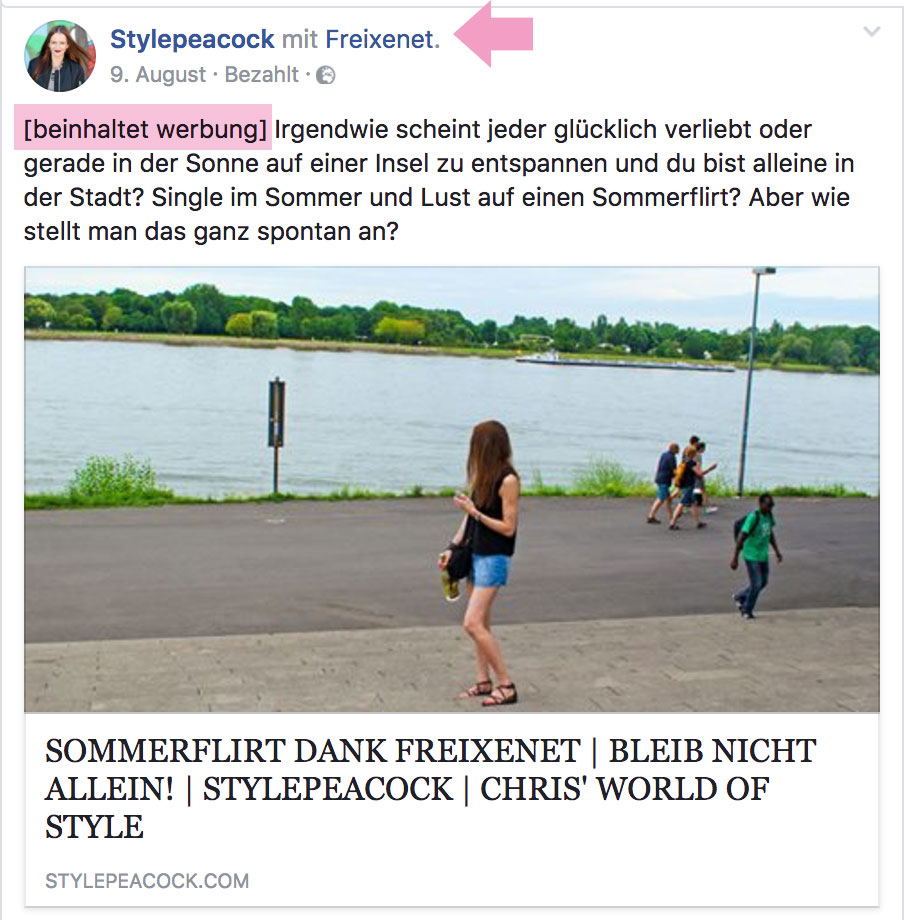 Ich bevorzuge es dennoch trotz Facebook-Deklaration auch am Anfang des Teasers noch einmal auf den "werblichen" Inhalt hinzuweisen.
Teile ich einen Beitrag über einen Share-Button direkt vom Blog, kann ich dies nicht mit der Kooperationsoption verbinden. Hier deklariere ich selbst und deutlich sichtbar den Beitrag.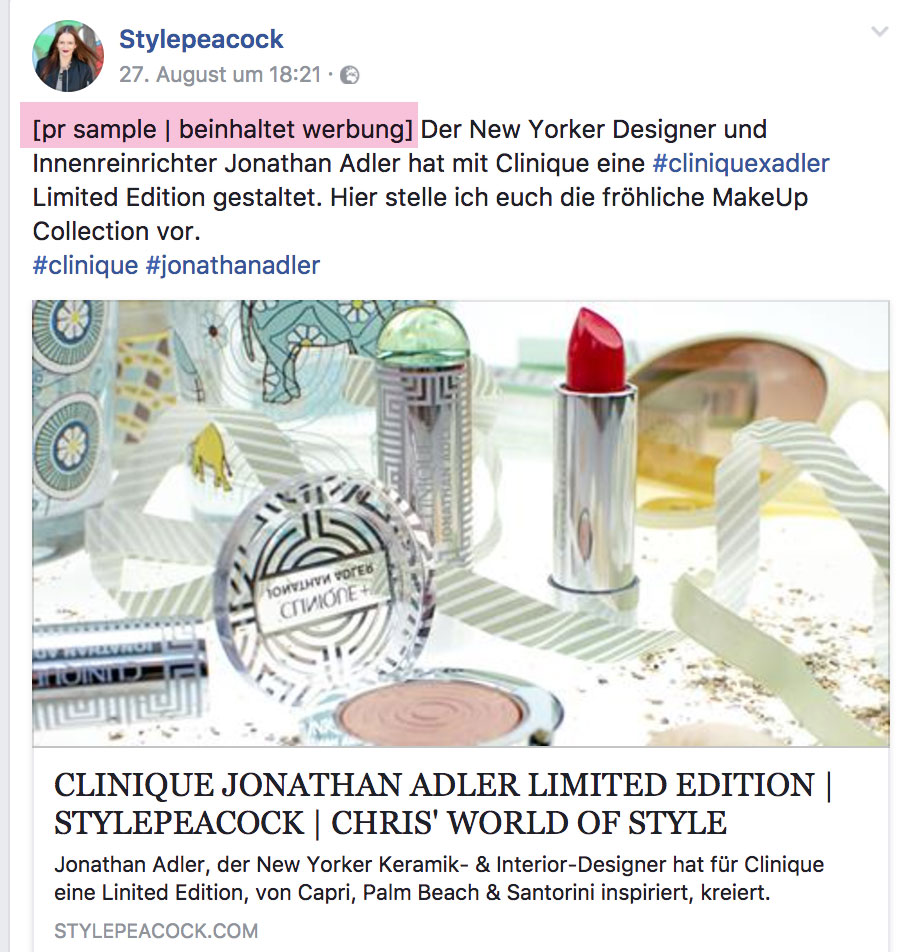 Diese Option der ausschließlich eigenen Kennzeichnung bevorzuge ich gerne bei reinen PR SAMPLES. Der Facebook-Button besagt, dass es sich um einen bezahlten Beitrag handelt, was hier aber gar nicht stimmt. Mir wurden lediglich Make-Up Produkte zum unverbindlichen Testen zugesendet. Es gibt in hier auch keine Vereinbarung über einen Blog Post im Gegenzug.
TWEET YOUR MESSAGE OR BLOG POST
Ob ihr nun einen Link zu eurem in Kooperation entstandenen Blogpost oder einen direkten Kauflink, sprich Affiliatelink twittert, eine Kennzeichnung würde ich angesichts der aktuellen Sachlage auch hier empfehlen. Schwierig wird es, wenn man durch Plug-Ins oder Social Media Plattformen Beiträge automatisch per Twitter teilt.
Gibt es die Möglichkeit hier einen Share-Text festzulegen (z.B. über das Plugin YOAST), kann man diesen entsprechend beginnen lassen, wie z.B. [anzeige]oder wie hier [pr sample | beinhaltet werbung].

#WERBUNG #ANZEIGE? HASH THE TAG?
Natürlich darf man auch über ein Hashtag auf die werblichen Inhalte aufmerksam machen, Pflicht ist dies jedoch nicht. Wichtig ist die Deklaration in verständlichen Worten, nicht als Hashtag.
PIN THE POST
Pinterest – eine noch recht jungfräuliche Baustelle in Deutschland. In unserem Land ist diese Plattform gerade erst dabei sich richtig zu entfalten und hat noch einigen Nachholbedarf an Rechtsklarheit. Mittlerweile bin ich dazu übergegangen, auch hier den Text zum Bild im Fall einer Kooperation um eine Erklärung zu erweitern.
Ob man diese, wie ich, in Klammer setzt, groß oder klein schreibt, mit Hashtag versieht oder nicht, spielt keine Rolle. Wichtig ist alleine die Verständlichkeit der Botschaft – so wie es gefordert wird. Wie (miss)verständlich dies wirklich ist, habe ich bereits in einem Beitrag zuvor erörtert.
HEUTE SCHON GEKENNZEICHNET?
Wie sieht es bei euch aus? Wenn du ein Blogger oder Influencer bist, ist dir auch aufgefallen, dass die Kennzeichnung eine große Bedeutung bekommen hat? Wie hältst du es damit?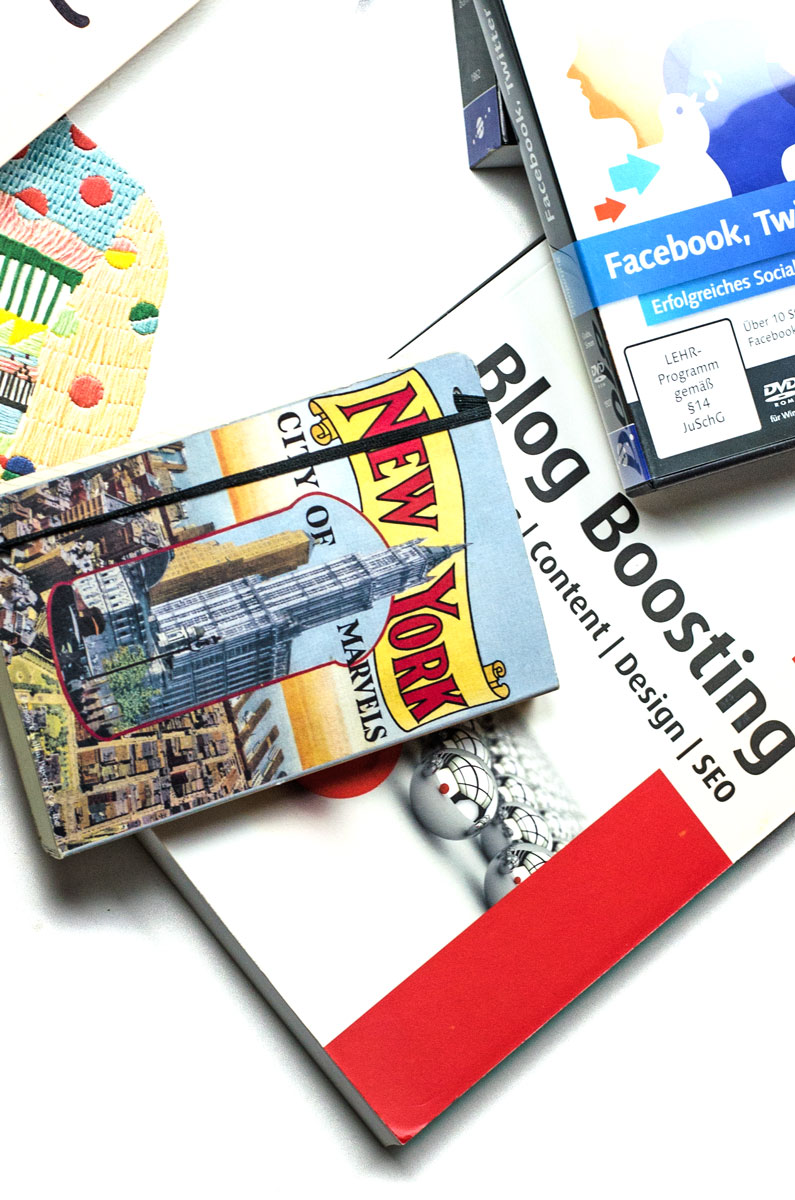 WAS WÜNSCHT IHR EUCH FÜR EINE KENNZEICHNUNG?
Wie geht es den Followern und Lesern? Findet ihr diese Art der Kennzeichnung sinnvoll? Fühlt ihr euch richtig informiert, wenn an einem Blog "WERBUNG" steht, weil ein Produkt zugeschickt wurde? Ist es für euch wichtig zu erfahren, um welche Art der Kooperation es sich handelt? Ist es nur ein PR Sample oder ein bezahlter Beitrag? Oder ist für euch alles Werbung oder vielleicht gar keine?
Entdeckt mehr Beiträge rund ums Bloggen, Selbständigkeit, Versicherung, Steuer, Affiliate, Mehrwert. Kooperationen… hier in meiner Kategorie "BLOGGGING TIPPS".
Nervt vielleicht diese Deklaration sogar? Findet ihr es wichtig oder eher albern, wenn nun vor jedem gezeigten Produkt Werbung steht, sobald es nicht bezahlt wurde? Mich interessiert eure Meinung als Follower und auch als Blogger. Wie denkt ihr darüber?
Ich hoffe mein Beitrag hat ein bisschen Licht in den Dschungel der Kennzeichnung gebracht und bin gespannt auf eure Meinungen!
Euer stylepeacock


Chris