I ♥ FLAT LAY | DAS MODERNE STILLLEBEN
Flat Lays! Was überhaupt ist denn ein FLAT LAY? Ein Flatlay – auch FLAT LAY im englischen geschrieben – ist eine Anordnung diverser Gegenstände flach auf dem Boden, bzw. einem Tisch oder Bett, von oben fotografiert. Ich bin ein großer Fan dieser modernen Stillleben, die eine ganz eigene Aussagekraft mit sich bringen.
Man könnte Instagram als die Wiege des Flat Lays bezeichnen und entsprechend sind die meisten dieser Arrangement im Quadrat gehalten. Zwingend ist dies aber nicht. Meinen Beitrag über den Sinn und Unsinn der Bilderwelt von Instagram findet ihr → HIER.
1. KAMERA ODER HANDY?
Natürlich gibt es sie noch, die Instagram-User, die ALLES mit dem Handy fotografieren und glauben, dass gerade Instagram NUR DAFÜR gemacht sei. Die Dinge entwickeln sich. Längst ist Instagram keine reine Bilderbörse des Handyschnappschusses mehr, sondern eine Sammlung an Bildern unterschiedlichster Art. Außerdem nehmen Flat Lays jetzt auch einen großen Raum bei Pinterest (→ zu meinem Pinterest).
Ich persönlich finde das prima und schaue mir auch, gerade bei bewusst arrangierten Bildern, gerne qualitativ hochwertige Aufnahmen an. Wer aber glaubt, die wirklich beeindruckenden Flat Lays der Oberklasse stammen vom schnellen Schuss mit dem Handy und drei Klicks der Nachbearbeitung mit einer kostenfreien Foto-App, der kann genauso gut an den Weihnachtsmann glauben.
Wer Ehrgeiz beim Fotografieren und speziell was Flat Lays angeht entwickelt, wird irgendwann zur Spiegelreflex-Kamera greifen.
2. DIE MOTIVATION & DAS MOTIV
Das Motiv kann so verschieden sein wie die Motivation ein Flat Lay zu erstellen. Das Arrangement kann aus reiner Lust am Bild entstehen, es kann ein Teaser für einen Blogpost sein.
Lieblingsprodukte, oft aus dem Beautybereich oder das OOTD (Outfit of the Day), wie auch andere Fashion-Inspirationen, zeigen. Mit dem Flatlays kann man auch eigene Werke präsentieren, ob DIY, Gebackenes und Gekochtes aus dem Food-Bereich oder eigene Kunstwerke.
BEREICHE & MOTIVE
Flat Lays sind vielseitig und für nahezu jeden Bereich einsetzbar. Das häufigste Blogger-Motiv ist sicher das Macbook kombiniert mit einem (oft auch kunstvoll geschäumten) Kaffee, Stift, Bille/Sonnenbrille und Notizbuch, dazu weiterer "Zierrat" wie Lippenstift, Armbanduhr, Bücher, Magazine…

Hier eigenen sich Flat Lays auch wunderbar als "Markenbotschafter"als hübsch verpackte Werbebotschaft für Kooperationen.
3. ANORDNUNG & FARBWELT
Flat Lays können sehr geometrisch angeordnet sein, diagonal oder auch so, dass es wie zufällig wirkt.
Dies ist Geschmackssache und ein wenig auch dem Motiv geschuldet. Dafür wie viele Gegenstände zu sehen sein sollen, gibt es keine Regeln. Ich kenne wunderbare Flat Lays mit nur zwei Sachen darauf, die dennoch spannend sind. Ebenso kann ein Flat Lay auf den ersten wie ein Wimmelbildchen wirken und dennoch eine hervorragende Struktur besitzen. Die Kunst liegt im Was und Wie.

Überlegt, welche Farbwelt euer Flat Lay haben soll. Pastellig sanft, poppig knallig oder straight, fast monochrom, z.B. mit Gegenständen fast nur in Schwarz oder Grau. Dies kann z.B. toll sein, um einen knallroten Lippenstift in Szene zu setzen. Am häufigsten trifft man Pastellwelten mit Weiß, Rosa und Grau.

Das Motiv kann angeschnitten sein, was sehr häufig ist, oder aber auch frei auf der Fläche vollständig abgebildet werden.
Überlegt euch also, warum ihr ein Flat Lay machen wollt, was es mitteilen und wen es ansprechen soll. An einem unmotivierten "Ich brauch' ein Bild für Instagram" Flat Lay, am besten noch schlecht umgesetzt, findet niemand so recht Gefallen. Doch unabhängig von Motivation & Motiv gibt es noch ein paar andere Dinge zu beachten.
ÜBUNG MACHT DEN MEISTER
Ich selbst bin noch lange kein Meister des Flat Lays, aber ich werde besser. Es gehört einfach Übung dazu, in der Auswahl des Motivs wie auch des Arrangements.
Das erste ist ganz einfach, dass man üben muss, wie schon im ersten Punkt gesagt, es gibt kaum falsche Gegenstände und auch keine perfekte Anzahl oder Legeweise. Das Gesamtbild macht es – und darin liegt die Kunst. Hier hilft es, sich andere Flat Lays anzuschauen und zu überlegen, was einem daran gefällt oder auch nicht.
Einige Gegenstände machen es einem nicht leicht, weil sie gerne wegrollen, Schreibutensilien oder Lippenstifte z.B.. Hier hilft doppeltgelegtes Tesa oder beidseitiges Klebeband, mit dem man das Objekt festpinnt. wem das alles zu mühevoll erscheint… Stock-Agenturen haben das Flat Lay für sich entdeckt und bieten perfekte Inszenierungen zum Kaufen an. Solange man diese als Deko z.B. in einem Magazinartikel verwendet, mag das ok sein. Aber bitte nicht als "eigene Welt" auf Instagram, Pinterest & Co verkaufen!
4. BACK TO THE GROUND | HINTERGRUND
Zurück zum Motiv und wie man es darstellt. Der Hintergrund ist unglaublich wichtig. Im Regelfall sollte er hell und gleichmäßig sein. Weiß und Hellgrau schlucken nicht die Farben des Motivs, sondern bringen sie zum Leuchten. Man braucht keine komplette Profiausstattung, sondern vor allem Einfallsreichtum.
WEISS ODER NICHT WEISS…
Am einfachsten, auch für die Nachbearbeitung, ist ein ganz heller Hintergrund. Häufig werden hier Bettlaken genommen. Dies kann einen schönen Effekt geben, wenn der Untergrund "kuschelig" wirken soll. Für ein richtig planes reinweiß eignet sich aber z.B, ein glatte weiße Tischplatte besser.
Ich verwende für meine Flat Lays meist die Platte eines alten Schreibtischs. Möchtet ihr häufiger auf weißem Grund fotografieren, lohnt es sich aber auch, in eine günstige weiße Tischplatte zu investieren, die man meist irgendwo an die Wand gelehnt, verstauen kann (oder unter dem Bett).
GÜNSTIGE BACKGROUNDS
Eine weiße Tischplatte in 100x60cm bekommt ihr bei Ikea bereits für 5,90€ (→ LINNMON*) – das ist weniger als mancher Karton als Unterlage. Auch ein schöner Dielen-, Parkett- oder Laminatboden kann etwas hermachen – oder eine Pappe aus dem Kreativmarkt, die einen solchen simuliert. Auch kann man in Baumärkten oder bei Handwerkern nach Dielen und Holzresten fragen. Der Hintergrund kann aber, wie beim folgenden Bild, auch tragendes Teil des Motivs sein:
Beliebt sind auch Schaffelle (gibt es auch in veganer Fake-Fur-Variante), gerade im Beauty- & Schmuck-Bereich. Ein gemusterter oder sehr auffälliger Hintergrund kann ein gewolltes Stilmittel sein, lenkt aber vom Motiv an und ist oft schwere nachzubearbeiten, gerade wenn das partiell aufgehellt werden muss.
Womit wir beim nächsten Thema wäre, den Lichtverhältnissen.
5. ES WERDE LICHT | FLAT LAY IM DÄMMERLICHT
Ach ja, es ist ein toller Tipp, Flat Lays nur in bestem Tageslicht zu schießen. Wer aber von uns wohnt in einem ganzjährig lichtdurchflutenden Loft und ist immer zu passenden Tageszeit daheim? Tatsache ist aber: Ohne Licht kein gescheites Bild. Blitzen hinterlässt oft unschöne Reflektionen.
SOFTBOXEN SCHAFFEN LICHT
Wer häufiger daheim Dinge als Blogger fotografiert, ob Kuchen, Schmuck oder Beauty – oder eben Flat Lays, kommt auf Dauer um Softboxen kaum herum. Softboxen sind in der Regel große Lampen auf Stativen. Einzeln gibt es sie an etwa 30,00 €. Ich empfehle hier → AMAZON*, da habe ich meine "kleine", leider viel Raum einnehmende, Ausrüstung auch gekauft. 2-3 Softboxen braucht man mindestens, daher empfiehlt sich ein → Set wie dieses*. Dieses hat auch ein Galgenstativ für Lich von oben und dazu von zwei Seiten, damit erreicht man schon viel.
6. AUFHÜBSCHEN | BILDBEARBEITUNG
Aber auch mit Softboxen und weißer Platte benötigen die Bilder eine Nachbearbeitung.Wer mit richtiger Spiegelreflex fotografiert, dem empfehle ich immer im RAW Format zu knipsen, denn hier kann man direkt beim Öffnen der Bilder z.B. in Photoshop oder Lightroom schon einiges durch ein paar Nachjustierungen der Schatten- und Lichtwerte wie der Bildtemperatur bewirken.

Für Handys gibt es zahlreiche Foto-Apps und Filter zur Korrektur und dazu ebenso viele Beiträge im Netz, daher gehe ich darauf an dieser Stelle nicht weiter ein.
7. AUSSCHNITT / FORMAT FÜR DEINE FLAT LAYS
Instagram ist die Welt im Quadrat, die meisten Blogbilder sind jedoch im Querformat, gerade Titelbilder, und Pinterest mag am liebsten Hochformate. Wer seine Bilder nur für Instagram nimmt, kann natürlich, gerade mit dem Handy direkt im Quadrat knipsen und hat so direkt den gewünschten Ausschnitt.
Quadrat für Instagram
Meine Instagrambilder landen auch im Quadrat auf Pinterest, doch gerade beginne ich damit, Flat Lays auch für Pinterest angepasst zu fotografieren, bzw anschließend einen Hochformatausschnitt zu erstellen, denn so werden die Bilder bei Pinterest einfach viel größer dargestellt und erregen mehr Aufmerksamkeit.
Hochformat für Pinterest
Bei Pinterest könnt ihr das reine Bild für sich sprechen lassen, wirkungsvoller sind aber Bilder im extremen Hochformat, die schon eindeutig titulieren, was sich hinter dem Bild verbirgt. So sieht mein aktuelles Pinterest-Bild für diesen Beitrag aus. Ihr dürft die Bilder gerne weiterpinnen!
Auch z.B. für meinen → Bobbi Brown Beitrag, für ein Review zum neuen → Clinique Moisture Surge Cencentrate oder zu meinem → Beitrag zum DIY Interior Projekt "Sideboard" habe ich in meinem neu entwickelten Style für Pinterest diverse Bilder geschaffen.
Ein reines Flat Lay Bild ohne Headline ist schön, zieht aber weniger Aufmerksamkeit auf sich: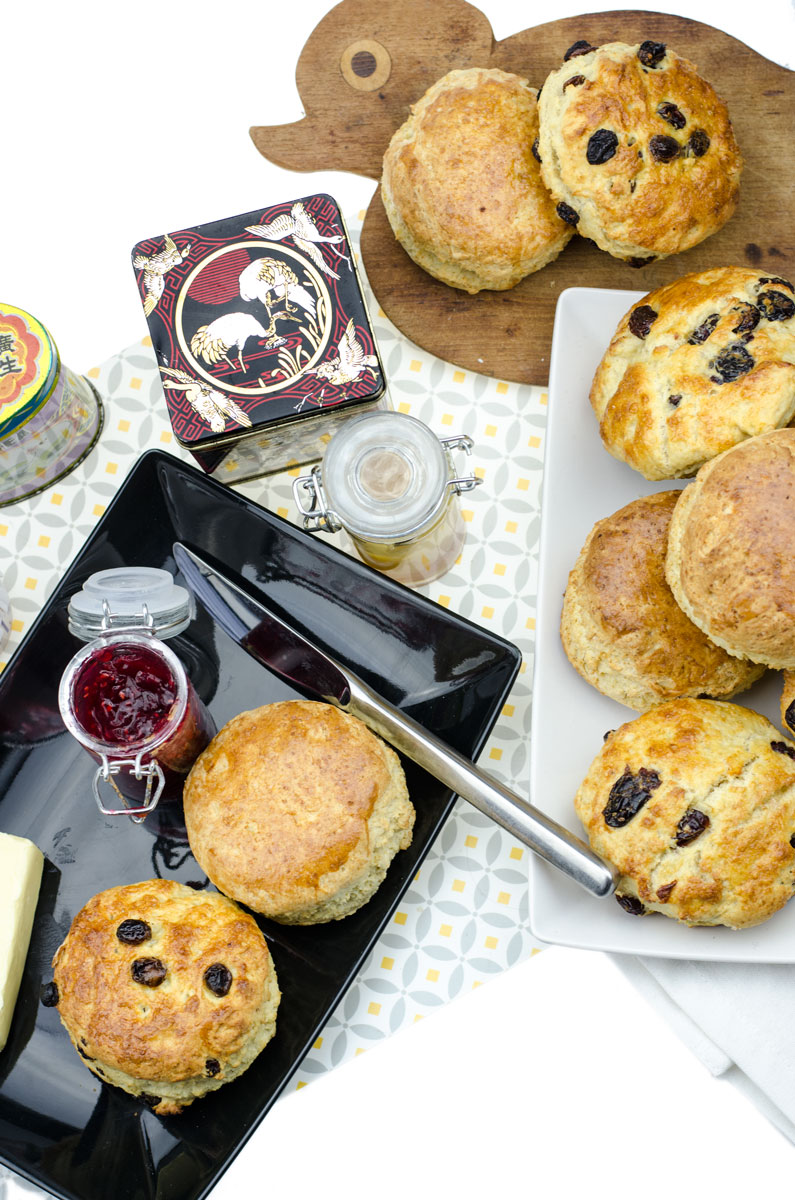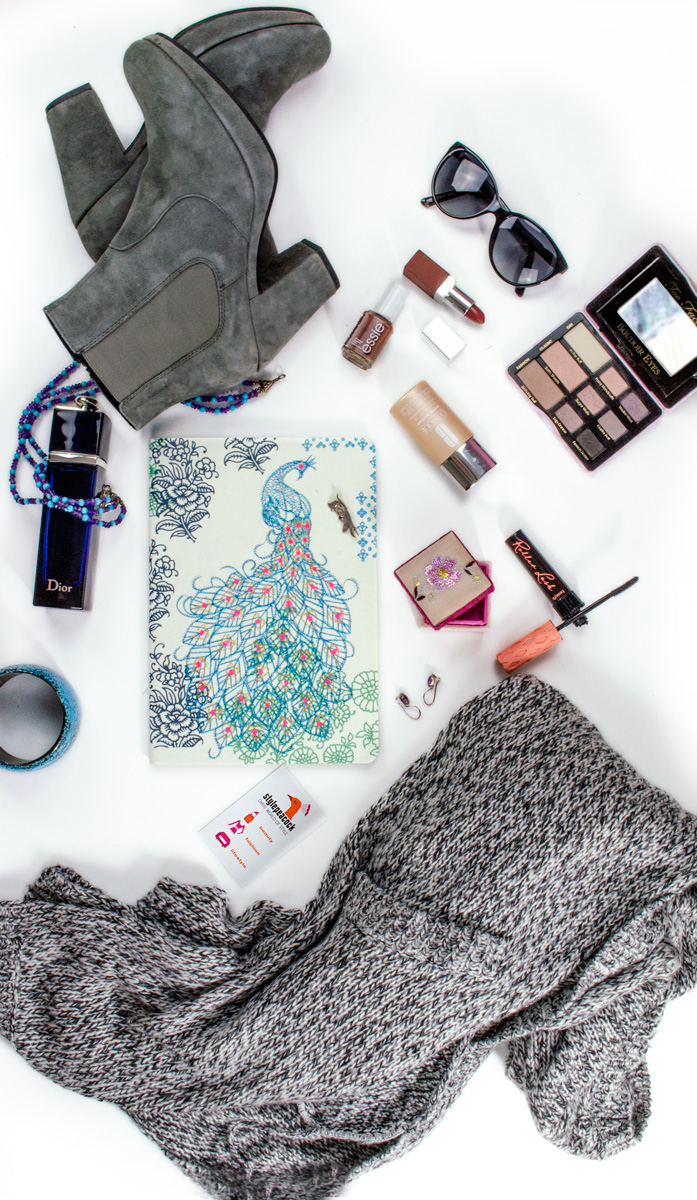 So habe ich hier nun heute für mein Beispielbild, die Dinge für das Hochformat noch einmal neu arrangiert. Für das Titelbild im extremen Querformat habe ich das Bild verbreitert.
Querformat für Blog-Titelbild & Facebook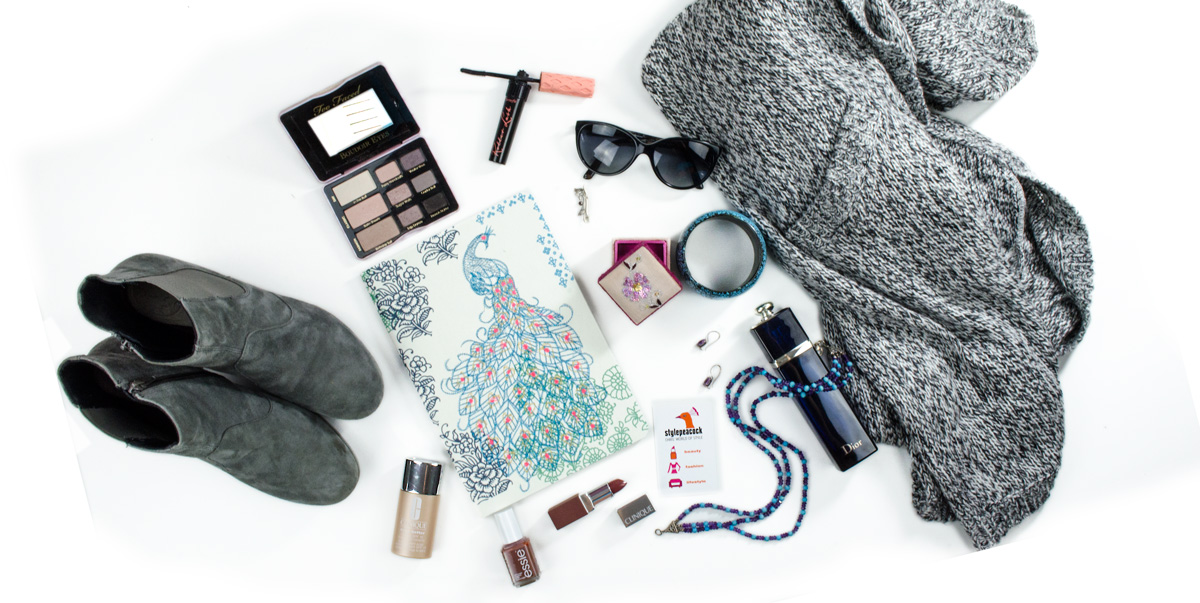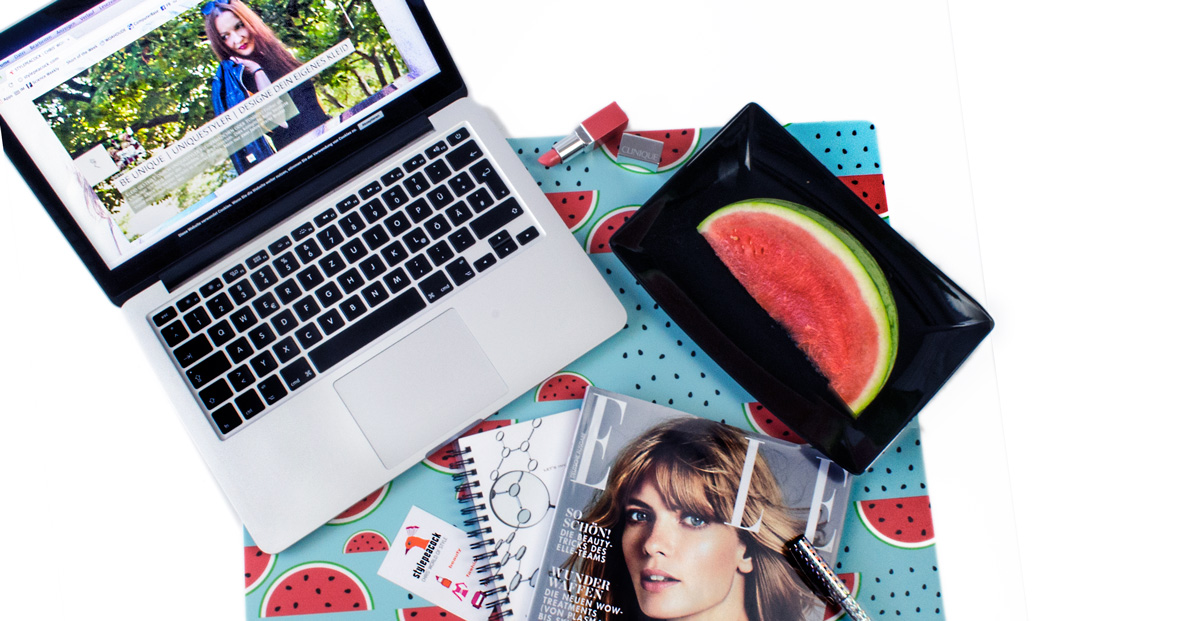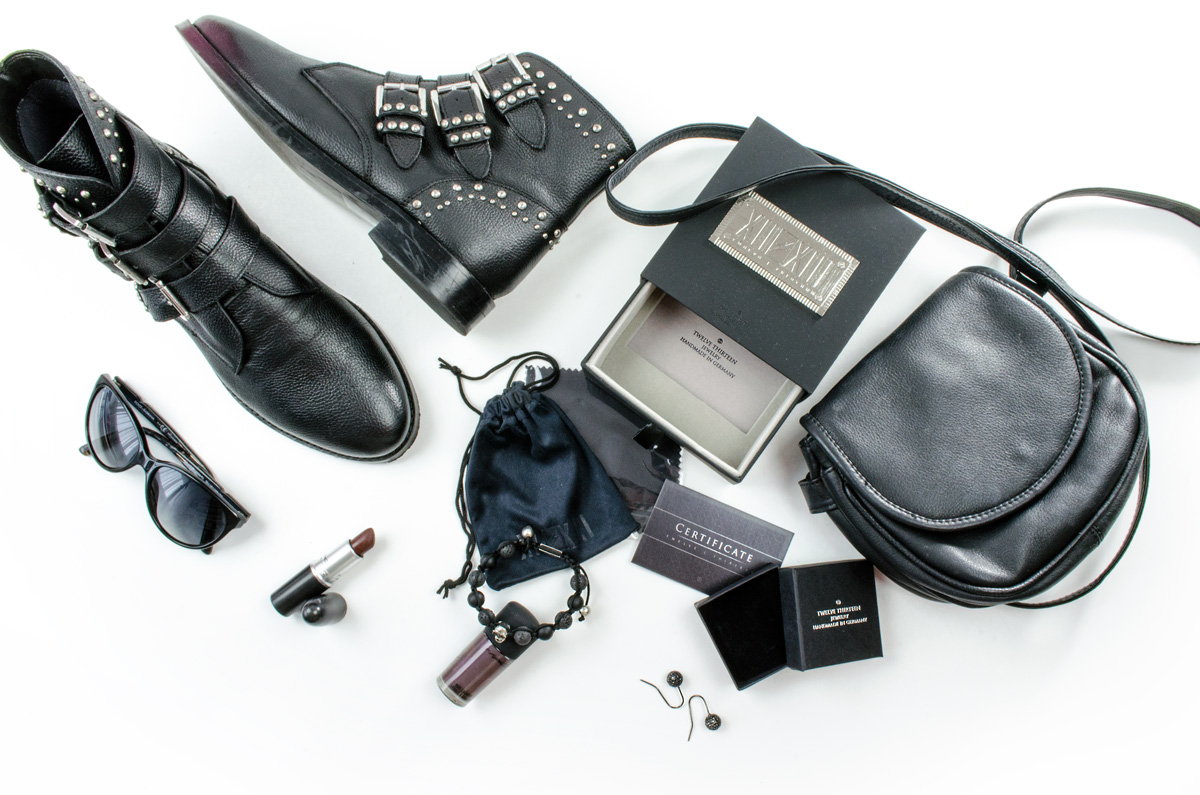 Natürlich kann man das Titel-/Teaserbild auch mit einer Schrift oder einem Banner versehen: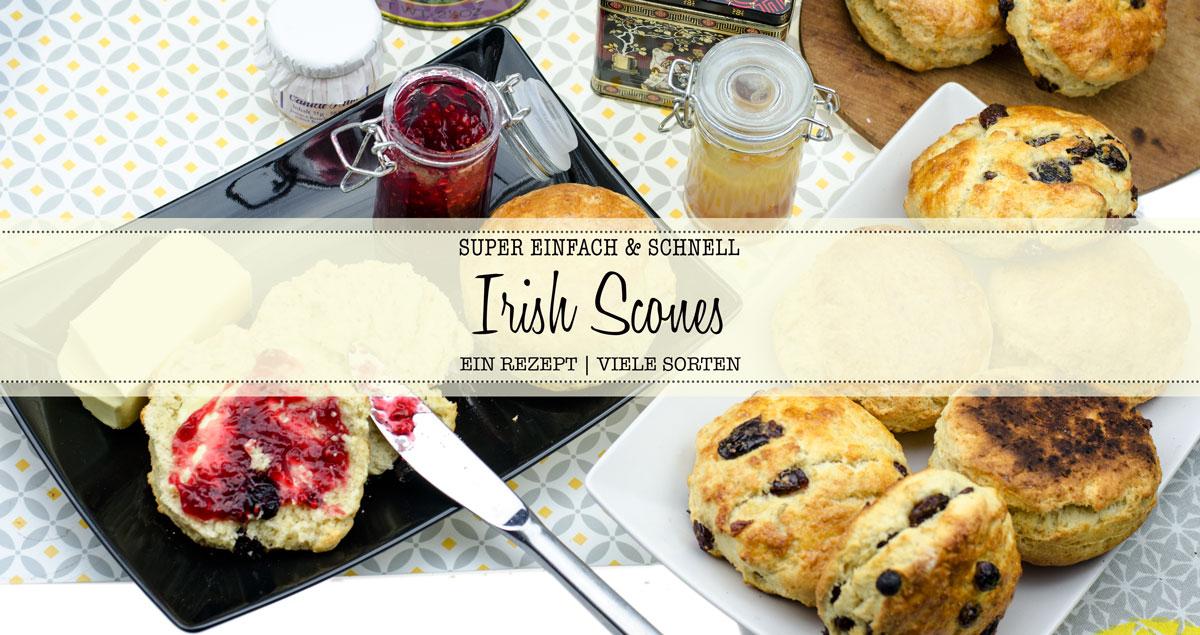 8. ATTRACT ATTENTION | BEKOMME AUFMERKSAMKEIT
Deine schönsten Flat Lays möchten auch gesehen und beachtet werden. Verschaffe ihnen Betrachter, vielleicht Bewunderer und knüpfe über deine Flat Lays möglicherweise sogar Kontakte, sei es zu Leuten, die ähnliche Dinge mögen – oder auch für Kooperationen.
Ganz wichtig: Benenne alle Marken (Labels/Stores (Personen markieren), wenn du ein Bild mit diversen Dingen auf Instagram postest. Fast jede Firma hat heute selbst einen Account. Ansonsten kannst du sie auch als Hashtag nennen. So werden Unternehmen auf dich aufmerksam.
Wenn sie deine Kompositionen und Bildqualität schätzen, bieten sie dir möglicherweise eine Kooperation an. Annehmen musst du ja nicht alles, Konditionen und Produkt sollte stimmig sein.
Zudem gibt es eine Menge Accounts auf Instagram, die eine hohe Followerzahl haben und besonders schöne Flat Lays regrammen. Taggt diese, bzw. markiert sie als Personen auf dem Bild, wenn ihr deren Aufmerksamkeit erhalten wollt. Hier empfiehlt sich z.B. @flatlays, @flatlayapp, @flatlaystyle, @flatlaysquad, @flatlayforever.
Wird euer Flat Lay dort, oder auch von einem Unternehmen, dessen Artikel ihr zeigt, regrammt, bekommt ihr mehr Aufmerksamkeit. Twittert über eure neuen Bilder auch regelmäßig!
JOIN THE PARTY | PINTEREST-BOARD FÜR FLAT LAYS
Für Flat Lays, ob Hochformat, quer – oder das gängige Quadrat, habe ich ein Pinterest-Gruppenboard gegründet, auf dem ihr eure Flat Lays posten könnt.
Schreibt mir einfach eine E-Mail an info@stylepeacock.com und ich lade euch zum Gruppenboard ein. Da könnt auch ihr eure Bilder darauf pinnen und auf Dauer so mehr Reichweite generieren, denn das Board wird wachsen!
Ich hoffe, meine Tipps bringen dem einen oder anderen etwas, ob er nun einen Blog hat oder "nur" fotografiert. Für alle anderen ist es ja vielleicht auch interessant, was es mit diesen fotografierten Stillleben auf sich hat.
Mögt ihr auch so gerne Flat Lays oder erstellt ihr auch selbst welche? Ich freue mich auf eure Kommentare und Meinungen zum Thema.
Euer stylepeacock
Chris
– *beinhaltet Affiliatelinks –
User Ratings (

1

Votes)

1.3