PR SAMPLES
THREE PART HARMONY FÜR BEDÜRFTIGE HAUT
Wie ich mich  in meinem Beitrag TURNING 50 | WARUM 50 SEIN ECHT TOLL IST "geoutet" habe, gehöre ich nun zur Ü50-Liga und für diese Altersgruppe wird die brandneue ORIGINS Linie "THREE PART HARMONY" empfohlen. Passend zu dem Anlass meines Aufstiegs in die Ü50-Liga probiere ich derzeit einige Sachen, die speziell für die anspruchsvoller werdende Haut gedacht sind.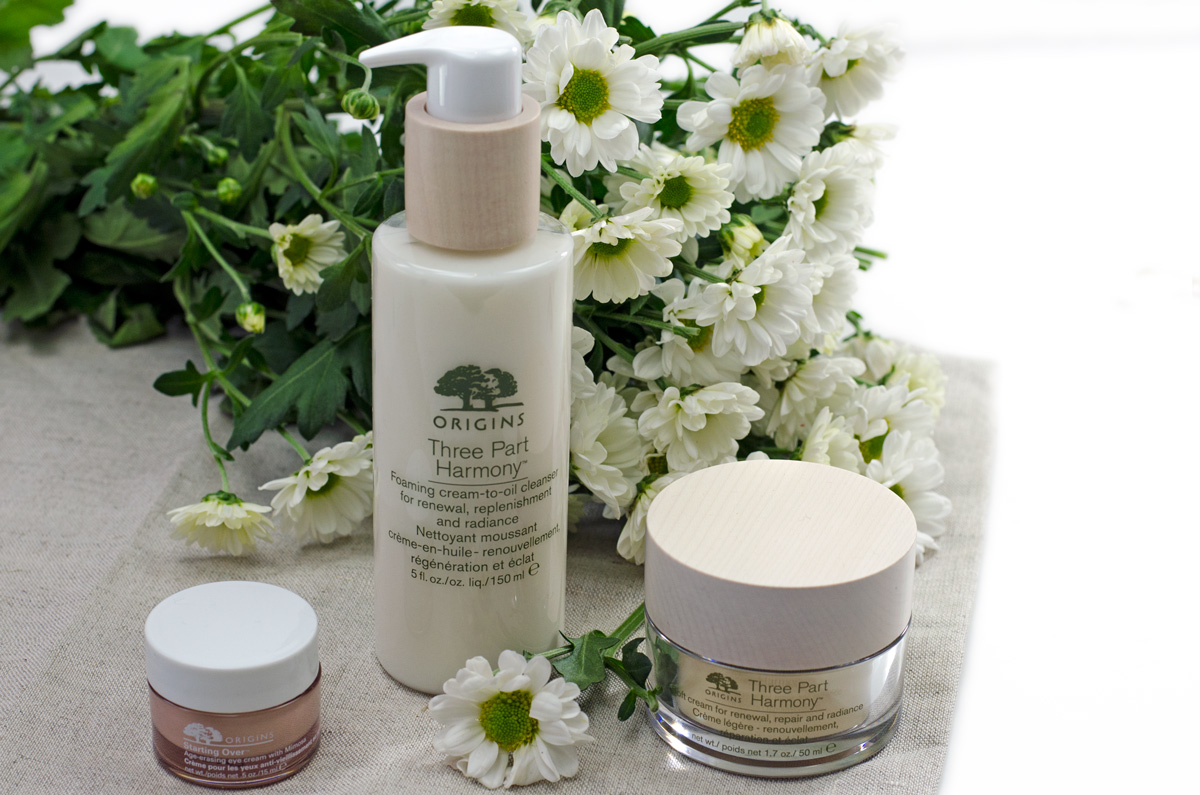 Die Produkte der neuen luxuriösen ORIGINS Linie "THREE PART HARMONY" (über Origins*) werden für Frauen ab 50 empfohlen, doch dies halte ich nur für eine Richtlinie. Gerade eine extrem trockene Haut neigt häufig bereits in jüngeren Jahren zu Knitterfältchen und benötigt daher eher eine sehr reichhaltige Pflege. Einer öligen oder Mischhaut kann dagegen eine intensive Pflege sogar auch mit 50+ noch zu reichhaltig sein..
Schlicht, hochwertig und gradlinig präsentiert sich die neue ORIGINS Linie "THREE PART HARMONY". Gerade Frauen, die sich eine hochwertige Pflege ohne viel komplizierten Schnickschnack wünschen kann diese Reihe perfekt sein. Es ist ein System, das ich toll finde, weil es mit 3 simplen Anwendungsschritten  der Haut von Frauen über 50 alles nötige geben soll.
Zu Reiniger und Serum kommt eine Pflegecreme, die es in zwei Varianten für die eher normale bis trockene und eine sehr trockene Haut gibt. Ideal für Puristinnen, die den wohligen Wellness-Charakter von Origins-Produkten lieben.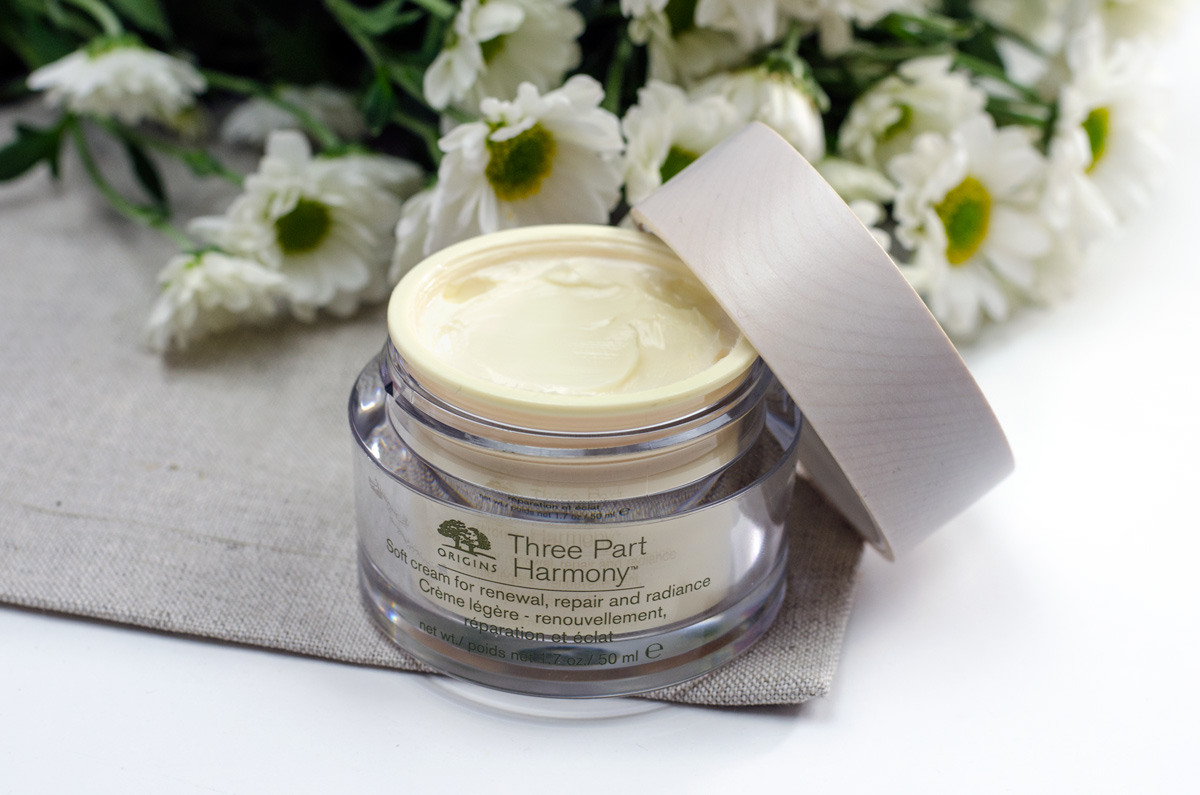 Ich persönlich mag es ja gerne ein bisschen vielschichtiger und ausgiebiger. Daher mag ich  derzeit nicht auf mein Wundermittelchen "SCULPTWEAR SERUM" (→ s. Review) von Clinique und einen Toner nach der Reinigung. verzichten.  Also teste ich den Cleanser und die Face-Cream in Kombination mit der STARTING OVER EYE CREAM (über Origins)* und meiner Clarifying Lotion II,
VERPACKUNG DER THREE PART HARMONY LINIE
Die Three-Part-Hamrony Produkte kommen in festen transparenten Kunstoffspendern und -tiegeln daher, die fast wie Glas wirken, aber zum Glück leichter und weniger zerbrechlich sind. Deckel/ und Spenderkopf sind in Holzoptik gehalten. Die cremeweißen bis hellgelben Produkte sehen hübsch und appetitlich darin aus. Alles in allem machen die Produkte auf dem Badezimmersims mit ihrer cleanen, hochwertigen Optik durchaus etwas her.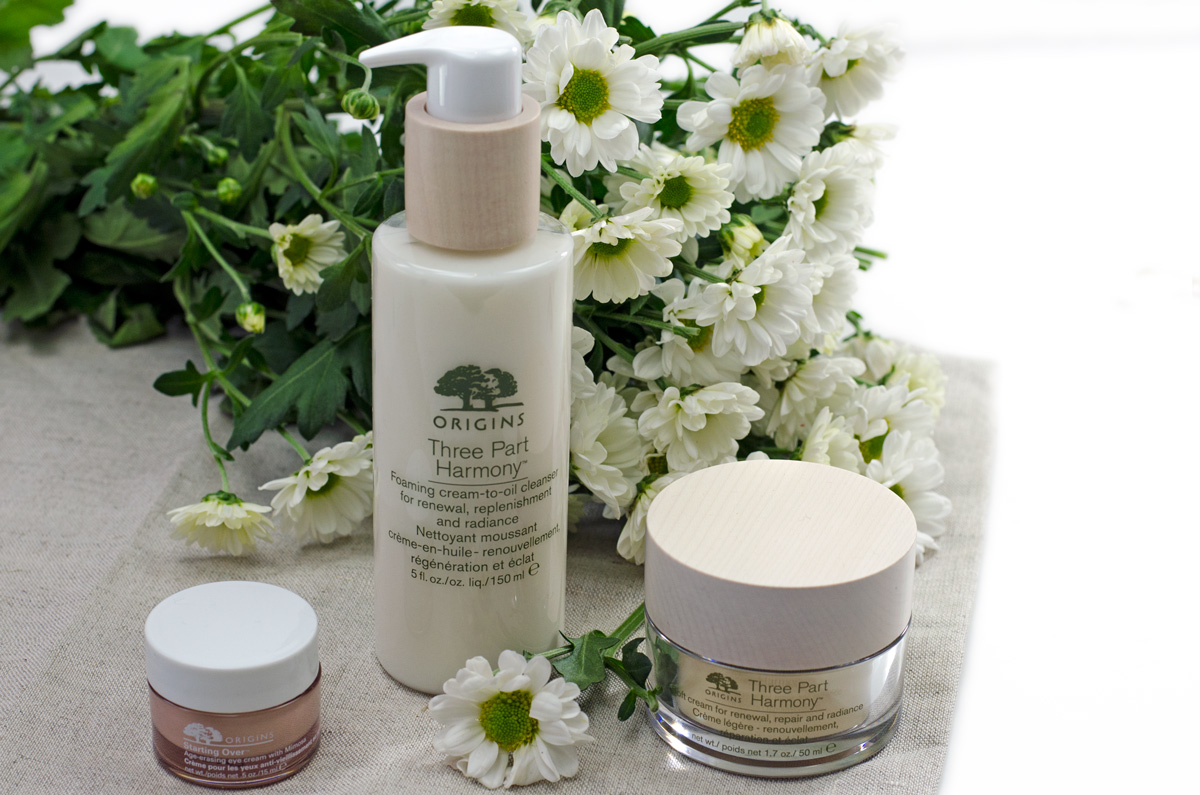 FOAMING CREAM-TO-OIL-CLEANSER
Der Three Part Harmony FOAMING CREAM-TO-OIL-CLEANSER*  hat diesen wunderbaren typischen minzigen Origins Geruch, den ich so liebe. Strauß-Narzisse und Myrte sind Bestandteile, die helfen sollen, der Haut auch Ü50 den Glow zu erhalten.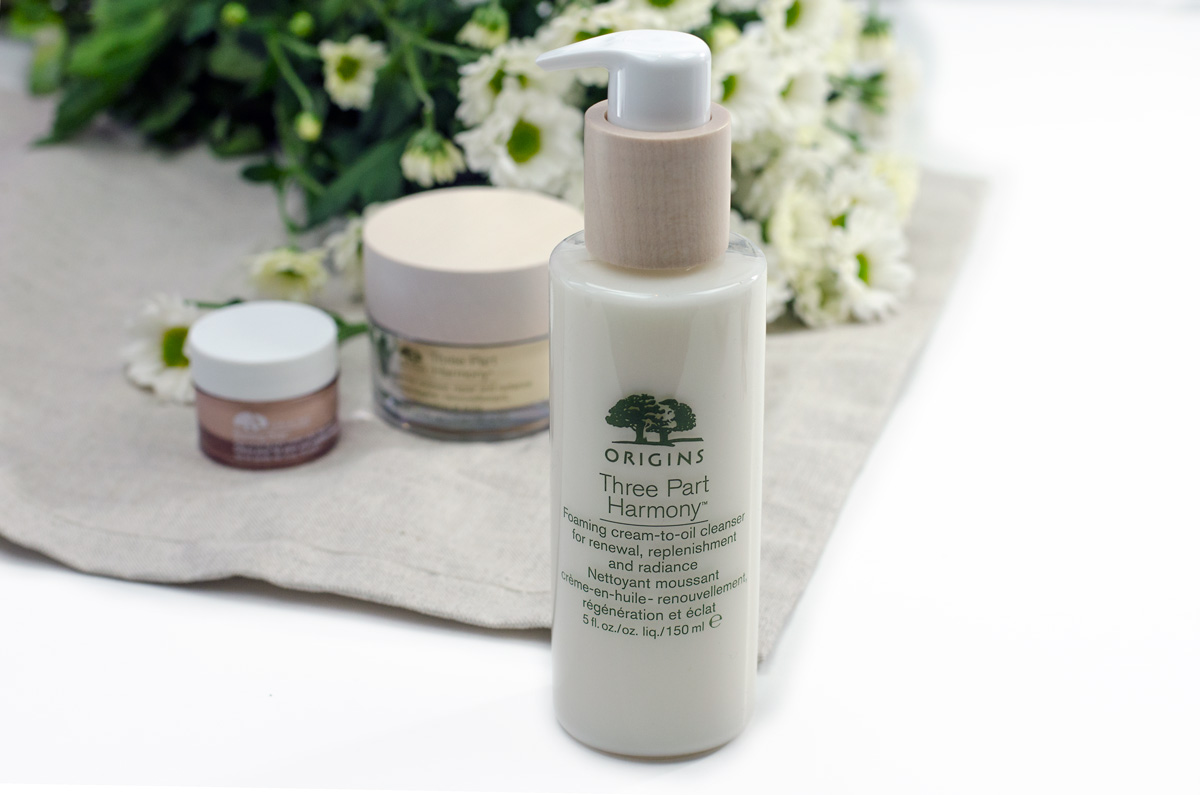 Man entnimmt von der cremigen Lotion etwas aus dem Pumpspender und massiert die Reinigung sanft auf die angefeuchtete Haut. Dabei entwickelt sich Three Part Harmony Cleanser über eine ölige Stufe zu einem dezenten Schaum, den man dann abwäscht. Durch die öligen Bestandteile wird auch Make-up gut gelöst. Danach fühlt sich die Haut sehr porentief rein an, aber überhaupt nicht ausgetrocknet. Außerdem verspürt man immer noch diesen tollen Geruch, eine richtig kleine Aromatherapie.
Ich selbst habe ja eine, mittlerweile etwas trockener gewordene, Mischhaut, die aber gelegentlich immer noch zu Glanz und Unreinheiten in der T-Zone neigt. Besonders für eine extrem trockene Haut ist diese Reinigung super geeignet, da sie so sanft wie gründlich ist. 150ml des Three Party Harmony Cleansers kosten 45,00€
Nach der Reinigung wende ich meine Clinique Clarifying Lotion II, denn ohne Toner geht bei mir gefühlsmäßig irgendwie nichts. Ich brauche diese Erfrischung und Nachreinigung als Schritt.
SOFT CREAM FOR RENEWAL, REPAIR AND RADIANCE
Neben der SOFT CREAM FOR RENEWAL, REPAIR AND RADIANCE* und dem OIL-INFUSED-SERUM*, ist auch noch eine NOURISHING CREAM FOR RENEWAL, REPAIR AND RADIANCE* für eine besonders trockene und anspruchsvolle Haut erhältlich. Die Cremes kosten jeweils 76,00€/50ml.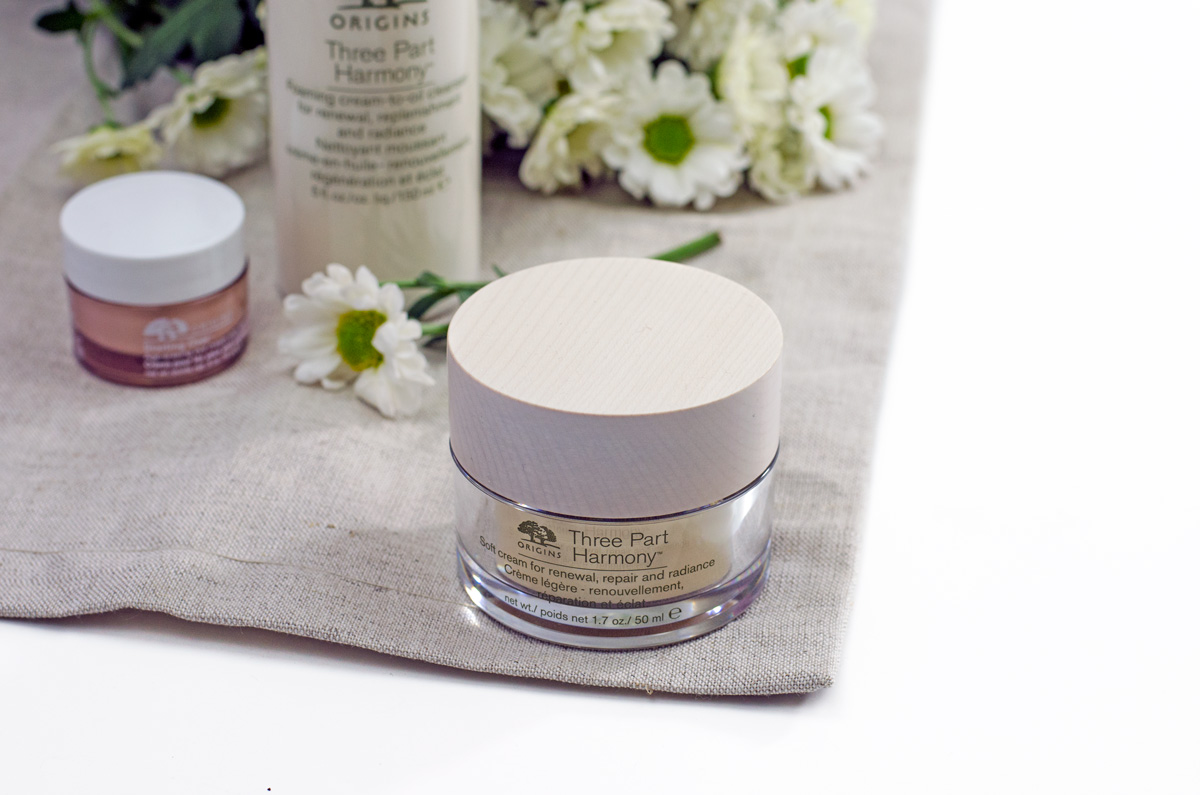 Auch diese so wunderhübsch gelbe Softcream hat den herrlich aromatischen Origins-Wellnessgeruch. De Variante für sehr trockene Haut ist cremeweiß.  Auch hier in der gelben Softcream sind Strauß-Narzisse und Myrte enthalten. Zusammen mit Shea Butter und Vitamin E helfen sollen sie helfen, die Jugendlichkeit der Haut zu bewahren. Durch die Three Part Harmony Soft Cream soll die natürliche Collagenproduktion unterstützt und die Hautstruktur sichtbar repariert werden..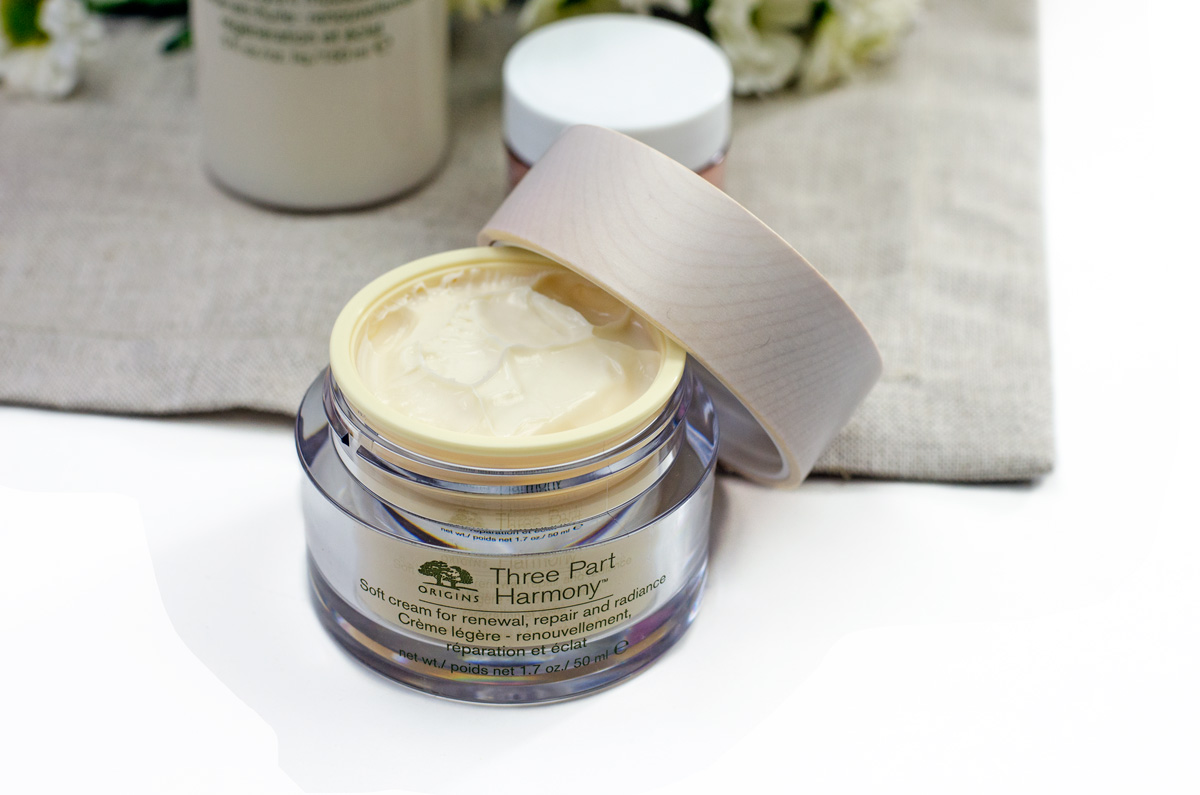 Die Three Part Harmony Creme fühlt sich wunderbar auf der Haut an und man hat tatsächlich einen direkten Soforteffekt. Feine Linien wirken wie weichgezeichnet. Ich empfinde die Creme bereits als sehr reichhaltig, da muss die üppigere Nourishing Cream tatsächlich eine Nährbombe für sehr trockene Haut sein. Ich habe mir hierzu Reviews angeschaut, dabei auch solche von jungen Frauen, die diese Creme als Wundermittel gegen ihre endlos trockene Haut gefunden haben.
Gerade in Kombination mit dem ölhaltigen Serum dürfte dies für Frauen mit extrem trockener Haut durchaus auch unter 50 Jahren einen Selbstversuch wert sein.
An der Three Part Harmony Soft-Creme liebe ich Geruch, Konsistenz und die pflegende Wirkung. Für die T-Zone ist mir aber auch die Soft-Version am Tag noch zu reichhaltig und mein Gesicht glänzt dann recht schnell. Nachts allerdings ist sie richtig perfekt und meine Haut ist am Morgen tatsächlich geglättet und sieht sehr fein und gleichmäßig aus. Auf meinem Ü50 Hals und Dekolleté verwende ich sie auch tagsüber mit Begeisterung und habe so den tollen Geruch in der Nase.
Alle THREE PART HARMONY Produkte sind auch bei DOUGLAS* erhältlich.
STARTING OVER ANTI AGING AUGENPFLEGE
Die Suche nach der perfekten Augenpflege erscheint mir komplizierter als die nach dem Heiligen Gral. Entweder ist sie mir nicht glättend genug, zu reichhaltig und verursacht Milien oder sie hilft nicht gegen Tränensäcke und allergische Schwellungen… Meine Augenpartie ist die Zone, die mir im Moment am meisten zu schaffen macht, da die Haut unter den Augen zunehmen mehr Trockenheitskrater und Schrumpeln zeigt.
Nun teste ich gerade die STARTING OVER ANTI AGING AUGENPFLEGE*. In meinem Blogpost "BLOGPARADE | 5 AKTUELLE BEAUTY MUST HAVES" hatte ich euch vor einigen Monaten die VENUS OMEGA3 LIFT EYE CARE AUGENCREME von Douglas* vorgestellt. Mit einem Schnäppchenpreis von nur 14,95€ für 15ml hat sie ich toll durch den Sommer gebracht und ich habe sie schon mehrfach nachgekauft.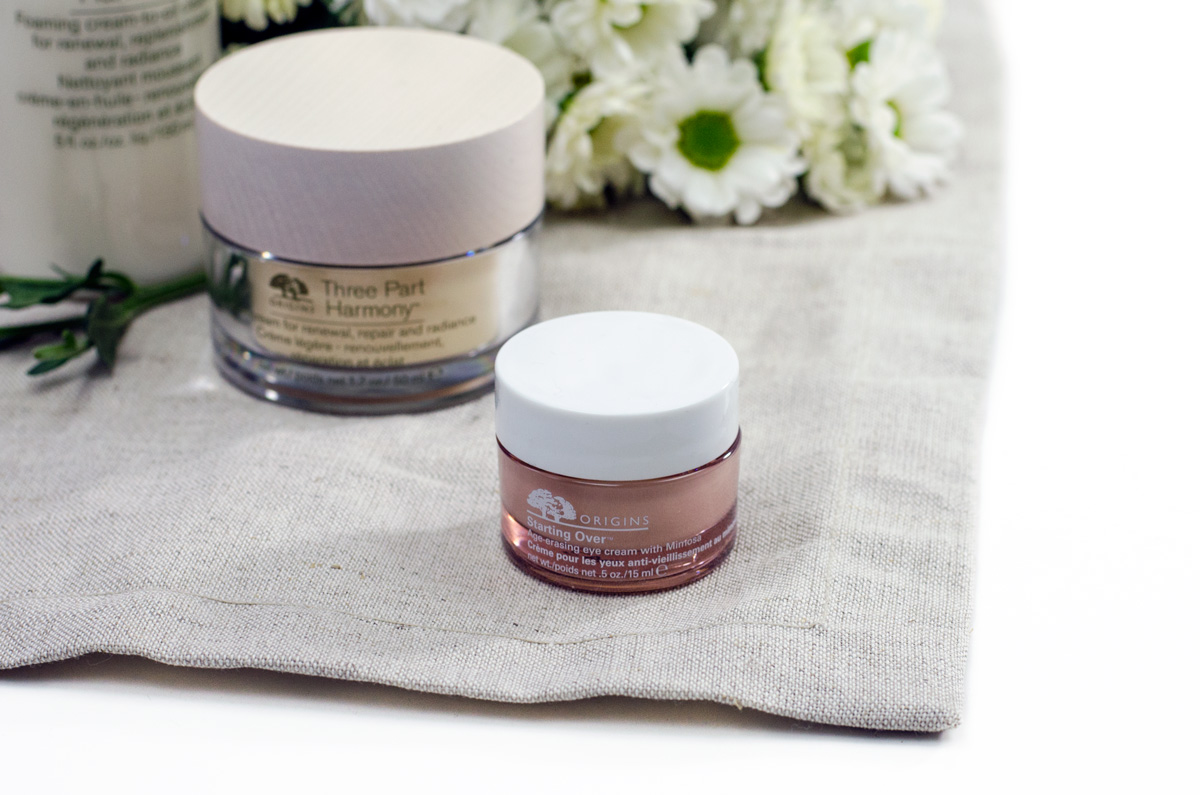 Zur kalten Jahreszeit wünsche ich mir eine noch etwas reichhaltigere Alternative. Mit Mimose und Fenchelsamen soll die Starting Over Eye Cream Falten um die Augenpartie zu minimieren und das Erscheinungsbild deutlich verbessern. Sie hat in ganz dezent abgeschwächter Form ebenfalls diesen wunderbaren Origins-Wellness-Geruch.
Die Konsistenz ist spürbar pflegend und dennoch zart. Die Augenpflege zieht gut ein und ist nicht fettig oder pappig. Hinzu kommt ein leicht kühlender, erfrischender Effekt, ähnlich wie der Vernus-Augencreme aber gepaart mit einer etwas reichhaltigeren Pflege. 15ml sind für 43€ bei Origins zu haben.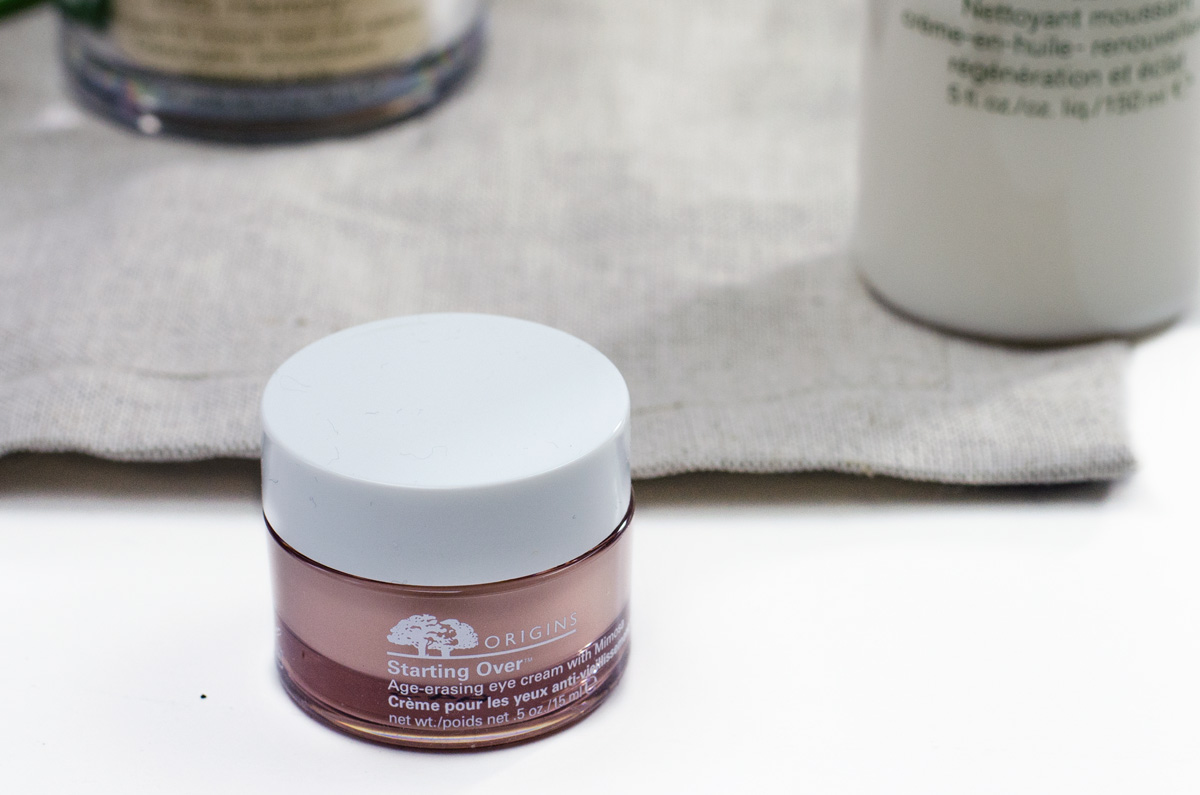 Tatsächlich ist sie reichhaltiger als die Venus-Creme, nährt und glättet meine Augenpartie ohne Milien oder Unterlagerungen zu verursachen. Derzeit verwende ich nun nachts die reichhaltige Pflege und tagsüber die etwas leichtere Douglas-Augenpflege. Wenn es noch kälter wird, werde ich dann vermutlich ganz auf die Starting Over umsteigen. Dies muss ich ausprobieren, da ich die Omega3-Cream von Douglas noch nicht unter Kältebedingungen ausprobiert habe.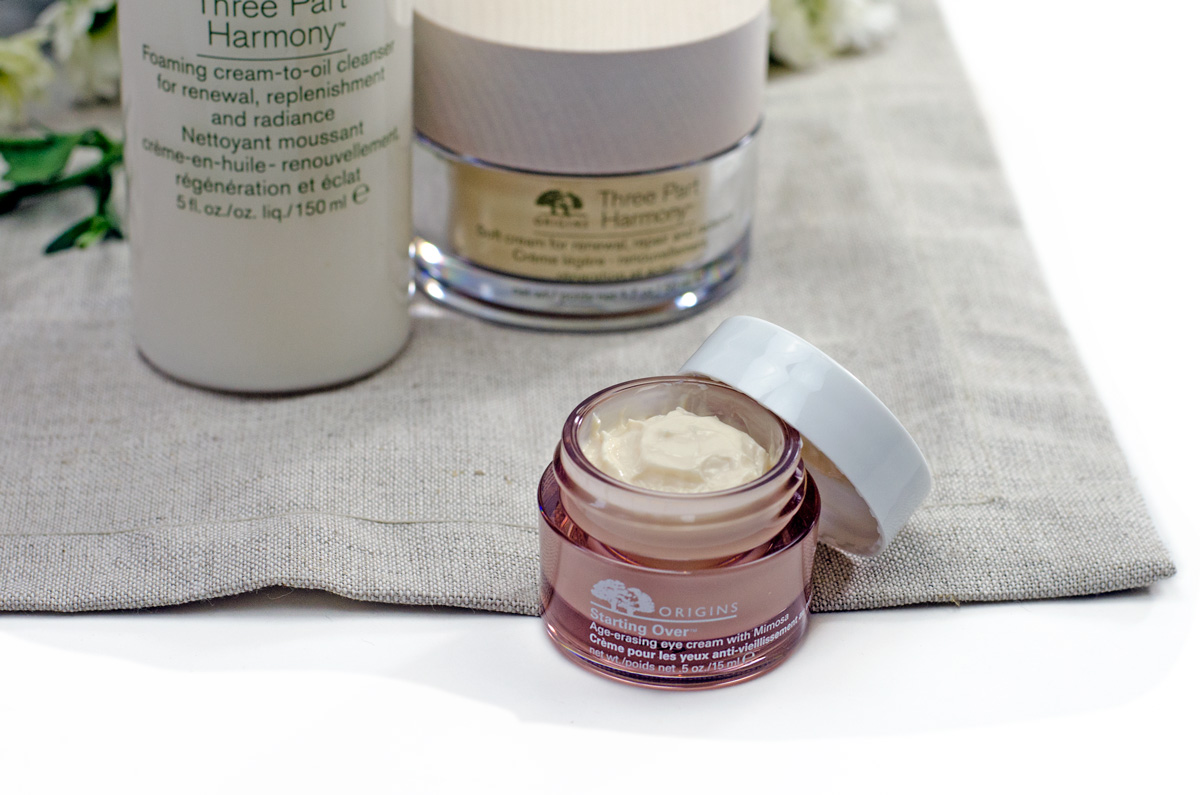 PFLEGE MIT 50+
Gerade für eine trockene Haut, die Fältchen oder auch schon deutlichere Linien zeigt, ist die neue THREE PART HARMONY Serie eine echte Empfehlung und die Starting Over Augencreme ebenfalls. Man kann auch beide Three Part Harmony Cremes kombinieren und bei trockener bis sehr trockener Haut z.B. tagsüber die Soft- und nachts die Nourishing Cream anwenden. Three Part Harmony nährt die Haut wirklich und gibt ihr Ausstrahlung zurück. Ich habe einen deutlichen Sofortglättungseffekt bemerkt.
Auch für ein knittriges Dekolleté ist diese Serie klasse. Das Serum habe ich ja selbst nicht getestet, doch es soll auch für besonders trockene Haut richtig gut sein, nach allem, was ich in einigen amerikanischen Reviews lesen konnte. Für eine ölige oder reife Mischhaut mit ausgeprägter T-Zone würde ich eher doch zur PLANTSCRIPTION-SERIE* raten, denn da gibt es sogar eine ölfreie Pflegecreme.
Die HIGH POTENCY NIGHT-A-MINS Nachtcreme (50ml/45€ über Origins*) ist auch eine prima Alternative für eine nicht mehr jugendliche Haut, die aber noch eher ölig ist. Der Geruch der Night-A-Mins ist einfach zum Verlieben.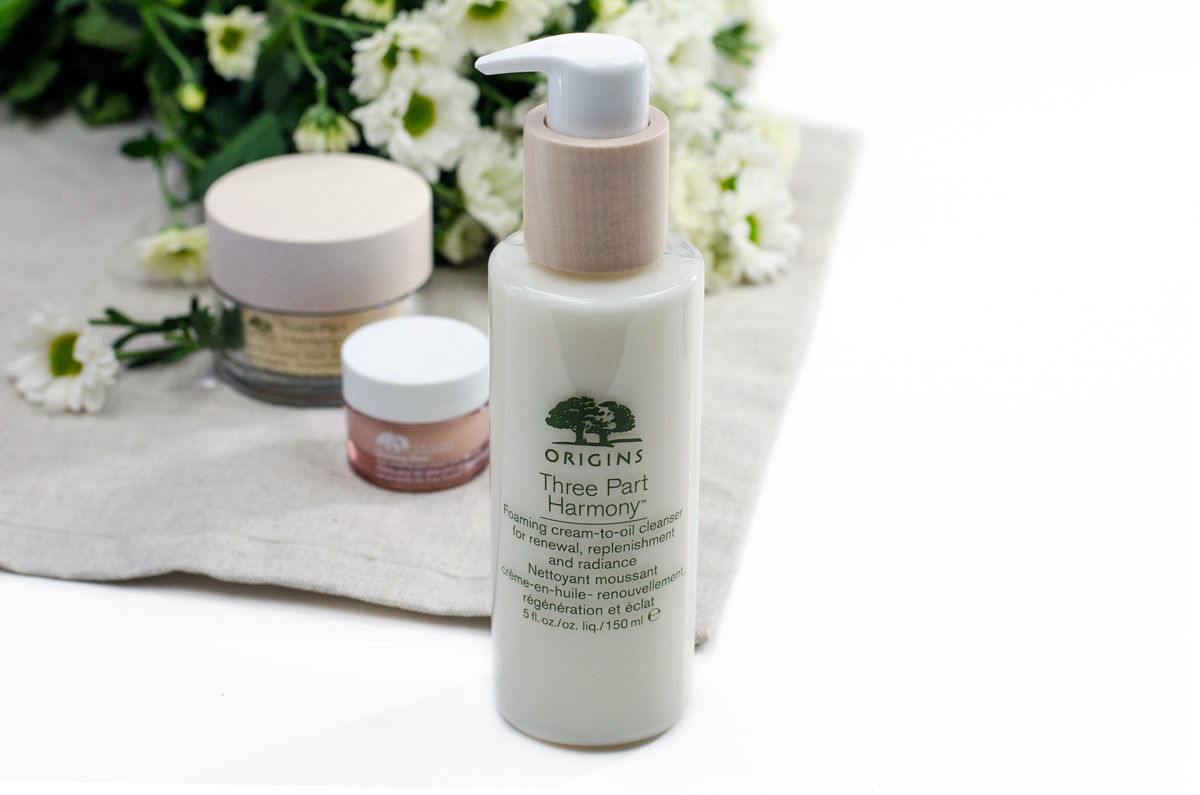 FAZIT | THREE PART HARMONY
Den Cleanser finde ich klasse, aber meine Haut ist noch nicht so anspruchsvoll, dass ich ihn unbedingt brauche. Ich glaube, ich muss ihn aber einmal meiner Mom empfehlen, die eine trockenere Haut als ich hat. Ich verwende ihn gerne, werde ihn aber für mich erst einmal nicht nachkaufen, Noch bleibe ich weiter bei meinen so geliebten ORIGINS CHECKS & BALANCES* Reinigungsschaum, den ich ja vorm allem in Kombination mit der Clinique Sonic Brush sehr liebe.
Die Augencreme ist absolut empfehlenswert für alle, die eine reichhaltige Pflege suchen, die nicht in die Augen kriecht oder Unreinheiten verursacht. Zumindest bei mir hat sie beides nicht getan.
Habt ihr eine trockene Haut, die immer durstig ist? Dann dürften die neuen Three Part Harmony Produkte für euch richtig spannend sein, Für eine fettigere Haut sind sie wohl zu reichhaltig. Gerade das Serum könnte auch ein richtig luxuriöses Geschenk für nicht mehr ganz junge Mütter sein.
Wie gefallen euch die Produkte? Seid ihr auf der Suche nach einer sehr reichhaltigen Pflege?
Ich bin gespannt auf eure Kommentare!
Euer stylepeacock
Chris
– *beinhaltet Affiliatelinks | PR SAMPLES –