PR SAMPLE | BEINHALTET WERBUNG
OIL TO MILK |  VOM REINIGUNSGSÖL ZUR -MILCH
Hier möchte ich euch den neuen Modern Friction Cleanser von Origins* vorstellen, der nicht nur wunderhübsch aussieht, sondern auch ein richtig spannendes Produkt ist. Auf der Basis von weißem und lila Reis soll er extra sanft und gründlich die Gesichtshaut von MakeUp und Schmutz befreien und so für einen schönen Glow-Teint sorgen.
DIE ORIGINS CLEANSER FAMILY
Zwei andere Cleanser von Origins gehören schon seit langem zu meinen Lieblingen, wobei mein absoluter Favorit der CHECKS & BALANCES FROTHY FACE WASH ist. Diesen habe ich schon einige Male auf dem Blog vorgestellt, so im Beitrag BEST OF 2016 | TOP 10 PFLEGE-HIGHLIGHTS.  An diesem Foaming Cleanser liebe ich den milden, aber üppigen Schaum. Checks & Balances ist mein Favorit in Kombination mit der Clinique Sonic Brush.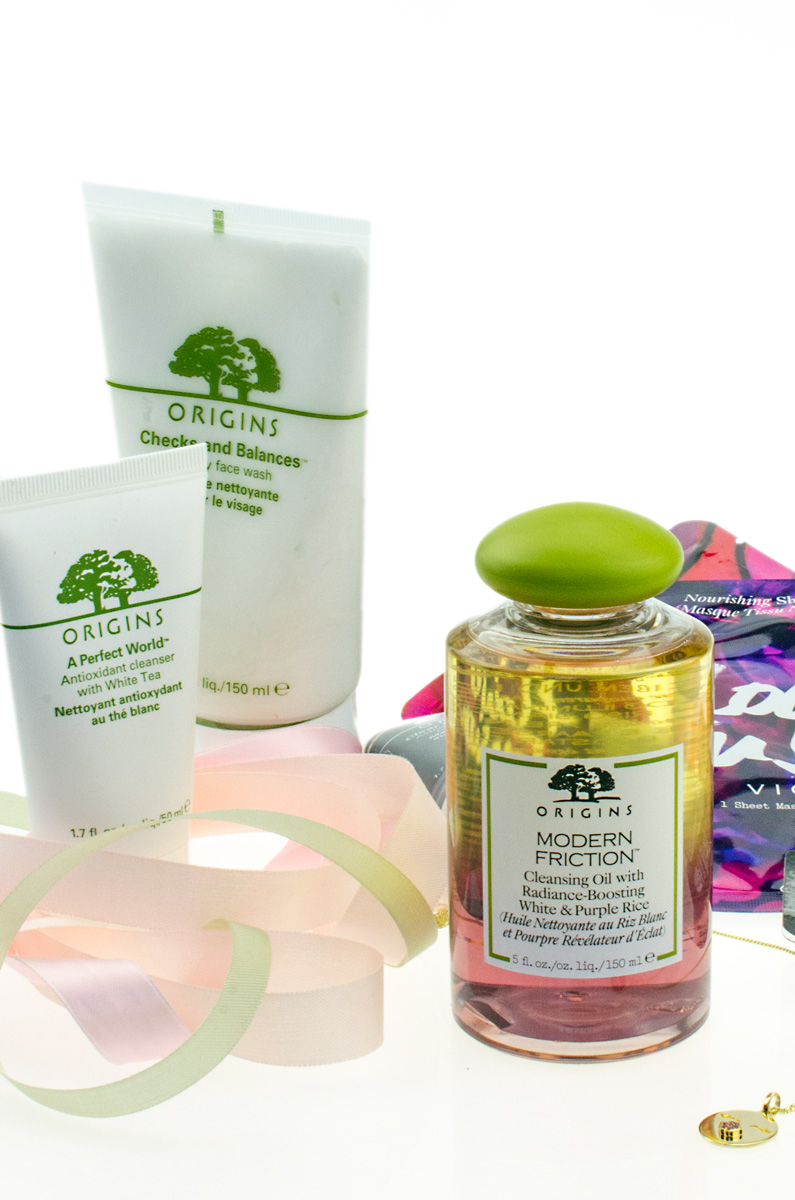 Wer nicht so viel Wert auf Schaumbildung legt, aber sich von unwiderstehlichem Duft einhüllen lassen möchte, ist mit dem A Perfect World Antioxidant Cleanser with White Tea* bestens bedient. Mittlerweile kommt er in neuem Design, anders als auf dem Bild, daher. Der tolle Duft ist ähnlich süchtig machend wie der Geruch der NIGHT A MINS Nachtcreme.
DER NEUE ORIGINS MODERN FRICTION CLEANSER
Wie ein pastelliger Tequila Sunrise wirkt der Modern Friction 2-Phasen-Cleanser, der sich von kräftigen Rosa am Boden hin zum zarten Maigrün nach oben entwickelt. Die Flasche macht auf dem Bord im Badezimmer durchaus etwas her.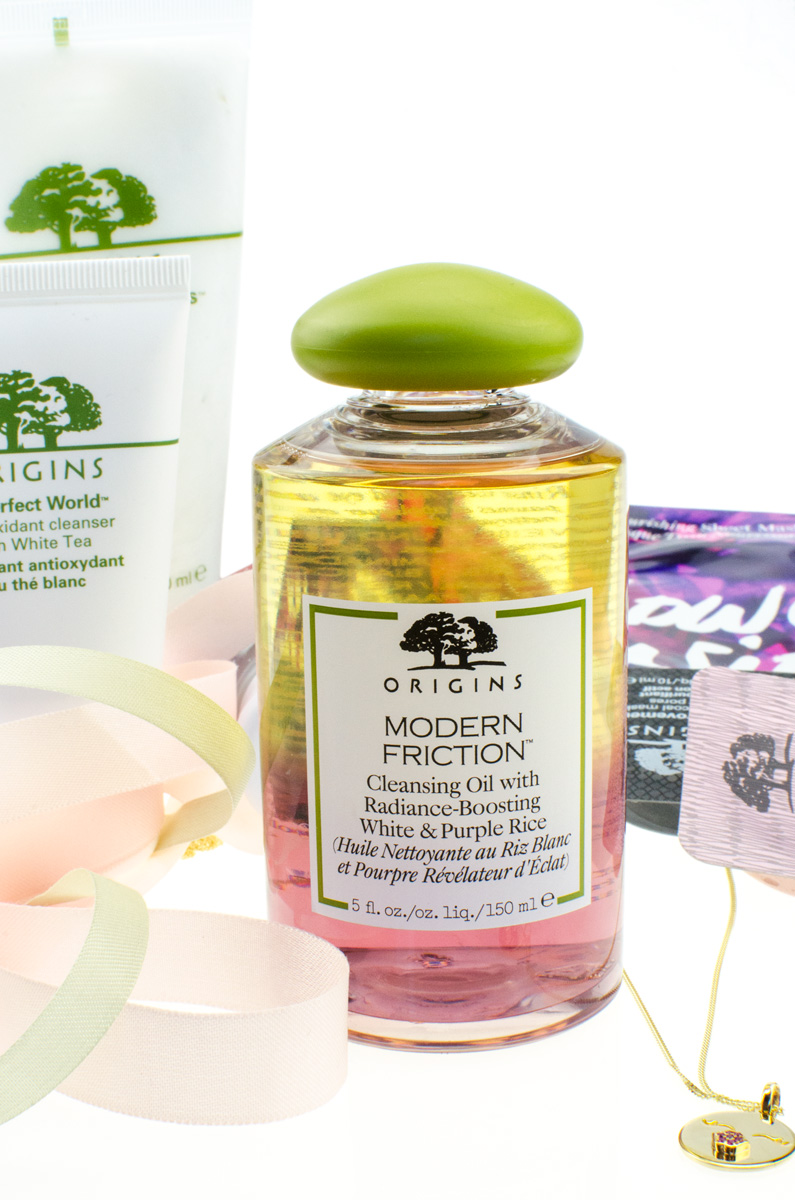 Vielleicht kennt ihr von Origins schon das passende Modern Friction Dermabrasionspeeling*, das bereits ein beliebter Origins Klassiker ist? In Kürze gesellt sich zu Modern Friction Reihe auch noch ein CLEANSING STICK*, der gleichzeitig reinigt und exfoliert. Eine Vorschau gibt es auf origins.de bereits.
ANWENDUNG DES MODERN FRICTION 2 PHASE CLEANSERS
Zur Anwendung wird der Modern Friction Cleanser gründlich geschüttelt und ein wenig in die Hand gegeben. Zwischen den Handflächen verreibend anwärmen und dann in die Gesichtshaut massieren. Der Geruch ist – typisch für Origins – wie eine Aromatherapie, zitronig und irgendwie minzig, einfach frisch und lecker. Nach dem Einmassieren emulgiert man das Öl zu einer milchigen Creme auf und wäscht es ab. Durch den Ölanteil in der Reinigung wird MakeUp extrem gut gelöst und die Haut porentief rein – und das ohne Austrocknen. Gerade für eine trockene und sehr sensible Haut kann dies eine gute Lösung sein.
SANFTE TIEFENREINIGUNG
Mir gefällt der neue Cleanser optisch wie inhaltlich wirklich sehr. Gerade für alle, die Schaumreiniger oft als zu austrocknend empfinden, ist er ein tolles Produkt. Auch wer bei anderen normalen Reinigungsmilchprodukten das Gefühl hat, die Haut wird nicht richtig sauber, ist hier bestens aufgehoben.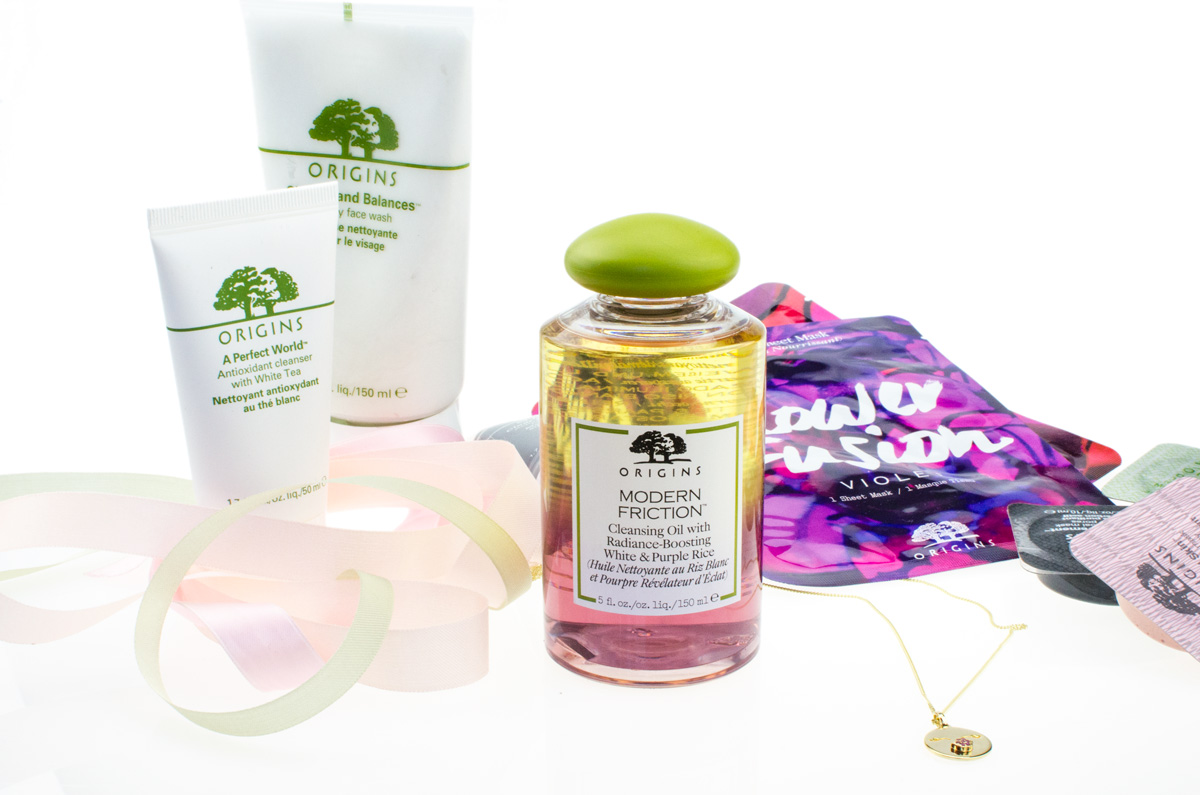 Ich verwende derzeit abends, wenn Foundation & Co heruntermüssen, das neue Modern Friction Cleansing Oil. Und morgens greife ich zu meine Sonic Brush in Kombination  mit meinem geliebten Checks & Balances Cleanser. Dieser bleibt für mich der Favorit, denn ich liebe einfach Schaumschlägerei :-D. Zarten Pflänzchen mit trockener Haut lege ich den neuen Modern Friction Cleanser in jedem Fall ans Herz. Empfohlen wird die Modern Friction Reinigung für jeden Hauttyp und kann sicher auch von allen verwendet werden, aber trockene Haut wird sich besonders freuen.
MEGA-GOODIE NUR FÜR KURZE ZEIT
Das tolle ist, wer jetzt für mindestens 40€ bei ORIGINS einkauft, erhält ein Goodie mit einem Wert von etwa 45 Euro dazu! 28,00€ kostet der Modern Friction Cleanser bei Origins*.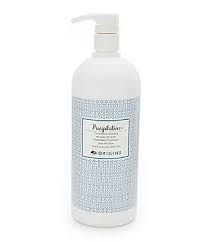 Die Precipitation Continuous Moisture Recovery Bbody Lotion* kostet bereits in der 250ml Größe 28,50. Doch NUR diese Woche erhält man mit dem Code* WONNEHAUT eine 400ml Megagröße geschenkt!
Wie gefällt euch der neue Modern Friction 2-Phase-Cleanser? Welche Sorte Reinigung ist euch die liebste? Wer ist neugierig geworden und würde den neuen Reiniger ausprobieren?
Ich freue mich auf eure Meinungen und Kommentare!
Euer stylepeacock
Chris
– beinhaltet Affiliatelinks –