pr sample | beinhaltet daher werbung
REINIGUNGSÖL & PEELINGPULVER FÜR KLARE HAUT
Hier stelle ich euch aus dem System der dermalogica Reinigung zwei spannende Produkte vor. PRECLEANSE* ist ein Reinigungsöl zur Vorreinigung und gründlichen MakeUp-Entfernung. Bei DAILY MICROFOLIANT* handelt es sich um ein Peelingpulver auf Reisbasis, das täglich nach der Hauptreinigung angewendet werden soll. Beides erhaltet ihr günstiger als in anderen Parfümerien über Lookfantastic*.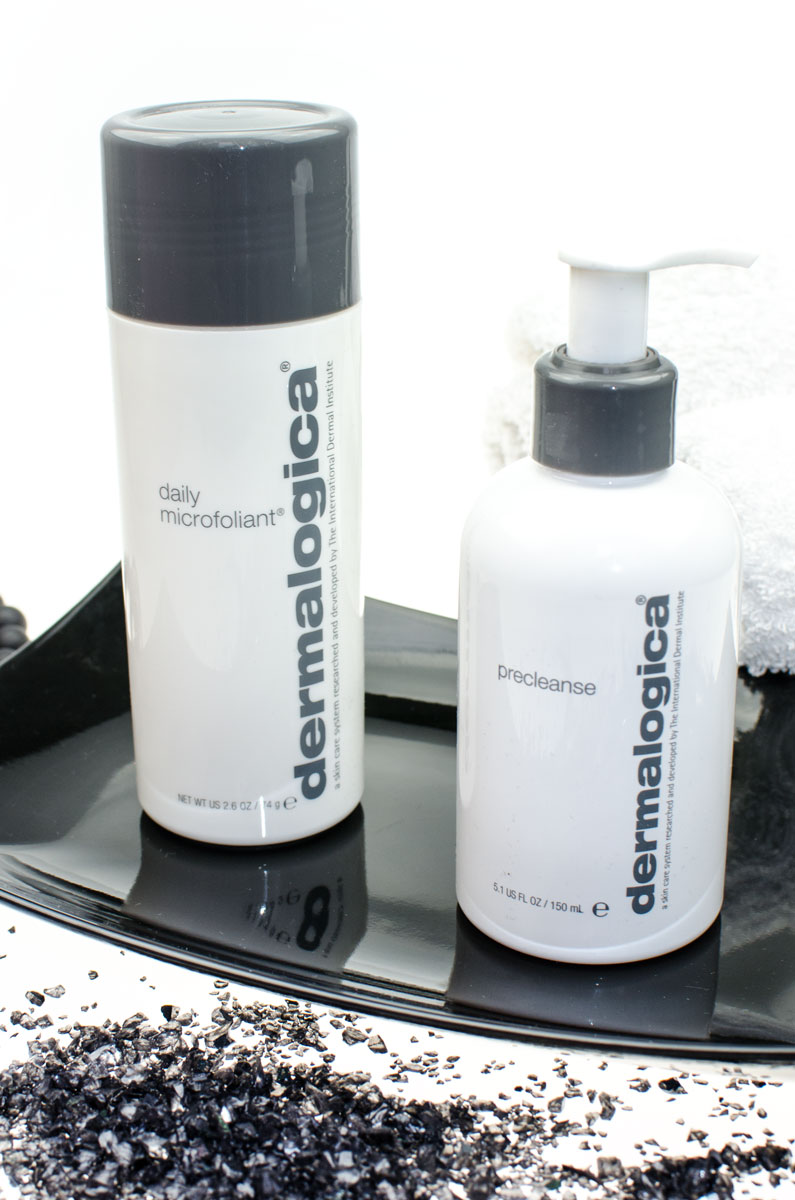 Über einige dermalogica Produkte habe ich euch ja bereits berichtet: Zuletzt war es vor kurzem das tolle dermalogica Replenish Gesichtsöl im Beitrag "MEINE 3 PFLEGELIEBLINGE FÜR DEN WINTER | BLOGPARADE".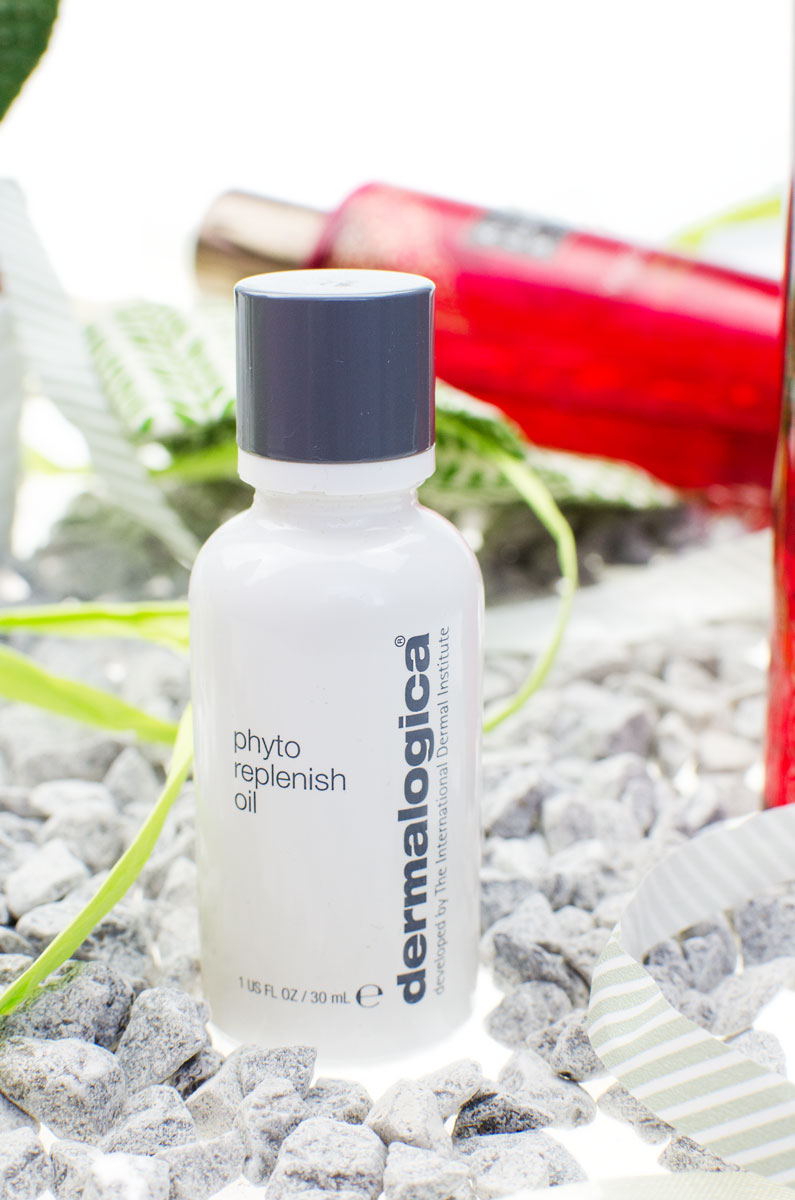 MEINE ABENDROUTINE MIT DERMALOGICA REINIGUNG
In den letzten Wochen habe ich nun am Abend meine gründliche Reinigungsroutine mit den dermalogica Produkten kombiniert. Lohnen sich Precleanse und das Peelingpulver wirklich?
DERMALOGICA REINIGUNG: PRECLEANSE
Braucht man eine Vorreinigung? Wer sich regelmäßig schminkt und Foundation verwendet, wird kaum mehr auf einen Precleanser verzichten wollen. Einmal ausprobiert, möchte man diesen Schritt kaum mehr missen. Beliebt sind auch Abschminkbalms. So habe ich bisher den Take the Day Off Balm von Clinique* verwendet, den ich auch sehr gerne mag! Nun aber habe ich, dank dem Blogger-Club, die willkommene Gelegenheit genutzt, die Alternative in Ölform von dermalogica zu testen.
Die dermalogica Reinigung auf der Basis hochwertiger Öle und mit Vitamin E soll Staub, Schmutz und wasserfestes MakeUp besonders gründlich und leicht entfernen.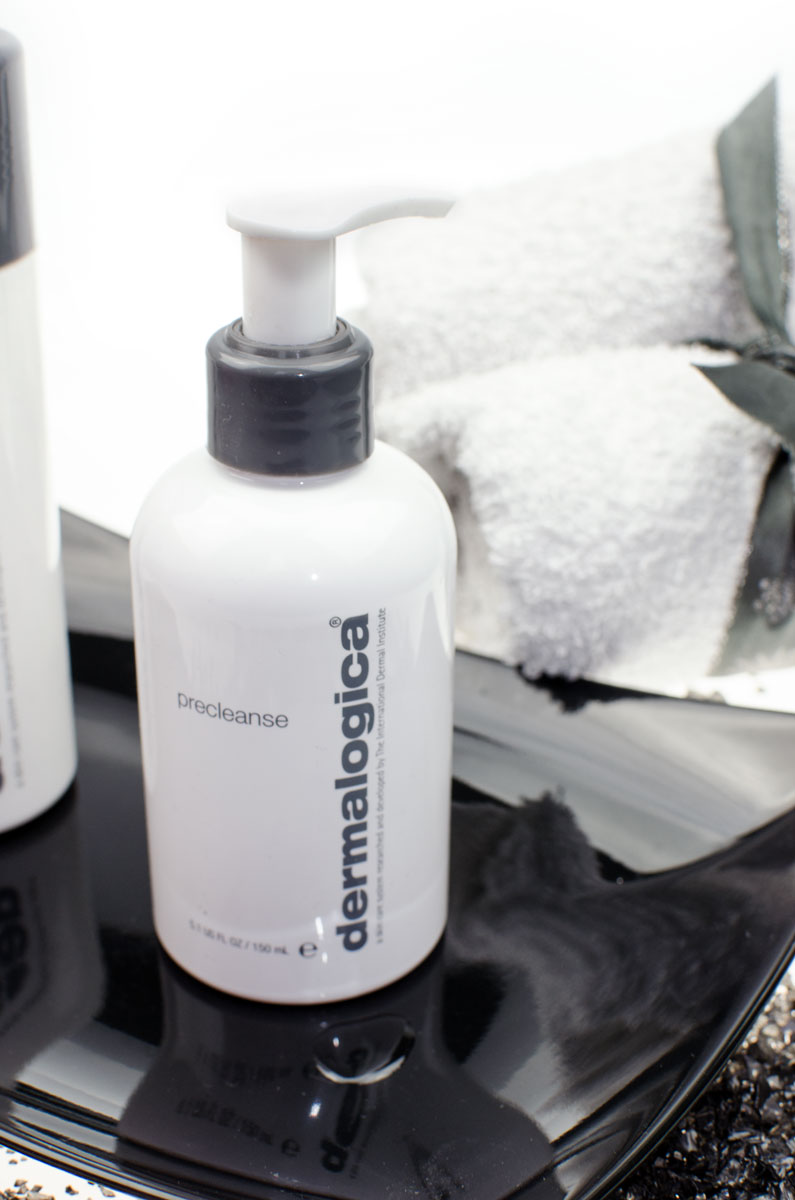 Der Pumpspender ist sehr praktisch und gut zu handhaben.Die Aufmachung ist stylish, puristisch modern – wie bei allen Produkten dieses exklusiven Beauty Labels. Die dermalogica Reinigung duftet wohltuend nach Rosmarin. Einfach einen Pumpstoß in den Handflächen verteilen und in die Gesichtshaut massieren. Danach mit feuchten Händen mit etwas lauwarmem (nicht heißem) Wasser aufschäumen und nochmals mit kreisenden Bewegungen das Gesicht massieren. So verwandelt sich das Öl und wird milchig. Anschließend abwaschen.
Die Anwendung ist sehr angenehm, richtig entspannend und wohltuend. Die ölige dermalogica Reinigung lässt sich prima abspülen, ohne sich klebrig anzufühlen. Für fettige Haut wird das Reinigungsöl sogar besonders empfohlen. Auch wasserfestes MakeUp wird gründlich und ganz schonend beseitigt. Für die rückstandslose Entfernung meiner hartnäckigen Mascara verwende ich aber lieber zuvor noch den flüssigen Take the Day Off Remover* mit einem Wattepad.
Danach reinige ich mit meinem Origins Lieblingsreinigungsschaum "Checks & Balances*" und meiner Clinique Sonic Brush mein Gesicht weiter. Nun kommt ein weiterer Schritt hinzu:
DERMALOGICA REINIGUNG: DAILY MICROFOLIANT
Das feine weiße Pulver soll täglich als schonendes Peeling zum Abschluss der Gesichtswäsche angewandt werden. Nach der Schaumreinigung gebe ich etwa einen halben Teelöffel des feinen weißen Pulvers in die Handflächen und schäume es in kreisenden Bewegungen auf dem Gesicht auf. So entsteht eine cremige, feine Peelingcreme.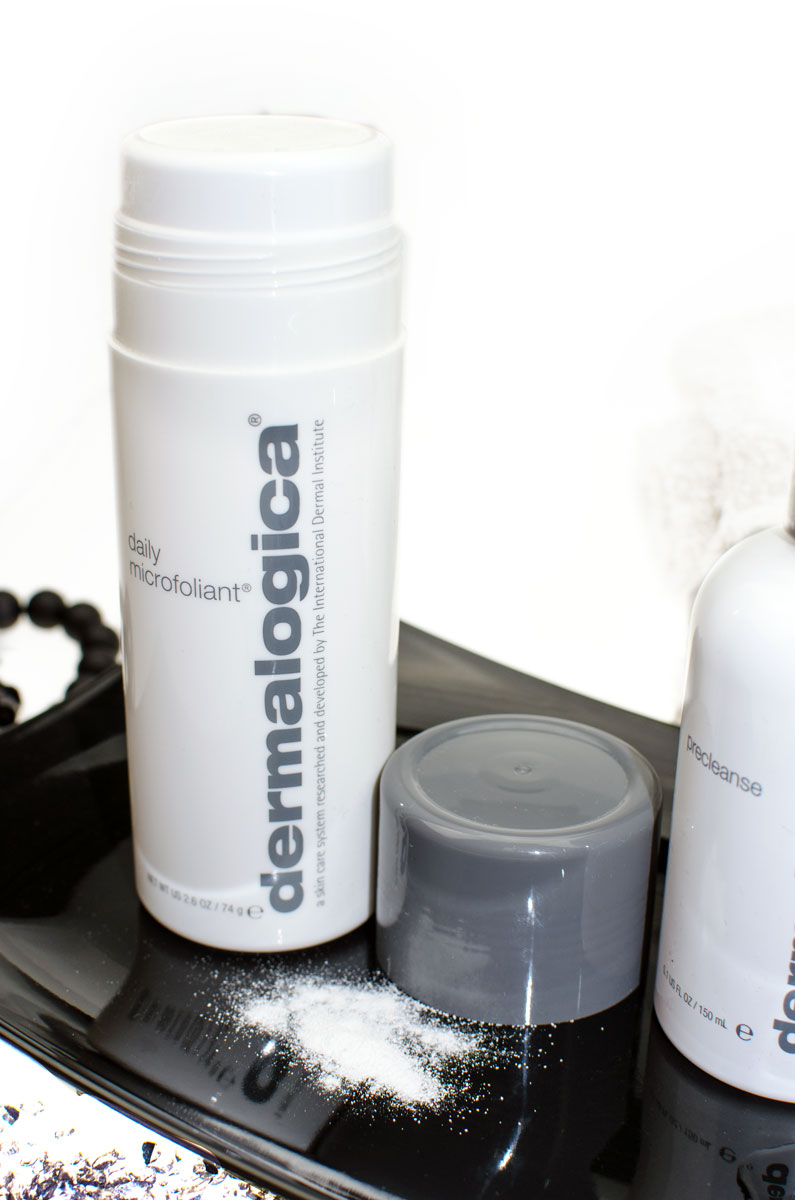 Es handelt sich um eine schonende Exfoliation auf der Basis von Salicylsäure und Reis-Enzymen. Dennoch würde ich die tägliche Anwendung nur für eine recht robuste Haut empfehlen. Für eine trockene und empfindliche Haut reicht eine Anwendung 2-3  pro Woche sicher aus.
Regelmäßiges Exfolieren mit Salicylsäure beugt verstopften Poren vor und sorgt für eine optimierte Hauterneuerung und en feines Hautbild.Dies ist z.B. auch da Prinzip der salicyhaltigen Clarifying Lotions von Clinique.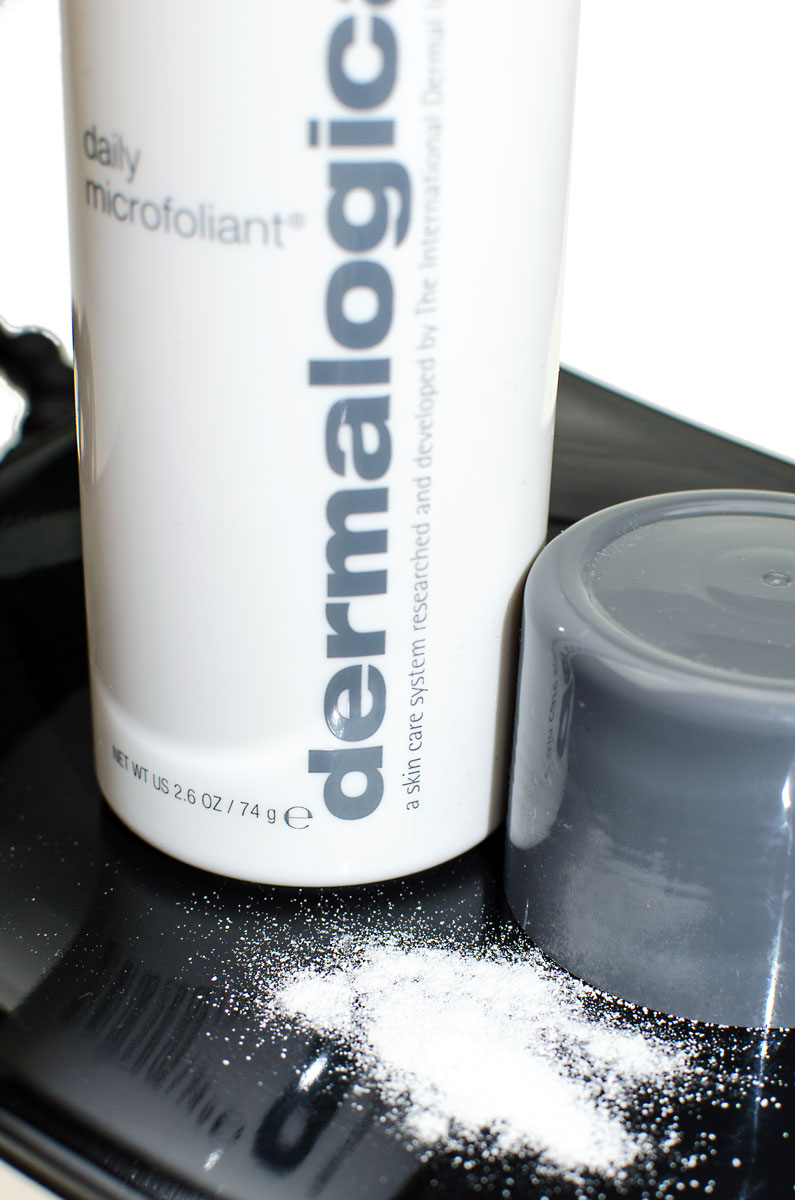 Gerade, wenn man noch mit einer exfolierenden Lotion wie der Clarifying Lotion nachbehandelt, sollte man die Haut auch nicht zu übermäßig peelen. Für ganz empfindliche Haut kann das feine enzymhaltige Pulver auch die schonende Alternative zu einem gewöhnlichen wöchentlichen Face Scrub sein.
DERMALOGICA REINIGUNG | EINE EMPFEHLUNG?
Nach dieser mehrstufigen Reinigung ist die Haut schön zart und weich. Ich mag beide Produkte wirklich sehr gerne. Die Anwendung ist angenehm und effektiv. Die pudrige Exfoliation ist wirklich toll. Ich verwende sie nun etwa 3x/Woche, also nicht täglich und meine Haut ist schön weich, glatt und rein. Wie sieht es mit dem Precleanse Öl aus?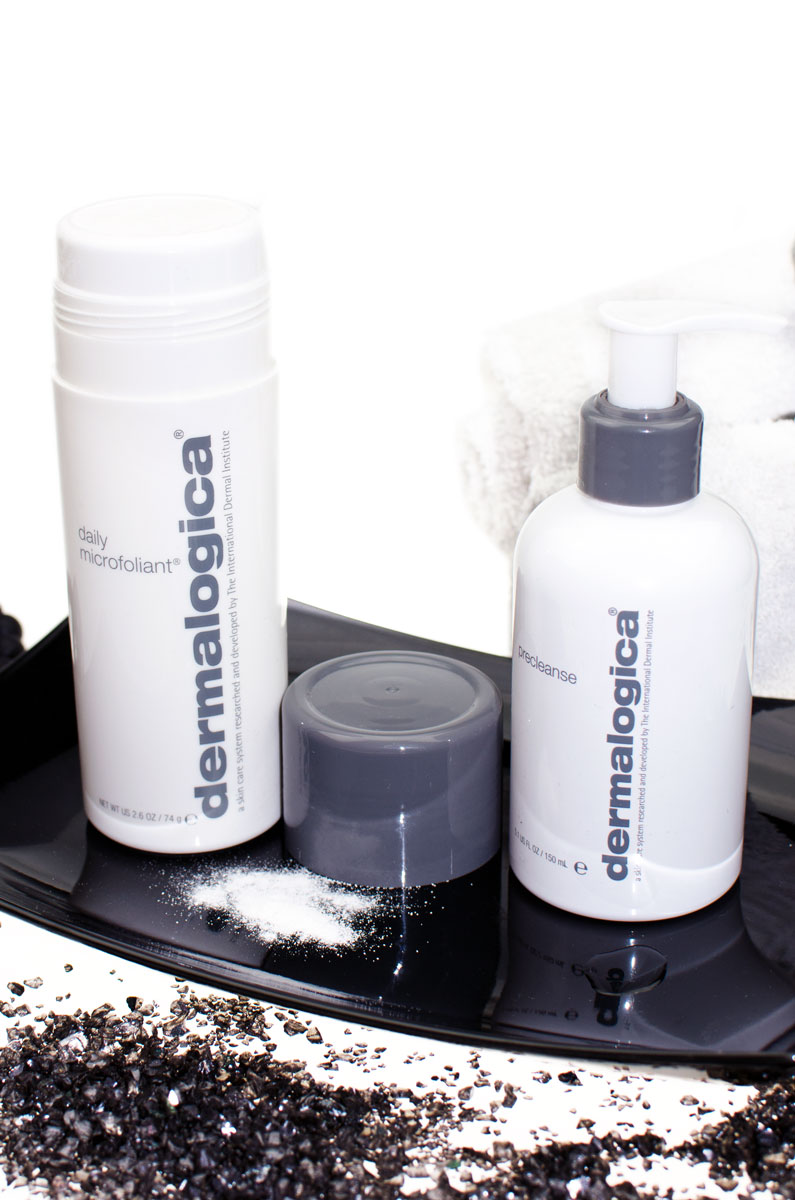 Mir gefallen Abschminköl und auch mein gewohnter Balm. Was das Wellnesgefühl und den Geruch angeht, hat dermalogica die Nase vorn. Dieser tolle unaufdringliche Duft und die warm-ölige Konsistent geben ein extrem schönes Wellnessgefühl. Wie die meisten dermalogica Produkte ist es, wie auch das Microfoliant, sehr ergiebig. Doch auch eine Dose des Take The Day Off Balms hält ein gefühltes halbes Leben lang. Zum Testen oder für die Reise ist mein Tipp hier die geniale Minidose von Clinique* für nur 6,00€. Die luxuriöse dermalogica Reinigung ihren Preis – und der ist einiges höher. Dennoch kann ich sie wirklich empfehlen. Es ist ein richtig tolles Produkt. Und immerhin kann ich euch verraten, wo sich der Kauf gerade besonders lohnt!
DERMALOGICA EXTRA GÜNSTIG KAUFEN & GOODIE-TIP
Auch heute habe ich wieder einen tollen Goodie- & Rabatt-Tipp für euch. Die unverbindliche Preisempfehlung für die dermalogica Reinigung liegt für das Precleanse Oil bei 48,50€/150ml und für das Daily Microfoliant bei 64€ für 75g. Bei Lookfantastic erhaltet beides günstiger und derzeit noch ein tolles Goodieset dazu.
Ein GRATIS DERMALOGICA POWER CLEANSE DUO beim Kauf von 2 dermalogica Produkten erhält man derzeit bei LOOKFANTASTIC*.
Mehr Reviews zu dermalogica Produkten findet ihr → HIER bei mir auf dem Blog. Viele Sachen finde ich richtig toll und sehr empfehlenswert, aber nicht mit allem war ich zufrieden.
Wie sieht eure Pflegeroutine aus? Verwendet ihr Peelings, exfoliert ihr eure Haut auch mit einem Gesichtswasser oder benutzt ihr einen Precleanser? Verwendet ihr bereits Produkte von dermalogica?
Ich freue mich auf eure Kommentare und bin gespannt auf eure Meinungen!
Euer stylepeacock
Chris
– *beinhaltet Affiliatelinks | PR SAMPLE –