[in kooperation mit bobbi brown | werbung]
NEUES BB MAKEUP: LEICHTGEWICHT MIT DECKKRAFT?
Auf neue Foundations bin ich immer sehr gespannt. Gerade im Bereich des Makeups hat sich in den letzten Jahren viel getan. Neue Texturen sollen ermöglichen, dass die Foundation ganz natürlich wirkt und dabei die Haut optimiert. Wenn ich da an so manche Grundierung vergangener Zeiten denke, gruselt es mich.
Unnatürliche Farbtöne waren es meist, pappige oder ölige Konsistenzen und die Wahl zwischen keiner Deckkraft oder Spachtelmasse. Farbtöne existierten nur wenige und oft waren sie zu bräunlich, zu rosa oder zu gelb. Oftmals dunkelte die Foundation nach, wurde fleckig und färbte ab. Zum Glück ist es heute nicht mehr so.
INNOVATIONEN VON BOBBI BROWN
Bobbi Brown geht nun mit einer ganz neuen Generation in Sachen Foundation an den Start. Ein Makeup, das verspricht, auch ölige Haut in Schach zu halten und dabei trotzdem nicht auszutrocknen. Hinzu verspricht die neue BB Weightless Foundation hohen Tragekomfort, eine gute Deckkraft und den garantiert passenden Ton. Geht das wirklich?
Jedenfalls war ich sehr gespannt, denn ich entdecke gerade Bobbi Brown Produkte immer mehr für mich. Die Hochwertigkeit der Sachen, die ich bisher ausprobiert habe, begeistert. Einer meiner Lieblinge ist derzeit das Reinigungsöl, mit dem ich durch eine kleine Luxusprobe Bekanntschaft geschlossen habe. Man kann das BOBBI BROWN TO GO – SOOTHING CLEANSING OIL* derzeit übrigens in einer tollen 30ml Travel Size  zum Ausprobieren bestellen. Es entfernt jegliche Foundation & Co super angenehm, sanft und gründlich. Dabei riecht es sanft nach Jasmin und hinterlässt eine babyweiche Haut.
Doch wie steht es nun um das neue Makeup? Wie angenehm ist es auf der Haut? Eignet es sich für jeden Hauttyp und alle Hauttöne?
DIE FARBTÖNE DER BB WEIGHTLESS FOUNDATION
24 Töne  der SKIN LONG-WEAR WEIGHTLESS FOUNDATION bietet der deutsche Onlinestore* von Bobbi Brown an. In den USA erhält man sogar 30 unterschiedliche Farben und zwar jeweils 10 aus den Bereichen LIGHT, MEDIUM & DARK. Blassnasen erfreuen sich hier ebenso wie Menschen mit dunkler Hautfarbe. Endlich gibt es in beiden Bereichen eine große Auswahl diverser Töne. Eine helle Haut ist nicht nur einfach blass. Und auch eine dunkle Haut kann einen warmen oder kalten Unterton haben, hellbraun oder fast schwarz sein.
DER RICHTIGE UNTERTON DEINER FOUNDATION
Damit eine Foundation den Teint wirklich optimiert, ihn frisch und ebenmäßig wirken lässt, ist nicht nur die richtige Helligkeit der Farbe wichtig. Ein zu dunkler Ton sieht einfach unmöglich "geschminkt" aus, vor allem, wenn der Hals heller ist als das Gesicht. Aber auch zu hell ist nicht zu empfehlen, denn dann bekommt man leicht einen kränklichen Vampireffekt, der alles andere als frisch und natürlich wirkt.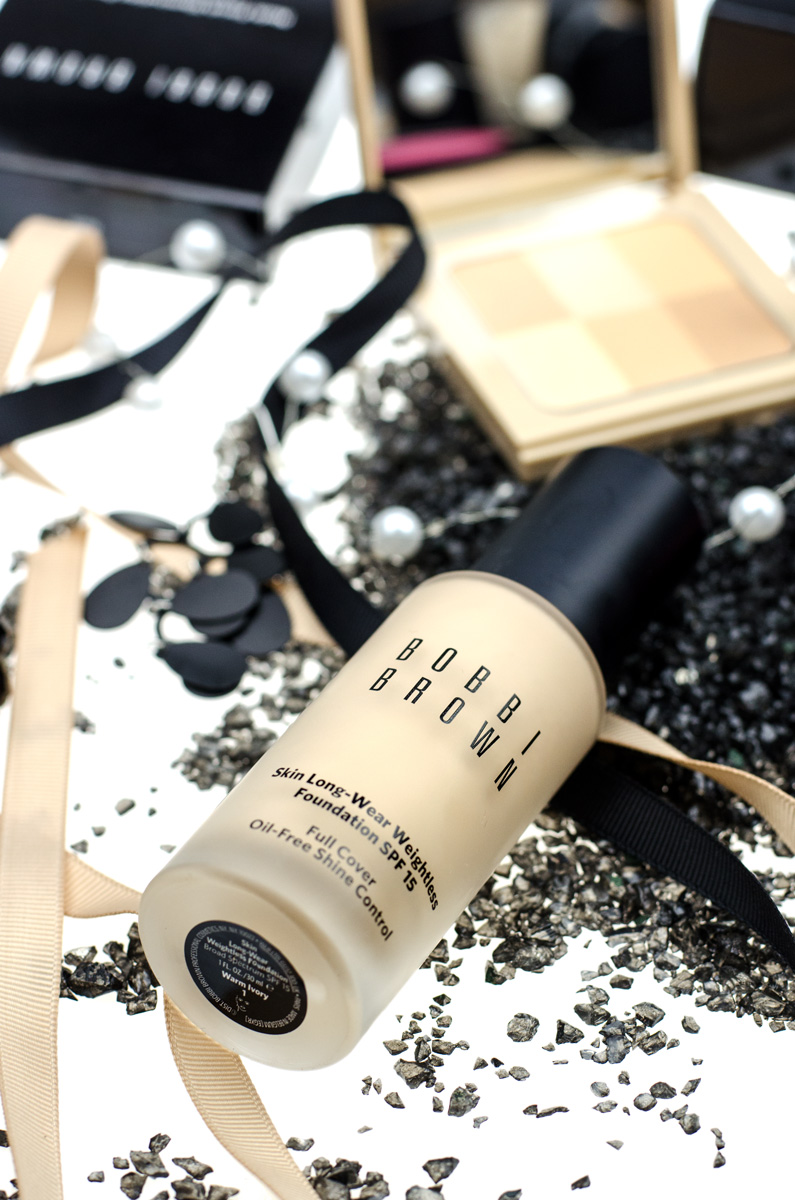 Doch manchmal schein das Makeup die perfekte Helligkeit zu haben und dennoch sieht ma irgendwie künstlich angemalt oder einfach nicht gut aus. Dies passiert, wenn man den falschen Unterton wählt. Tatsächlich habe auch ich früher geglaubt, hell sei kühl und ein mittlerer oder dunkler Hautton eher warm. Auch waren die meisten hellen Foundation-Produkte eher rosastichig (entspricht kühl) und dunklere gelblich. Tatsächlich aber kann sogar eine richtig schwarze Haut einen warmen oder kalten Unterton besitzen und eine ganz helle ebenso. Rosastichige Makeups machen kühle Typen richtig frisch, an mir wirken sie wie angemalt. Ich bin ein neutraler bis warmer Farbtyp.
BEIM GLEICHEN MAKE-UP-TON BLEIBEN?
Man mag denken, juhu, endlich habe ich den richtigen Farbton bei meiner Foundation gefunden. Einmal entdeckt, tendiert man dazu, dieser Jahre treu bleiben. Doch unsere Haut verändert sich. Im Winter benötige ich einen anderen Ton als im Sommer. Über die Jahre hinweg ist meine Haut dunkler geworden und eine mega Blassnase bin ich gar nicht mehr. Aber auch in meinen jugendlicheren Jahren war ich zwar superhell, aber nie ein Typ für rosastichige Töne. Daher aber ich mich wahnsinnig gefreut, als vor Jahren endlich aus den USAdie ersten gelblichen hellen Töne zu uns kamen.
Die Amerikaner sind ein buntes Volk mit Hautfarben in allen Schattierungen. Somit verlangt der Markt verlangt Vielfalt an Makeup-Tönen. Nirgendwo anders auf der Welt findet man so viele unterschiedliche Nuancen bei Foundations. Und endlich bietet man eben auch kühle, neutrale und warme Töne in allen Helligkeitskategorien an.
WELCHER FOUNDATION-TYP BIN ICH?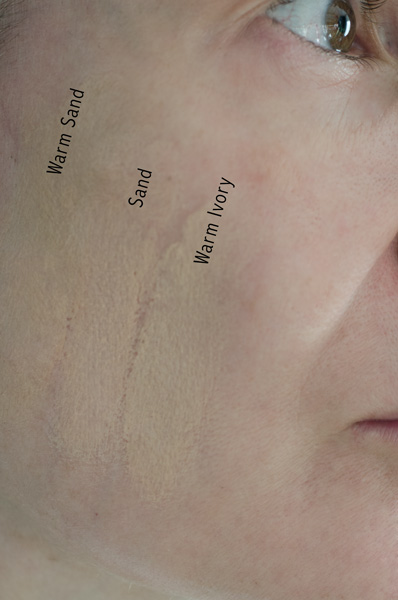 Doch wie erkennt man, welchen Unterton man braucht? Der erste Anhaltspunkt sind die Venen am inneren Handgelenk. Sind die blau-violett, ist man ein eher kühler Farbton. Schimmern die Adern bläulich bis türkis durch die Haut, passen neutrale Töne am besten zum Gesicht. Gehen die Adern ins Grünliche, ist man ein warmer Hauttyp – völlig unabhängig davon, ob die Haut heller oder dunkler ist.
Das innere Handgelenk ist übrigens dennoch nicht geeignet, den richtigen Ton für das Gesicht zu finden. Auch der Handrücken nicht. Eine Foundation sollte man da probieren, wo sie hin soll – im Gesicht – und zwar auf ungeschminkter Haut. Ein weiterer Hinweis, wo man sich einordnen kann, ist die Empfindlichkeit der Haut gegenüber Sonne. Ich war zwar früher superhell, habe aber nie besonders leicht einen Sonnenbrand bekommen. Dies ist ein Indikator für einen eher warmen Hautton. Kühle Hauttöne verbrennen schnell.
Hier habe ich zur Demonstration die BB Fundation dick und ohne jegliche Vorgrundierung aufgetragen und nicht verblendet. Dennoch man sieht bereits, welcher der drei Töne sich am meisten meiner Haut anpasst und sie dabei optimiert. "Warm Ivory" ist zu hell, "Sand" ebenfalls und betont dazu durch seinen eigenen Rosa-Anteil meine Rötungen. "Warm Sand" hingegen geht auch unverblendet schon recht gut in meinen eigenen Hautton über. In der Tat sind es nur Nuancen, aber im Gesamtbild sind diese dann für ein natürliches Finish entscheidend. Und wie ihr sehen könnt, ist meine Haut von Natur aus alles andere als gleichmäßig.
 FINDE DEINEN PERFEKTEN TON
Bobbi Brown bietet bei der SKIN LONG-WEAR WEIGHTLESS FOUNDATION alle Helligkeitstöne in verschiedenen Untertönen an: Es gibt warme, kühle, rosastichige und neutrale Töne und auch besonders gelbliche "Golden" Shades. Auch an Hauttöne mit olivfarbenem Unterton wurde gedacht. Auch diesen findet man übrigens bei sehr hellhäutigen ebenso wie bei Menschen mit dunkler Hautfarbe. Der Foundationfinder* auf der Seite von Bobbi Brown ist hier sehr hilfreich.
Zum Testen habe ich mir drei Töne ausgesucht: WARM IVORY, SAND & WARM SAND. Gerne hätte ich euch im Vergleich noch COOL SAND gezeigt, aber der Ton war gerade vergriffen. Es handelt sich um drei Töne, von denen ich denke, dass sie in einem guten Bereich für die meisten von euch liegen, sich daran zu orientieren.
Bei den Swatches der insgesamt 30 Töne der SKIN LONG-WEAR WEIGHTLESS FOUNDATION könnte ihr sehr gut die unterschiedlichen Untertöne von rosa bis stark gelblich erkennen.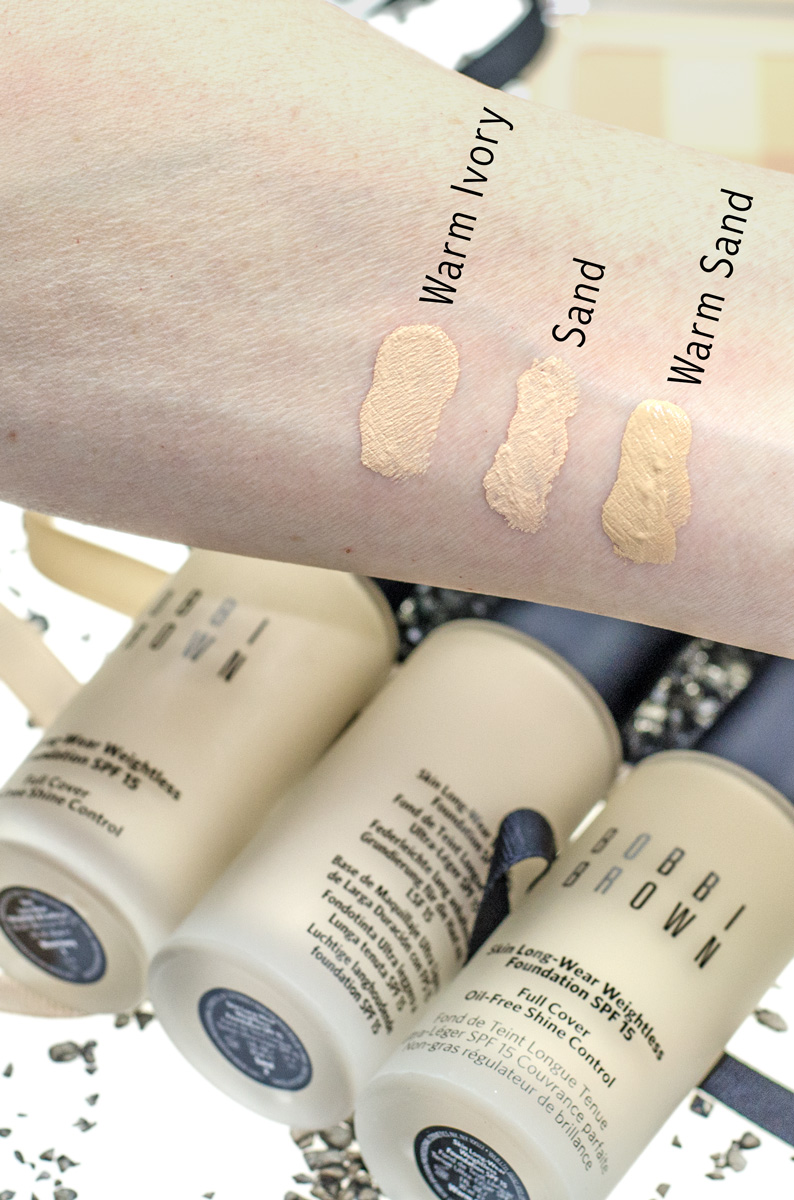 Es sind oft nur minimale Nuancen, die den Unterschied ausmachen. Der perfekte Ton sollte sich eurer Haut so anpassen, dass ihr auch nur Partien des Gesichts schminken könnt, ohne dass die als farblicher Unterschied auffällt. Würde ich hier von meinem Innenarm ausgehen, wäre "Warm Sand" kaum der passende Ton.
VON KÜHL BIS WARM & HELL BIS DUNKEL
Die Töne sind übrigens auf der Website von Bobbi Brown hervorragend beschrieben, die drei Sandtöne z.B. so:
COOL SAND: Kühles, helles Beige mit rosa Untertönen. Für helle bis sehr helle Haut.

SAND: Leichtes Beige mit gelben Untertönen, Für sehr helle bis helle Haut.

WARM SAND

(2.5): Golden light beige with yellow undertones; for fair to light skin with redness. Übersetzt: Helles Goldbeige mit gelblichem Unterton, für sehr helle bis helle Haut mit Rötungen (klingt doch auch perfekt für mich).

Hier

 habe ich die Beschreibung der amerikanischen Seite zitiert, denn in Deutschland hat man irrtümlich eine falsche Beschreibung an den Ton "Warm Sand" gehängt. Der warme Ton wird hier als rosa und kühle bezeichnet. Ich habe diese Verwechslung Bobbi Brown bereits gemeldet.
Sämtliche Töne, die ich gewählt habe, gehören zum hellen bis sehr hellen Bereich. Nach "Porcelain" und "Alabaster" ist IVORY der dritthellste Shade der Bobbi Brown SKIN LONG-WEAR WEIGHTLESS FOUNDATION, gefolgt von "SAND".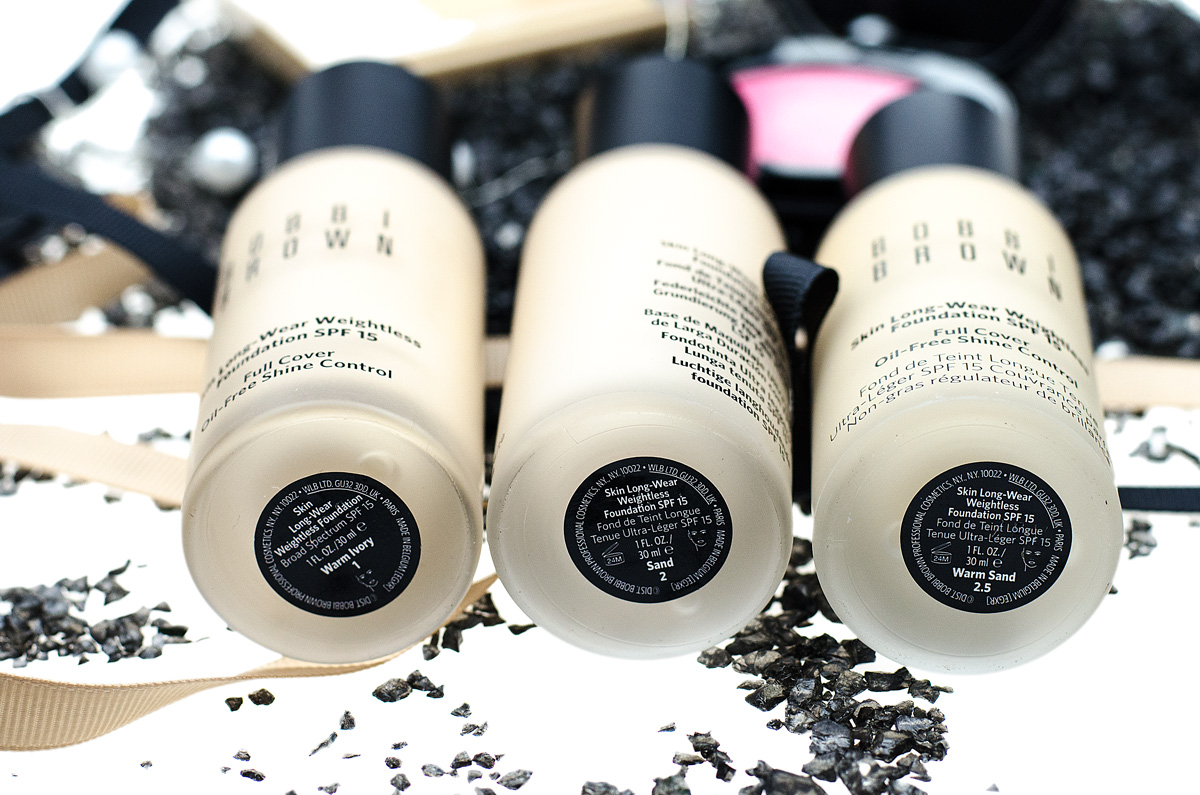 VERPACKUNG DER SKIN LONG-WEAR WEIGHTLESS FOUNDATION
Hochwertig, schlicht und edel kommt die SKIN LONG-WEAR WEIGHTLESS FOUNDATION daher. Im typischen edlen schwarz-glänzenden Bobbi Brown Karton steckt ein hübscher schlichter Mattglas-Flakon. Und das beste ist: Es ist ein Pumpspender! Man muss nicht extra eine Pumpe dazu kaufen oder läuft Gefahr, zu viel zu entnehmen. Man kann das Makeup sauber und gezielt dosieren, während der Inhalt vor Luft geschützt bleibt. Der Spender ist ungeheuer präzise und man kann auch winzige Mengen zum Ausbessern entnehmen. Mit 44,00€ für 30ml liegt es absolut im Rahmen eines hochwertigen Highend-Makeups.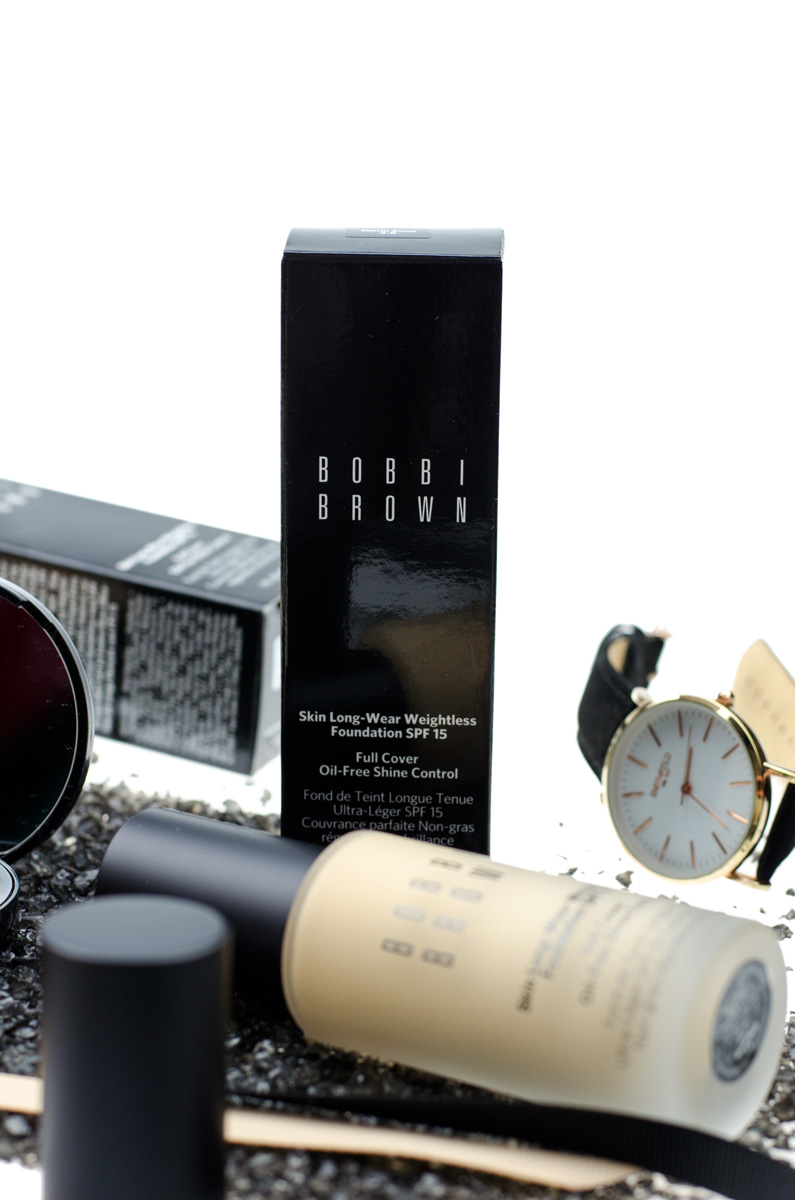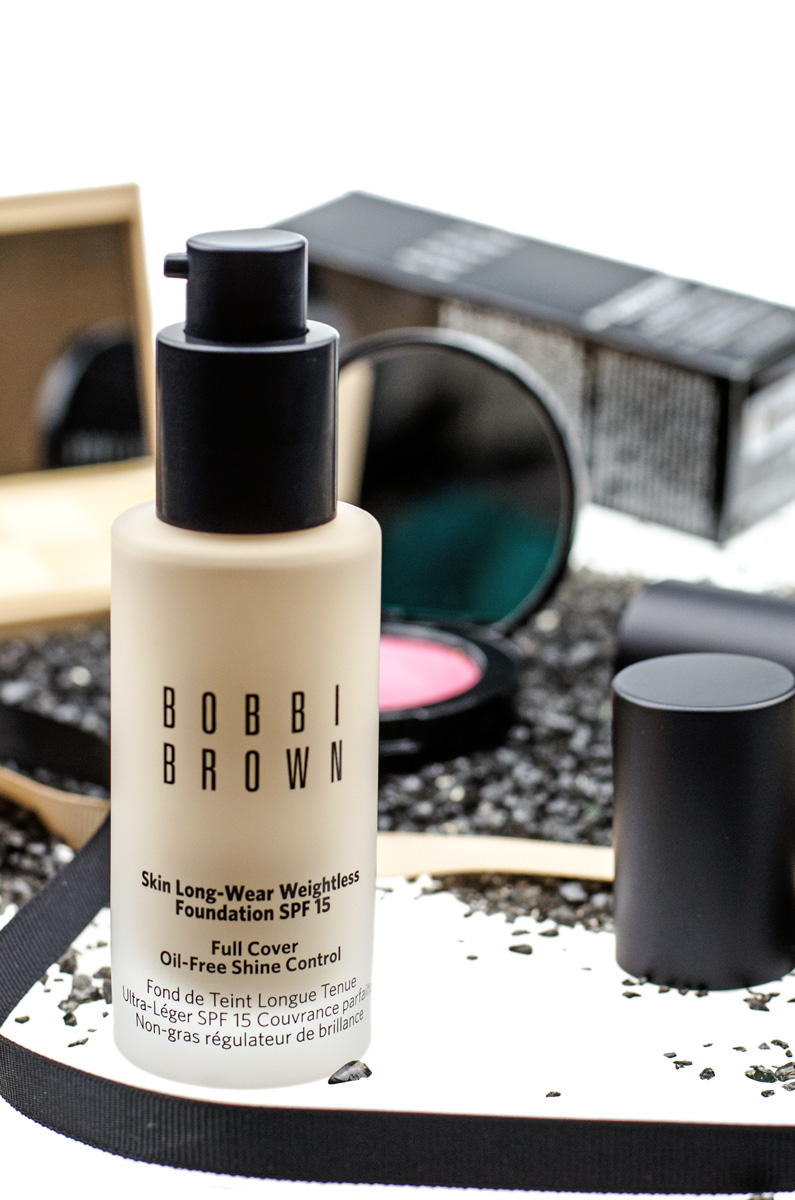 AUFTRAG & KOMFORT DER FOUNDATION
Empfohlen wird die neue ölfreie Foundation auch besonders für normale bis fettigere Haut. Doch bedeutet dies, dass man sie mit einer eher trockenen Haut nicht verwenden kann? Meine Haut ist mit dem zunehmendem Alter auch trockener geworden. Meine früher stark ölige T-Zone hat sich normalisiert. Wie es typisch für eine Mischhaut ist, war meine Wangen- & Augenpartie seit jeher trockener und bedürftiger. Daher sollte auch bei einer Haut mit öligen Partien die Foundation auch für trockenere Haut geeignet sein. Und das ist sie.
Obgleich ölfrei, lässt sie sich spielend verteilen, ohne tropfend flüssig zu sein. Ich verwende hier zu meine Finger und arbeite die Foundation etwas mit einem Makeup-Ei ein. Aber auch mit einem Foundation-Pinsel lässt sie sich hervorragend aufragen. Dazu hat die "Weightless Foundation" tatsächlich ein überaus angenehmes federleichtes Tragegefühl. Das heißt, man merkt sie eigentlich nicht. "Weightless" triff es sehr gut. Das Make-up duftet – wie die meisten Bobbi Brown Produkte – zart nach Lavendel und Jasmin.
HALTBARKEIT DER BB WEIGHTLESS FOUNDATION
Meine Haut wirkt gleich sofort feiner und gleichmäßiger. Die normalerweise gut sichtbaren Poren auf der Nase sind komplett verschwunden. Die Deckkraft ist als mittel einzustufen. Meine roten Partien rund um Nase und Mund bedürfen etwas "Layering", werden aber mit etwas mehr Foundation auch abgedeckt. "WARM SAND" ist wirklich ein toller Ton für mich.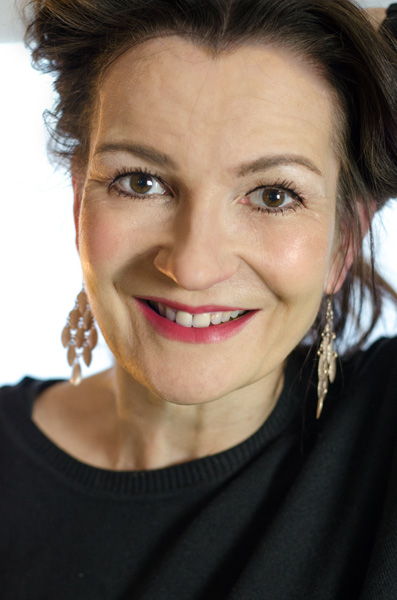 Fast hätte ich das Pudern vergessen, weil die Haut so hübsch matt und gleichmäßig wirkt. Aber ein Hauch von Puder ist zum Setten für eine gleichmäßige Haltbarkeit immer gut. Allerdings sollte man mit zunehmendem Alter sparsamer damit umgehen. Es kann Fältchen betonen. Einem zu matten Teint fehlt auch der "Glow", der einen jünger und frischer wirken lässt.
LONG-WEAR WEIGHTLESS IM HÄRTETEST
Nach dem Aufnehmen dieser Bildern bin ich heute direkt in Ballett Training geflitzt. Auch nach 1 1/2 Stunden Tanzen sah meine Haut wie zuvor aus. Ich musste nicht einmal die Nase nachpudern. Der Ton ist gleichmäßig geblieben und nicht hat sich in Fältchen gesammelt oder abgesetzt. Mit der Bobbi Brown Foundation bin ich mehr als zufrieden. Sie ist richtig toll!
Ich denke, dass sie mit ihren flexiblen Eigenschaften tatsächlich für fast alle Hauttypen geeignet ist. Je nachdem, ob die Haut trockener oder bereits anspruchsvoller oder jünger und eher ölig ist, würde ich einfach die Base variieren. Eine entsprechende Pflege und ggf. ein Primer bereiten optimal auf die Foundation vor. Besonders gut gefallen hat mir, dass sie die sichtbaren Poren so gut verschwinden lässt. Um eine stärkere Deckkraft zu erzielen, muss man layern. Aber auch dann wirkt das Make-up immer noch sehr natürlich wirkt und fühlt sich gut an. Gewünscht hätte ich mir einen noch etwas höheren Lichtschutzfaktor als SPF 15. Im Sommer werde ich hier einen zusätzlichen Sonnenschutz unter Foundation auftragen. Auf der anderen Seite kann jeder so selbst entscheiden, ob er die haut komplett von Sonnenstrahlen abschirmen will. Manch einer möchte ja auch einfach ein bisschen bräunen.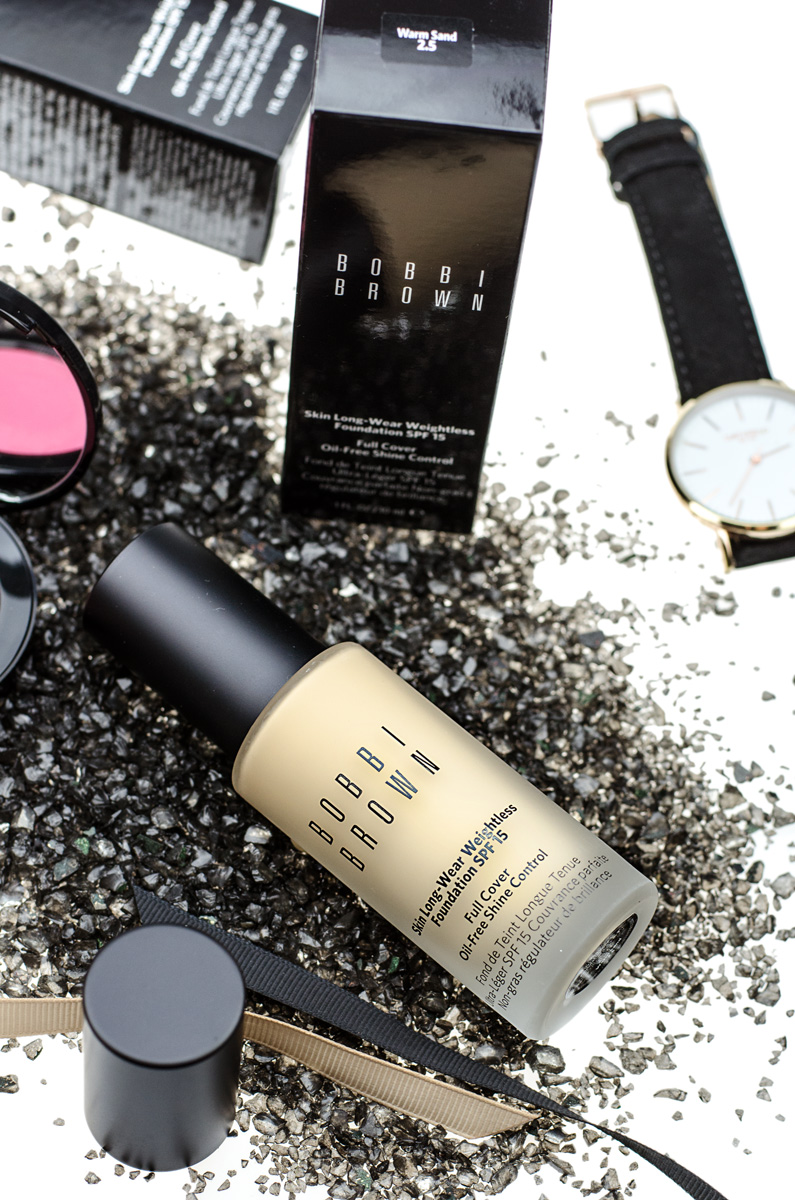 Richtig positiv ist auch die große Auswahl an Farben in verschiedenen Untertönen. Alles in allem ist die neue Bobbi Brown Foundation eine echte Entdeckung und eine wunderbare Grundlage für ein gleichmäßig schönes Make Up und einen gesund und frisch aussehenden Teint.
PIN THE POST | PINNE MEINE MAKEUP-TIPPS
Ihr könnt diese Bilder und alle anderen des Beitrags gerne downloaden und auf Pinterest sammeln und teilen, wenn ihr dabei auf diesen Beitrag verlinkt und sie mit dem Vwrweis "Anzeige" oder "Werbung" verseht! Ein andere Verwendung der Bilder ist nicht gestattet.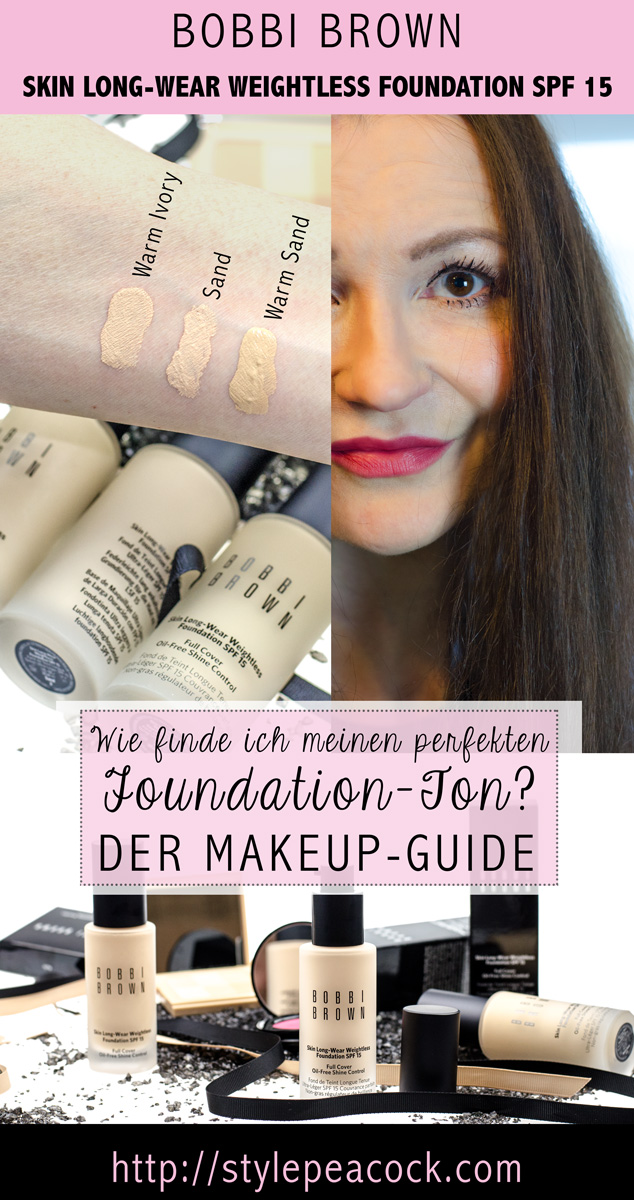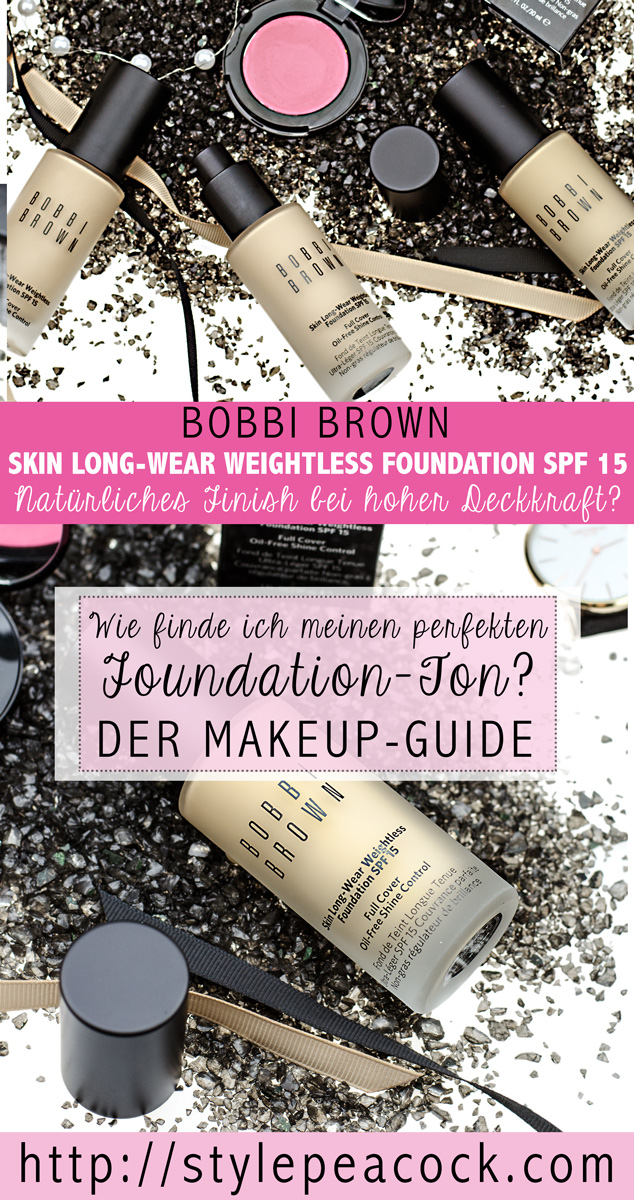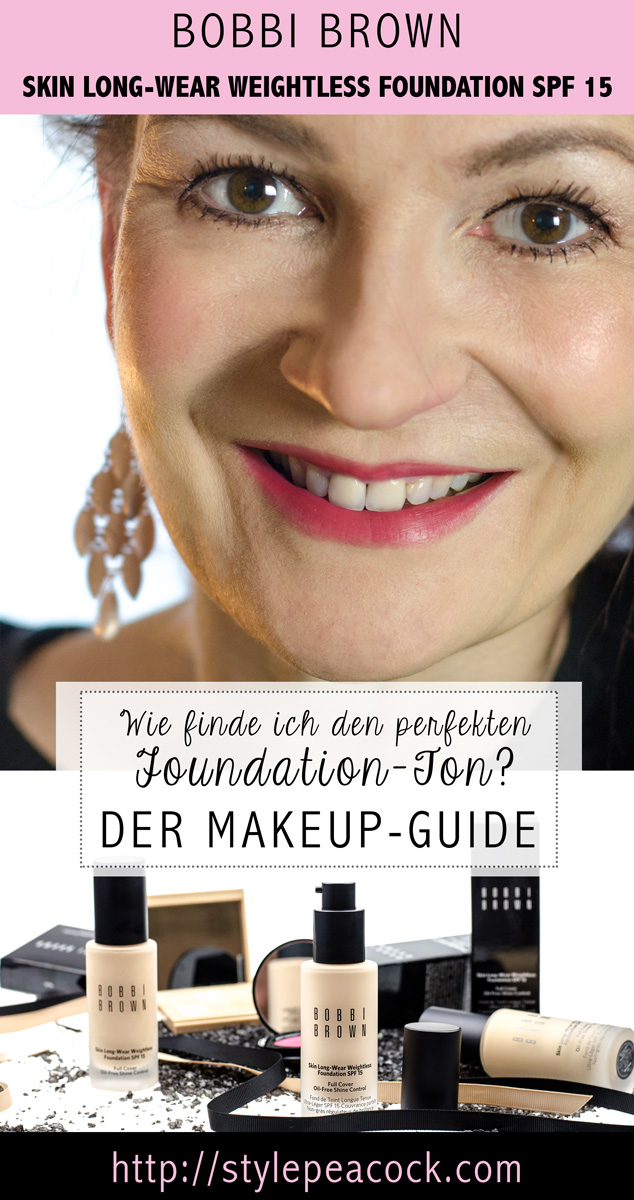 RABATT CODE FÜR EUREN PERFEKTEN TRAUMTON
Einen Rabattcode habe ich auch noch für euch: mit dem Code* BBSMILE18 erhaltet ihr 5 ,00 Rabatt auf eine persönliche Weightless Foundation in eurem Traumton. Zudem könnt ihr bei BB Bonuspunkte bei jedem Einkauf sammeln. Bei einem Einkauf von über 60€ wird man automatisch registriert. Dazu gibt es eine tolle Auswahl an Luxusproben:
Verwendet ihr bereits Produkte von Bobbi Brown? Wenn nicht, wäre dies ein toller Einstieg! Alles, was ich bisher von BB kennenlernen durfte, zeichnet sich durch extrem gute Qualität bei einer stylisch-schlichten, edlen  Aufmachung aus – ganz, wie ich es mag. Supertoll ist auch der NUDE ILLUMINATING POWDER, ein 
Highlighter von Bobbi Brown
* , den es bei mir bei unserer
#meinliebsterBloggerAdvent Aktion
zu gewinnen gab.
Hat euch meine Vorstellung ein bisschen neugierig gemacht? Gefallen euch meine Tipps zum Finden des perfekten Foundation-Tons?
Ich freue mich auf eure Meinungen und Kommentare!
Euer stylepeacock
Chris
– *beinhaltet affiliate links | in kooperation mit bobbi brown | werbung –
User Ratings (

3

Votes)

7.7